Making It Real
By Joel Nelson on Aug 31, 2023 in Technology
Holographic technology – once the stuff of science fiction, enabled with Nobel Prize-winning innovation, increasingly used in fields ranging from education and military planning to medicine and entertainment – is receiving attention as a potentially transformative workplace technology.
Holograms are produced by an imaging process in which lasers capture and replicate objects into detailed three-dimensional projections of diffracted light that preserve the depth of the original physical source it displays. It is, one observer says, "the intersection of light and matter, designed to be observed from all perspectives." The current state of the art comprises two laser beams collaborating to create solid light holographs in 10 billion pixels per square meter in ultra high definition.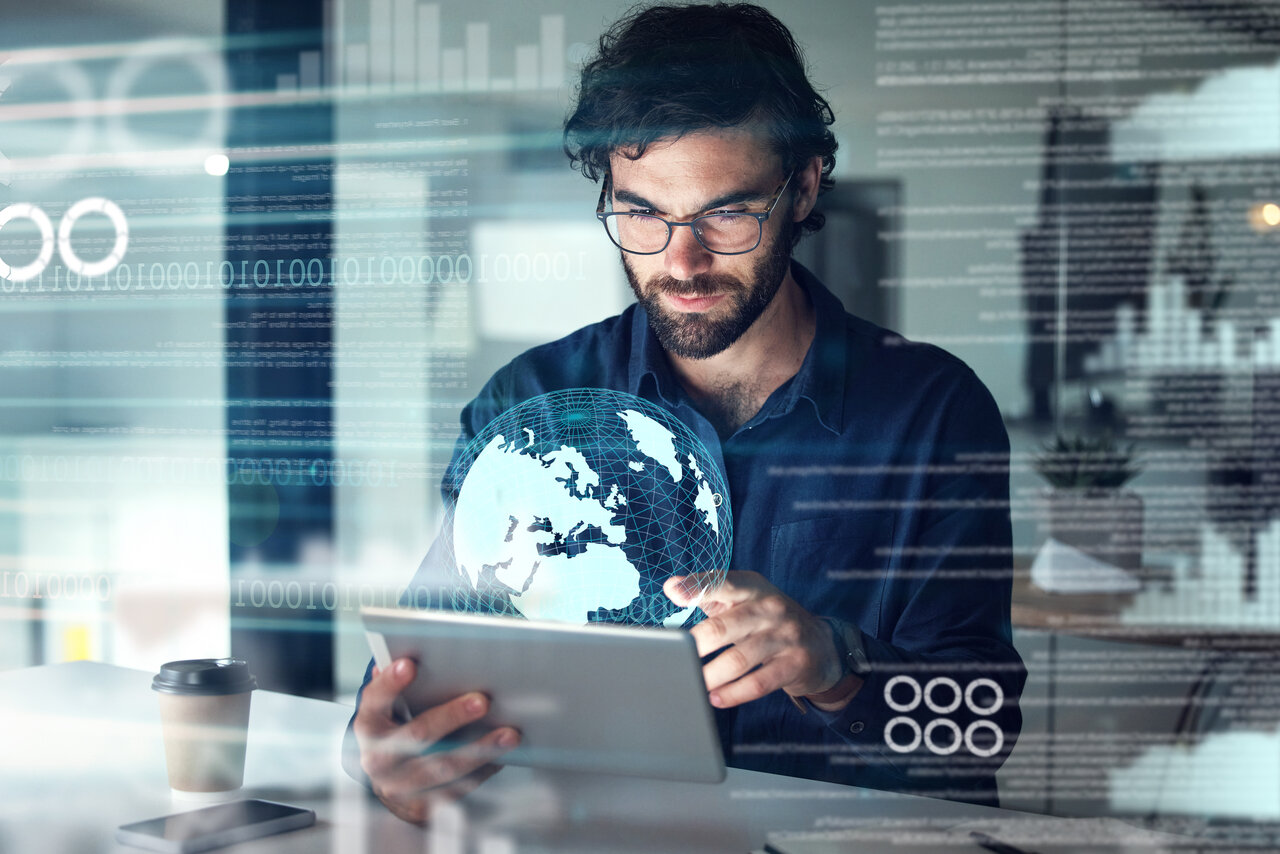 Hungarian-British physicist Dennis Gabor pioneered holographic technology, winning a Nobel Prize in Physics in 1971.
Providing a 'magic window'
Holographic technology "works like a magic window, where users can talk, gesture and make eye contact with another person, life-size and in three dimensions," says Andrew Nartker, director of product management at Google, whose Project Starline aims to create 3D projections that give workers to appearance of speaking to each other across a window.
Star Wars aficionados may have been introduced to holograms with Princess Leia's distress call in the movie franchise's first installment in 1977. An ABBA "reunion" in 2022 featured the band's members projected as holograms.
(Certain other concert projections of music legends reflected 2D images off a semi-transparent surface in an effect known as Pepper's Ghost. Lacking depth and volume, they weren't true holograms, contrary to popular belief.)
Expanding business applications
And now, this technology is providing new resources for the business world. For example, holograms can give retail shoppers 360-degree views of items. Models created with holograms help military decision-making by offering detailed visual assessments of landforms, assets and personnel.
Healthcare providers can use holograms to obtain three-dimensional visualization of organs to make diagnoses, determine treatments and prepare for operations. Educators can incorporate 3D visuals that help students comprehend challenging concepts. In 2018, Imperial College Business School in London presented the world's first live lecture using holograms.
Potential as a workplace collaboration tool
Using holographs also holds potential to enhance corporate team collaboration. Over the past few years, Cisco, Google and Microsoft, along with some startups, have been testing solutions that use holograms or virtual projections. Microsoft Mesh, for example, is designed to allow people in different locations to join collaborative and shared holographic experiences.
"You can actually feel like you're in the same place with someone sharing content or you can teleport from different mixed reality devices and be present with people even when you're not physically together," says Alex Kipman, a Microsoft technical fellow.
Holographic displays can also "be used to create more engaging and dynamic presentations for sales pitches, product demonstrations, marketing packing and other various business applications," according to London-based K2 Space, an officer designer and builder.
Workplace consultants, fit-out experts and designers could use holographic projections to create virtual models of buildings and spaces, allowing clients to experience and provide feedback on their designs before they are built.
And with many companies moving to hybrid working, holographic displays could also be used to create more immersive and engaging virtual meeting and training spaces. Remote workers could collaborate in real-time as if they were in the same room, with all of their facial expressions and body movements being captured along with their voices and images.
However, holograms aren't quite ready for prime time in the workplace. The real-time projections require specialized hardware setups plus significant bandwidth signal and data compression that can't easily be produced for the mass market. But if holography's potential is eventually realized, "within years, not decades, the videoconferencing we used during the pandemic will look so old to us. Online meetings will feel more personal — in some cases, amazingly more realistic," says Wayne Kurtzman, a vice president for Needham, Mass.-based International Data Corporation, which serves the information technology, telecommunications and consumer technology markets.