Learn Yardi
By Erica Rascón on Mar 11, 2021 in Technology
Yardi offers robust, configurable software to meet the needs of nearly 20 verticals. From students to seniors and parks to ports, property management runs on Yardi! But what do you do when you want to get more out of your user experience? There are many opportunities to attend Yardi trainings.
Explore the list below for ways to learn Yardi from experts and users in your industry:
Yardi Training on Aspire
Yardi Aspire is the go-to learning tool for employees who want to become Yardi product experts. Users gain access to hundreds of in-depth courses taught by product specialists. Through learning checks and tests, you can assess your product knowledge. You can then review materials on demand and get help from the experts.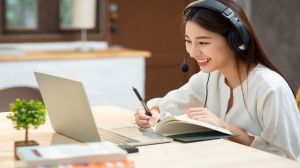 With greater product knowledge, you will be equipped with the tools needed to optimize product usage, promote time and cost savings, and expedite ROI for your organization.
YASC Global Digital Conference
Yardi Advanced Solutions Conference (YASC) is one of the company's largest real estate software events. It offers everything from product introductions to deep dives sessions on the latest innovations in real estate software.
YASC Global, our digital event, brings the power of the conference to your fingertips. Log-on to learn more about the latest software and services, ask questions in our product lounges and connect with other Yardi users.
In 2020, more than 20,000 industry professionals attended YASC Global, representing 2,500 companies in 58 countries. Attendees viewed over 12,000 hours of informative and engaging content. As our first virtual conference, we are thrilled that 98% of survey respondents said the sessions met their expectations!
YASC Global digital conference offers CPE credits and is free for all Yardi clients. Current clients can access 2020 content through the end of April 2021 via Client Central. Join us for the next YASC Global, May 18-20, 2021!
Get Technical Tips on Client Central
Client Central is a free resource database for Yardi clients. Client Central provides the latest product updates, documentation, release notes and technical tips. Learn Yardi via online training, tailored training manuals, user conferences and user forums. Access the site 24/7 to learn at your convenience.
National Independent User Groups
National independent user groups provide Yardi clients with free, flexible learning communities. Members can share their expertise and learn from others within their industry or locale. This exchange of information is a great way to learn more about product functionality and get answers to your questions. User groups are flexible, and no two groups are the same. Size, meeting frequency, and topics covered are all unique to individual groups.
In user groups, your voice matters! Groups can provide uniform and focused feedback to Yardi developers for future product enhancements.  Your insights can help to sculpt products that promote even greater efficiency for your organization.
Learn Yardi via YouTube
Pressed for time? The Yardi YouTube channel is a quick, fun way to gain valuable insights into Yardi solutions. The Moments of Genius series, for example, offers excellent tips on our RentCafe marketing and leasing software. Curious about a new product offering? Quick explainer videos give you an overview of our robust line up. You can also explore how your industry peers solve everyday problems using Yardi solutions—all in time-friendly videos.
Educational Tools on the Resources Webpage
Times change and with proper preparation, you can be ready for the days ahead. Yardi has created tools and free online training courses to help its clients work productively, efficiently and securely. You can also find ebooks, videos, client success stories and other tools on the Resources page to learn how to drive success with technology.
Yardi Webinars
Yardi webinars guide prospects and clients through features of individual products within our suites. Discover functionalities that help to maximize portfolio occupancy, expedite the leasing cycle, and make more informed decisions for your organization.
Yardi Trainings with Independent Consultants
Independent consultants are verified experts on Yardi software. They supplement the in-house Professional Services Group at Yardi. Through consultants, you can receive implementation assistance as well as in-depth, industry-specific and location-specific trainings on Yardi solutions. Peruse our list of independent consultants to find a specialist in your area.