Kitchen Trends
By Erica Rascón on Aug 8, 2016 in Technology
If you're looking to set your property apart from the crowd, high-end kitchens and bathrooms are an excellent place to start. Hands-free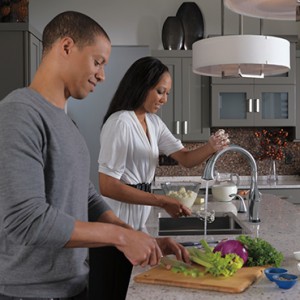 fixtures and appliances are quickly becoming standard features in fine rentals. New options permit these luxuries at multiple price points.
For builds and renovations with leaner budgets, the GE Profile Series is a great introduction to hands-free appliances. The Energy Star certified fridge and freezer combos off hands-free auto-fill dispensers. Users simply insert their vessel of choice, press of a button, and move on to other tasks while the vessel is filled. Once full, the water dispenser automatically shuts off.
Kenmore Elite 51773 includes a Measured Fill auto-fill dispenser with a few additional bells and whistles. The ice and water systems have Favorite Fill configurable settings, so that your residents get the perfect quantity every time.  When preparing for guests or an exceptionally steamy day, users can activate Accela Ice, which boosts ice production for 24 hours and then automatically shuts off.
For kitchens and bathrooms, Delta Touch2O.xt Technology offers a range of operations. With the back of the hand, wrist, forearm or elbow, users can tap anywhere on the faucet to start or stop water flow. Some styles are equipped with true touch-free operation. Simply bring your hands within four inches of the sensor to activate water flow.
To promote efficiency and resource conservation, the water shuts off within seconds of moving your hands out of the four-inch range. Safety features include an automatic shut off after one minute of uninterrupted water flow, as well as a blue indicator light to alert users that water is flowing or dripping.
A step up leads to the Grohe LadyLux 3 Café and K7, two faucet styles that are activated via foot controls. The activation plate can be place on any surface, including the base of a cabinet, cabinet face, or the floor itself; the flexibility of plate installation ensures that residents can access the controls at any height or ability level, making these excellent faucets for properties that emphasize accessibility.
When the budget allows you to truly exit the Dark Ages, the command panel on Cinaton K2002 takes hands-free operation to the next level. In addition to basic on and off functions, the activation panel allows users to determine the water's temperature and volume. There are also configurable settings, including maximum temperature. Users can easily navigate the controls using a five infrared sensors. The Cinaton K2002 is Americans with Disabilities Act compliant and WaterSense certified.
The new Signature Kitchen Series integrates hands-free and wi-fi technologies into appliances. The proprietary app permits access to the range and oven via mobile device. With minimal preparation, your residents can get dinner started before they arrive to their apartments. The remote feature also offers an additional level of safety for days when a resident may forget to turn off the tea kettle.
In addition to remote operation, Signature Kitchen Series ovens feature Glideshut doors, so a nudge of the hip or the foot can close the doors without a slam. It's a small feature that goes a long way towards preserving the beauty and functionality of your appliances.
With these modern, efficient and tech-savvy upgrades throughout your property, your competitors will look simply uncivilized.