In Renters' Wallets
By Erica Rascón on Jan 21, 2020 in Technology
We've all heard that renters are interested in smart home devices. How much are they willing to pay for them, though? We dive into the 2020 National Multifamily Housing Council (NMHC) & Kingsley Apartment Resident Preferences Survey to find out.
What renters value is determined by how much they are willing to pay. The Resident Preferences Survey set out to put a monthly price on smart home features that renters crave. Nearly 373,000 renters living in 5,336 communities across the U.S. submitted their opinions on desired gadgets and pricing. The 2020 report is the largest compilation of apartment resident insights to date.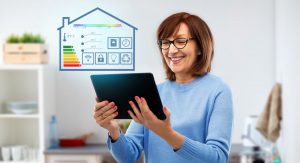 Let's take a look at which smart home features are most valuable to renters.
Most Valued Smart Home Features
All valuable smart home gadgets are connected to the internet of things (IoT). It takes more than internet connection for renters to value a gadget. The survey reveals that the most valuable smart home features are those that offer a combination of benefits in a single gadget.
One of the most valuable smart home features makes the unit more comfortable, functional, and healthy. Survey respondents are willing to pay $36 for smart or dynamic glass. The technology helps to moderate indoor temperatures. It also reduces glare on display surfaces like televisions and tablets. Additionally, the dynamic glass promotes better health by blocking harmful light rays from the sun.
Smart locks are the second most valuable. This product also multitasks: it offers the convenience of keyless entry as well as a layer of security. Most smartphones are protected with face recognition, fingerprint scanners, or PINs. An authorized user must be present to unlock the phone and then use an app on the smartphone to manage the lock to the unit. Renters are willing to pay an average of $33.50 for smart lock-enabled homes.
Respondents value internet-enabled refrigerators at about $33. This feature offers multiple layers of convenience. It takes the guess-work out of shopping by issuing reminders on commonly purchased products that are low or unavailable. With internet connection, smart refrigerators can also offer recipes, weather, traffic and other important information.
Smart thermostats are perhaps one of the most popular smart home features. On one level, smart thermostats offer cost savings. By setting temperature parameters, users can conserve energy when they are not at home or when interior temperatures reach a desired level. Secondly, smart thermostats offer convenience. Via an app, a renter can control the thermostat from their bed, couch, or across the country. Renters are willing to pay about $30 for smart thermostats.
Similarly, smart lighting provides an opportunity to save money while improving convenience. Renters can conserve energy by placing lights on timers or shutting them off when the unit is vacant. Smart lights can also serve as a layer of security. Since lights can be remotely controlled, users may wish to manipulate the lights within a unit when they're not home. This way, the unit appears occupied which is a deterrent for criminals. Renters place a value of about $29 on smart lighting.
The Value of a Virtual Assistant
When it comes to combined benefits, virtual assistants are unbeatable. Virtual assistants permit voice control of multiple devices in the IoT. Users can manage their smart locks, dynamic glass, smart thermostats, smart lights and internet-enabled fridges in one place. Unlike an app, virtual assistants facilitate hands-free control of smart gadgets.
Additionally, virtual assistants offer conveniences unrelated to smart home gadgets. The new RENTCafé Resident Services Alexa Skill, for example, handles demands usually made through the community's app or website. Renters can check account balances, pay rent, submit maintenance requests and reserve amenities using only their voice.
Watch the RENTCafé Resident Services Alexa Skill video to learn more.
Respondents rate the value of a virtual assistant at an average of $33.50 per month. The pricing falls in line with other valuable smart home gadgets.
Read more about the advantages and disadvantages of smart home gadget maintenance.