Document Management Musts
By Lee Ann Stiff on Apr 26, 2023 in Technology
You're likely familiar with the challenges of managing documents across your business, both for your staff and external users. A few of these challenges include maintaining consistent folder structures, managing security and permissions, integrating content and users, finding documents quickly and tracking multiple versions over time.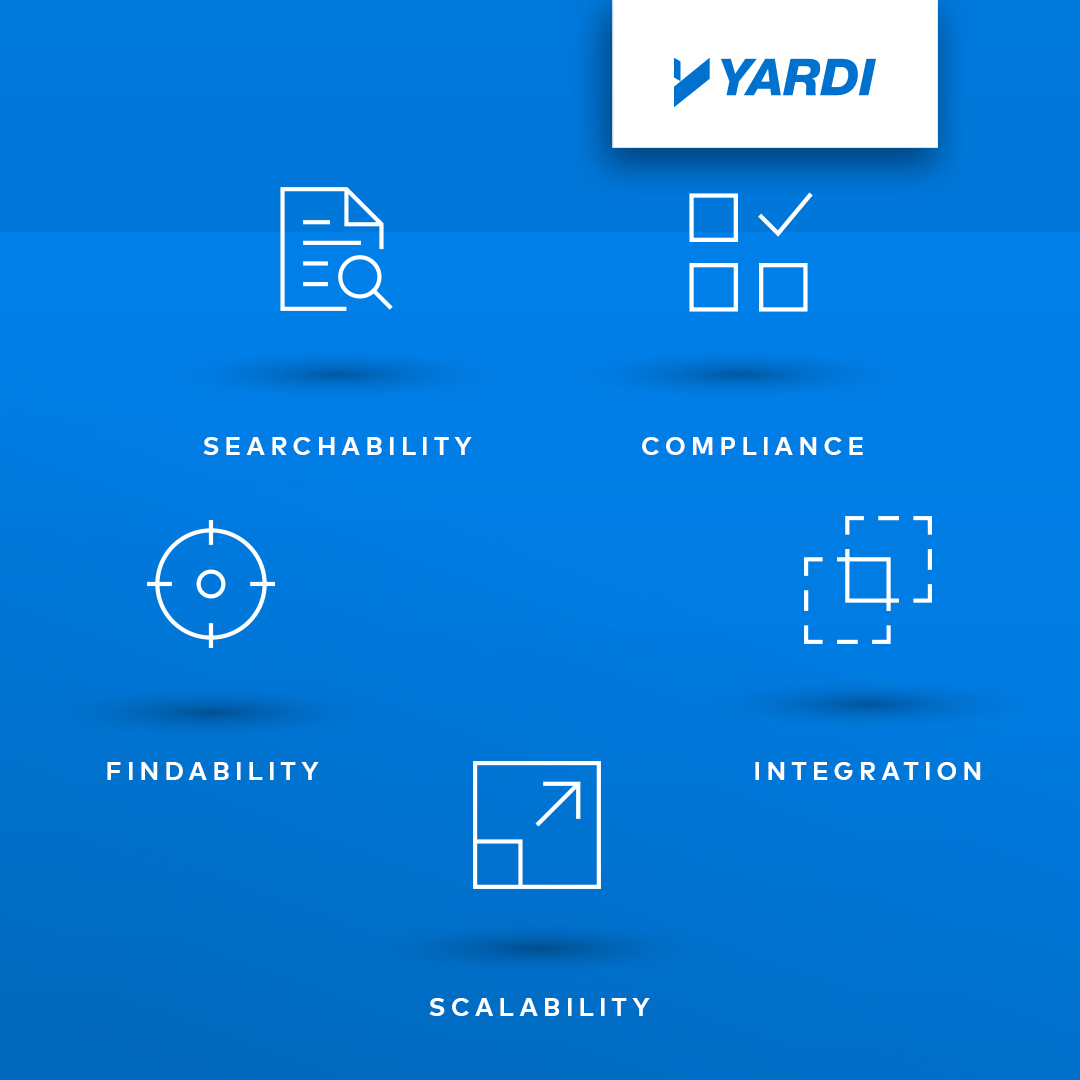 You can overcome these challenges by storing and sharing content in a unified system that leverages SharePoint and the cloud. Even better is a solution that integrates with your property management platform for a single source of truth. Centralizing key documents and enterprise information in a secure, mobile-enabled system will help you increase communication and productivity across your business. Read on to learn five big benefits of a full-featured document storage platform.
Five features to look for in a document management solution
1: Searchability
Finding documents using native SharePoint functions is even more effective when coupled with AI meta data tagging. Adding OCR (Optical Character Recognition) capabilities that convert images of text into a machine-readable text format will make your search for elusive documents even more powerful, giving you the ability to look for keywords within a document.
2: Findability
Organization for your documents is key. Implement a taxonomy with a uniform structure that makes it supremely easy to locate documents. Automation will ensure consistency and maintenance of your folder structures. Just as going to a big box store at any location in any state will give you the same layout and experience, a taxonomy that consistently organizes your documents to ensure a familiar experience makes information easy to find.
3: Scalability
Without a document management system, managing information across an organization is a laborious undertaking. With an automated solution, it's easy to maintain taxonomy and security for your documents on a large scale. Automation organizes your documents within hours, and when integrated with Yardi Voyager, you can access documents from a single source of truth.
4: Integration
With seamless integration of your document management system with your Voyager property management system and other Yardi platforms (including Yardi Elevate, CommercialCafe and VendorCafe) it's easier for approved users inside and outside your organization to upload files. Security is managed in Voyager. Depending on the outside user, such as a vendor, when they upload documents they will not be aware that the files are stored in SharePoint behind the scenes. Inside your organization, users will be able to interact with the files in a SharePoint setting where they can leverage all of its features.
5: Compliance
Laws and regulations are changing to require less paper and accept more digital documents. Maintaining compliance and security in this evolving digital environment is a necessity. Document management in SharePoint has many features for compliance including retention policies, workflows and the ability to integrate with third-party tools such as DocuSign to meet regulations.
Ready for scalable enterprise content management that delivers a single source of truth across your business? Yardi has a solution that enables you to take advantage of all the great features listed above. Join a Yardi Document Management for SharePoint webinar or learn more now.