10 Office Ideas
By Erica Rascón on Nov 12, 2012 in Technology
Make your workspace brighter, better and more productive.
Design an office space that fosters productivity, encourages creativity, and promotes the health and well being of all who enter. This holistic approach to an otherwise function-driven space could be the change that you need to breathe fresh air into your business and boost the morale of your team.
Create the right frame of mind
Your office is more than a space for meeting clients and handling paperwork. It is the environment in which you and your staff live for a significant portion of the day.  Create a space that feels livable without detracting from your professional goals.
Integrating biophilic concepts into work places has proven to increase employee productivity, happiness, and health. Of course, that isn't as easy when operating in an existing property. Retrofit the office from the inside out with a nature-inspired makeover. Create a fun, organic space like the Open AD office green house by replacing faux plants with their real equivalents. Opt for energy efficient, low-e windows with insulation instead of window coverings. By removing window coverings and permitting natural light to enter, workers can thrive in a more natural feeling and dynamic environment.
In urban settings, accomplish a similar look and feel on a smaller scale using Domsai. Each mini-greenhouse is compact, easy to maintain, and adds a fresh, airy feel to your office.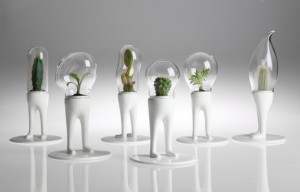 Optimize available natural light while conserving a bit of privacy with transparent or translucent room dividers. Opt for organic curves for a more natural effect.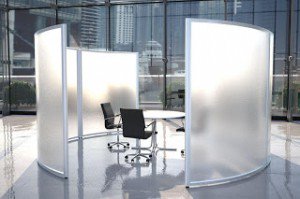 Create a healthier work environment with Grabo Acoustic Flooring. The flooring's primary function, noise control, still sits center stage. As an added bonus, the flooring offers antistatic and bacteria resistant properties for a healthier workplace.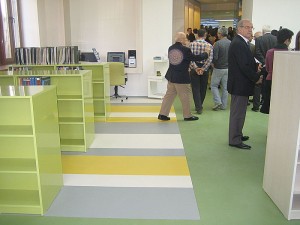 Lighting doesn't have to be purely functional. Make lighting fun with Bool, available in various shapes, sizes, and colors. The units complement contemporary and modern design aesthetics flawlessly. Add a touch of green to your Bool lighting with energy efficient bulbs.
Increase comfort, improved health
A healthy staff is more productive and cost effective than an unhealthy staff. Supply your team with tools of the trade that offer comfort and support heart, digestive, bone, and joint health.
Ergo Desktop Kangaroo does the job of an adjustable stand up desk with less bulk; its compact size allows it to be a more affordable alternative to larger adjustable models.  Workers can transition easily from sitting to standing positions, reaping the benefits of both desks types while suffering fewer disadvantages of either. The Kangaroo allows flexibility in the workplace without interrupting workflow.

Accentuate your convertible desk with the uber-ergonomic, eco-friendly Herman Miller Aeron office chair. Aeron has caused a buzz since it first arrived on the design scene years ago. New, though not needing many improvements, the chair continues to be the go-to seating choice for health-conscience investors. Aeron is composed of 95% recycled material, minimizing your office's footprint.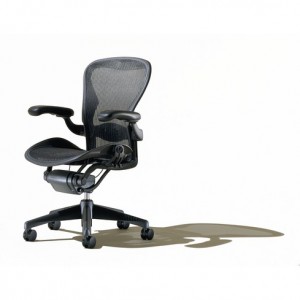 Professional image, professional results
Keep personnel organized and in sync with a few handy gadgets, such as the Nexus 10 tablet complete with a Livescribe smart pen. Nexus 10 receives praise for its affordable price, stunning screen resolution, and long-lasting battery.  Techies appreciate its 32GB memory and Android 4.2 software. The tablet offers quality computing on the go with minimal bulk.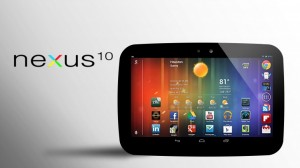 Livescribe, which is compatible with Android products, provides a high-tech solution for those who prefer traditional pen and paper organization methods. Livescribe is a "pen that can capture writing, record audio, and then wirelessly transfer the captured data to a smartphone, tablet, or Evernote note-taking software on a PC." Basically, anything that you want to write, say, or draw can now be sent effortlessly to coworkers for easy information sharing. Retrieve data from the cloud and share with clients around the globe.