#YardiLove
By Erica Rascón on Feb 17, 2021 in People
Compassion takes on a lot of forms. Sometimes it's the coworker who helps you troubleshoot an issue for a client. Other times, it's like coworkers coming together to support a peer during their darkest hours. The Yardi Atlanta team recently celebrated a virtual Valentine's Day that showcased compassion, love and camaraderie in their many forms.
#YardiLove in Atlanta
Organizers Michelle O'Neal and Carolyn Goldin encouraged employees to share their appreciation for their terrific teammates by visiting the office's Confluence page. There, they could post Valentines "javascript style." In the comments section, teammates left kind notes, GIFs and memes to brighten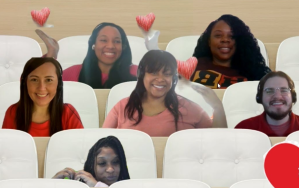 one another's day.
They could also post a picture of themselves with their favorite Yardi employee(s) or Valentine(s). The contest encouraged Yardi employees to celebrate togetherness even while they are apart.
O'Neal explains, "I think we all are searching for ways to reconnect with our friends and colleagues.  Because Valentine's Day is thought of mostly for love relationships, we thought we'd play off the relationship idea and swing it towards the relationships we have here at Yardi. We are a tight-knit culture that enjoys the social aspect."
The photo submissions showcased the creativity of Yardi Atlanta. They shared digital collages, screenshots of Teams meetings with fun backgrounds, wedding photos, as well as group pictures taken in past years. Each collaborative effort confirms that team spirit and Yardi's corporate culture are alive and well, even in our remote work environment.
Some employees opted to also share their images and kind words on social media under #YardiLove. Carolyn Goldin, consulting practices at Yardi said,

"We wanted to share the #YardiLove especially because we haven't connected with officemates who aren't on our immediate teams in a while."
Participants were eligible to win Tango gift cards in a drawing. This year's winners were Jillian Tuten and Wollinsky Mendez.
Working together while apart
In many ways, corporate culture at Yardi has remained unchanged since shifting to a remote work environment. Employees still enjoy a welcoming,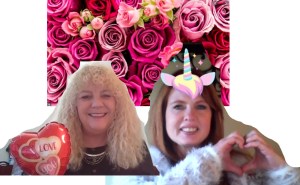 supportive and friendly environment reports Goldin. But since many employees began working from home, HR has become more creative with ways to maintain corporate culture.
"HR was amazing at planning fun activities to get us out of our silos," says Goldin. "Many of us feel more productive at home and our great teamwork continues on Teams, but sometimes we miss the casual interactions and random catching up with friends."
O'Neal agrees, "Excitingly enough, our team continues to stay close and reaches out and supports each other even through the remote work situation.  We have Teams meetings on a regular basis which allows us to hear and see each other and to connect. I know that we are all working hard because we are all keeping in contact with each other throughout the workday. Corporate culture during work-from-home is working and we are still building relationships!"