Tech Knight
By Erica Rascón on Jul 28, 2020 in People
When you think of a knight, do you imagine him perched atop an ergonomic office chair? Does he don a headset, wield a mouse and fry fish dinners for those in need? If not, you've got a lot to learn about modern knights.
Larnoe Dungca is a knight who embodies versatility, strength and compassion in unexpected ways.
Starting a career at Yardi
Dungca's career with Yardi humbly began 13 years ago. After his previous company closed, he attended a job fair in Ventura and submitted his resume for a web developer position. Fast-forward and Dungca is now a RentCafe technical analyst. He assists RentCafe account managers in CPG Practice Group SB5 as well as other teams. Basically, he helps those who help others.
"I really enjoy the satisfaction I get when issues are resolved," says Dungca.  "I love to imagine the smiling faces of RentCafe account managers when they say 'thank you so much!'"
Through his work, account managers receive the troubleshooting and guidance needed to solve the toughest software problems that clients face.
A knight in a techie's clothing
Dungca is a bit of a hero to our account managers and the clients that they serve. He's also a hero to his local community—he's a knight, actually.
For a decade, Dungca has volunteered with the Knights of Columbus Council 9969 Holy Cross Catholic Church in Moorpark. The group consists of about 150 men who host regular fundraising and outreach events for the community.
One of his most memorable events was the Special Olympics Softball Tournament. "This was my favorite event," says Dungca. "We made sandwiches for all players, umpires and staff that day at the park. It was great to see all of their cheer while they enjoyed the sport that they loved."
Other activities include Friday night fish dinners during Lent, a Thanksgiving food drive and a Tootsie Roll Drive to help people with intellectual disabilities. The latter is a unique event. Knights position themselves near popular sites in the community. The wear yellow vests and bright yellow cans in which they accept donations. For each contribution, Knights offer a piece of candy to patrons. The most common sweet treats are Tootsie Rolls, hence the name of the event.
Every tiny act of compassion helps. The organization raised $185 million and volunteered 75 million hours last year.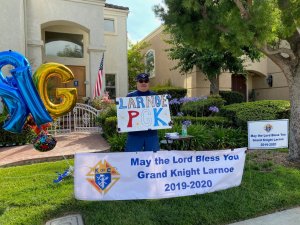 The organization also adapts to the changing needs of the community during the pandemic. "Currently, we assist Ruben Castro Charities. We pick up food from local supermarkets, sort it and distribute the food to families at various location in Moorpark," explains Dungca.
Dungca is passionate about his community outreach. He overcome a stroke in December 2019 and continued his service soon after recovery. "I was still a regular at meetings and continued my leadership. The members are an awesome group of multifaceted men. When anyone needs assistance of any sort, they are there to help."
Work – life balance
Dungca finds that skills he has learned from community service transfer into his professional life. "I believe in serving the parish and local community. I really found a community to call my own. I try to replicate that at Yardi," he says.
He adds, "I foster a sense of community with the Ukulele Club at the Yardi Oxnard office. We engage with new employees and help them feel welcomed. We also host after work social hours with different departments."
"Yardi is a fun place to work," says Dungca. "I really enjoy the family atmosphere and everyone's willingness to help one another."
Learn more about life as a Yardi team member on our People page.