Team Works
By Erica Rascón on Jul 16, 2021 in People
When do you know you've found the right job? Many employers offer competitive compensation. Stand out companies encourage, support and celebrate the personal and professional development of their team. Add in a company culture that nurtures clients and community relationships and you've got the Yardi Breeze sales department.
Staying connected
The team consists of about 140 members servicing both Breeze and Breeze Premiere. They are responsible for positioning and selling the software to companies that specialize in managing real estate assets within targeted markets.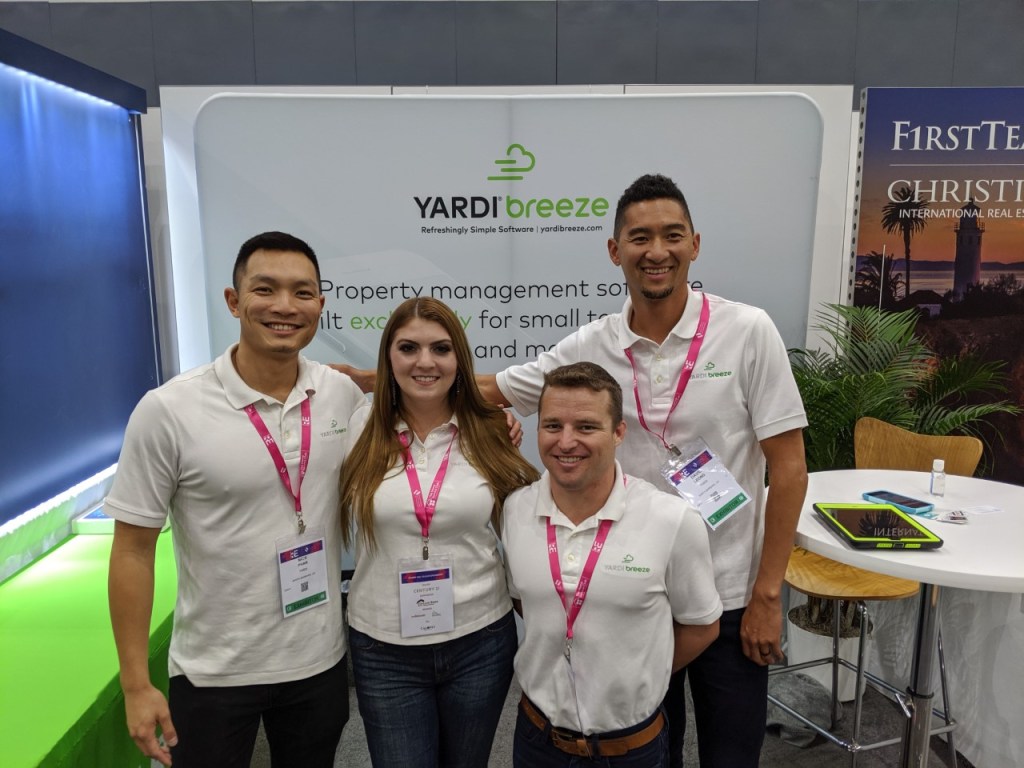 Team members reside throughout the U.S. including Santa Barbara and Oxnard, Calif., Salt Lake City, Dallas, Irving, Texas, Long Island, N.Y., Raleigh, S.C. and Atlanta. Though far apart, team members share common goals and support one another's progress.
What prompts a 14-year career with Yardi?
Mark Coverdale, director of Sales, began with Yardi 14 years ago. "I was excited to start a career in software sales. Once I was at Yardi, I knew this was a place I could be for many years."
The collaborative culture appealed to Coverdale. "In addition to collaborating with other departments, our sales teams meet regularly to give each other advice and guidance regarding sales opportunities, how best to take care of clients, and sharing success stories that we can all benefit from."
He was also drawn to the relationships that Yardi fosters with its clients. "In our industry, we cannot 'sell and run,' nor do we want to," says Coverdale. "We take great pride in building partnerships with our clients. Sometimes the sale is just the start as we continue to build and nurture relationships that last for years."
Client feedback prompts product development, which in turn creates better products and happier clients, he observes.
Intellectual stimulation is another facet of the job that Coverdale appreciates. New challenges present opportunities for growth. He and his team regularly encounter clients with mixed portfolios. Managing different asset classes on one integrated platform requires sophisticated software. The sales team thrives when it demonstrates how Breeze has evolved to support clients' diverse portfolios.
Breeze Premier caters to several different markets including but not limited to multifamily, single family homes, commercial, condo, self-storage, affordable and PHA. The sales team shows clients how they can manage their entire portfolio with Breeze Premiere software, including specific features that will cater to each of the relevant markets.
"We gain insights from internal industry specialists. Together, we present a solution that automates processes and streamlines operations. Clients received a significant NOI increase and a compelling ROI. That's satisfying for everyone," says Coverdale.
Teamwork that works
From new hires to seasoned veterans, the Yardi sales team is comprised of a diverse group. Below, they share their favorite aspects of their careers with Yardi.
"The comradery we've built before and during the pandemic are a huge factor in my personal motivation and success at Yardi. The biggest reward is watching the people hired over the last year work completely remote and still succeed in a short amount of time. The last 1.5 years have brought challenges, but as Winston Churchill says, 'A pessimist sees the difficulty in every opportunity; an optimist sees the opportunity in every difficulty.'"
–John Limburg, team lead, Inside Sales, 4 years
"The Sales Conference itself was great but going out with colleagues afterwards was the definition of team building. Meeting people in a difference setting really enabled us to get to know each other better which helped us get more comfortable with one another and essentially improved our overall relationship, inside and outside of the office."
–Ian Zakow, account executive, Sales, 1 month
"It's rewarding to watch new sales reps join the team and grow in confidence each day. Yardi has an incredible training program that positions these reps for success. I love assisting reps, but I love when they feel confident enough to not need assistance and win deals on their own. Their pride in their work and their growth is what makes this role worthwhile."
–Miguel Lopes, team leader, Sales, 3.5 years
"A couple years ago, we had a philanthropy event at our office. We donated to an organization that built the Harmon Canyon Preserve close to where I live. It's been a great additional to the community and it's cool knowing my company was part that."
–David J. Leong, account executive, 3 years
"Starting a new job is challenging but starting during a global pandemic is like no other. The amazing management and corporate team helped me overcome my worries and insecurities. They are some of the best, if not the best! They championed my success all throughout the training process, and still do this day."
–Autumn Masters, associate account executive, Inside Sales, 9 months
"Yardi provides a great platform for career growth and interesting sales problems to solve in the software realm. The company operates on integrity, doing right by employees and clients. That has been a very important factor in my personal happiness and fulfillment."
Nick Pampinella, account executive, 3.5 years
Visit Yardi Careers page to explore opportunities in your area.