Serving Seniors
By Leah Etling on Mar 21, 2013 in People
There is both a touching family story and a caring resident focus in practice at the senior living residences operated by Yardi client Bloom Senior Living (f/k/a Bloomfield Senior Living), which operates senior care communities in Indiana, Ohio and South Carolina.
Bloom's parent company, Kandu Capital, LLC also owns independent senior residences in Southern California and Arizona, and has acquisitions pending in the Southeast.
In the rapidly growing market for residential memory care services, the Bloom model is both personal and heartfelt. The approach may stem from the company's history. Founder Richard Tischler, a hard-working family man who still comes to the office five days a week at age 98, built a nursing home business with the support of his late wife Ruth, who in her later life suffered from Alzheimer's disease.
Her illness, and the experience of finding a suitable living facility to meet her needs, had an immediate impact on the Bloom approach to care.
With Richard's two sons-in-law (Howard M. Dubin and Mitchell A. Kantor) and three grandsons (Bradley E. Dubin, Scott M. Kantor and Tony Kantor) involved in growing and efficiently operating the family's seniors housing portfolio, the company strives for the highest quality care and a top-flight customer service experience.
They want families and residents to find the type of residential experience, exceptional care and resulting peace of mind that they sought when Ruth Tischler became ill. She and Richard are considered the company's "Chief Inspiration Officers," a fitting title.
"We went through the process of looking for (a care community) for her and seeing what was out there while we were doing our own search. We looked at it not just from the perspective of being an operator, but from being a family member. We stood in those shoes," said Brad Dubin. He and Mitchell Kantor work on the acquisitions side of the portfolio, but even as the company continues to grow in size, resident care – and a specific focus on acquiring and improving senior properties – is the top priority.
Ruth's experience has also inspired a unique memory care living model at Bloom's Bluffton, South Carolina property, Belfair Gardens. A 12,000 square foot addition to the Belfair Gardens community living area took the property back in time to 1940's Main Street America.
"It looks and feels like the 1940s, and it is part of our programming to bring residents back to their yesteryear, which helps trigger long term memories," Brad Dubin explained. "We have working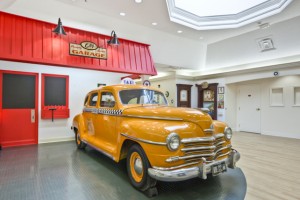 life skills shops in the building such as an antique store and a general store, an old-fashioned cinema, post office, barber shop, newsstand, book nook, vintage sporting goods store, flower shop, toy store, art center and a department store. We have a New York City taxicab from the 1940s in the middle of the community. For our residents, it's an innovative concept that really helps. There's nothing else like it."
The Tischler, Kantor and Dubin families were inspired by Ruth's experience with Alzheimer's to create this unconventional, charming space, and they worked with Lara Williams, Executive Director of Belfair Gardens, to execute the concept in an effective way.
"There is no program like it within South Carolina, or the United States for that matter," Williams told a local paper late last year. Residents are able to connect with their past here, whether it is a lifelong mechanic who wants to tinker with the taxi's engine or a career baker who still rises before the sun to start the day. Every resident receives personalized care and attention.
The Main Street approach was immediately successful, and has already expanded once. Initially serving 23 residents, now a total of 68 Belfair Gardens residents enjoy their old-fashioned home. Expansion of the concept is planned for other Bloom Properties.
"We are focused on adding this memory care concept at all of our existing communities and future communities," Brad Dubin said. We can imagine that Ruth Tischler would be especially proud of her family.