Serving Seniors
By Nik Edlinger on Nov 3, 2019 in Giving, People
No one said growing old was easy. Thankfully, you don't have to go it alone. There's a wealth of aging agencies and community-based organizations ready to help.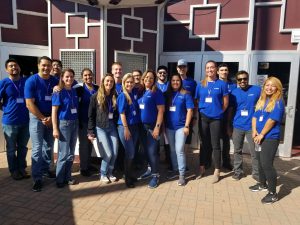 In Santa Barbara, many of these local services come together every year for the Senior Expo, which provides a central location for seniors and their caregivers to find educational information, fitness activities, health care and more. This year's fair took place in early October, and nearly 1,000 attendees and 125 vendors packed the showgrounds.
The Senior Expo, now in its third decade, is hosted by the long-running Family Service Agency (FSA). Established over 100 years ago, FSA has continuously been one of Santa Barbara County's most effective nonprofit organizations for families and individuals of all ages and diversities. They routinely provide food, shelter and other basic needs, as well as mentoring, case management and mental health programs, to create and preserve a healthy community.
Yardi returned to the Senior Expo of Santa Barbara once again this year to give back. Nearly 20 employees from the Santa Barbara and Oxnard offices volunteered their time for the full event.
"The seniors in our community love this event," said Lyn Shirvanian, coordinator for the Senior Expo as well as FSA's mental health awareness training. "And it is due not only to all the services provided that day, but all the young people that they interact with as they enjoy the festivities."
Serving the Santa Barbara senior community
For such a big event, the Yardi volunteers split into teams to tackle setup, breakdown and everything in between. Groups arrived early for a quick on-site training before taking their posts. Some directed parking as guests arrived. Others unloaded cars and trucks for vendors, carting goods to their booths in the expo hall. And still more unboxed fruits and snacks in preparation for the fair.
Once the event kicked off, Yardi employees greeted attendees at the door, answering questions and acting as guides. When needed, volunteers were happy to push guests in wheelchairs wherever they wished to go. Flu vaccinations were a popular destination during the expo – officials estimate that over 700 shots were administered by 11:30 that morning.
As things wrapped up, the Yardi teams reconvened to assist the vendors and organizers in packing up. FSA organizers were glad to have Yardi's help. "Every single one of them were enthusiastic, helpful and kind to our vendors and seniors. They showed initiative and were constantly willing to jump in and assist as needed," say Lyn. "We had a very successful event, and it ran smoothly with their assistance."
Volunteer efforts like these are a core element of Yardi's mission. It's a sure bet that the Santa Barbara and Oxnard teams will step up again next yet. "I know the efforts of our team make a difference to the organizers and the attendees," said Ray Elliott, vice president of senior living at Yardi. "Though we all have a lot to do day to day, it's important to take opportunities like this to give back to our community."
Find senior services near you
Many cities offer services just like those at the Senior Expo of Santa Barbara. A great place to start your search is at your local area agency on aging. They offer support programs and coordinate community care to make it easier for older individuals to choose the services and living arrangements they prefer.