Senior Living Wisdom
By Nik Edlinger on Sep 24, 2020 in People
The senior living industry can be competitive, but it also has no shortage of experienced professionals ready to work together and share their hard-earned knowledge. This sort of collaboration has been needed now more than ever as the industry has had to adapt to new challenges.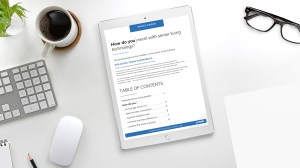 In search of best practices everyone could use, we interviewed clients who had steadily grown their senior living organizations. We asked them what issues they faced, what goals they pursued and how they leveraged technology in innovative ways. Their answers formed the basis for our How Do You? video series, which you can access and watch on our resources page.
But not every piece of advice made it into the final videos. These senior living leaders had a lot to say, and we want to ensure there's a place for all their insights to be discovered. So we revisited their interviews and pulled their answers together for a new white paper: How do you excel with senior living technology?
Here's a sneak peek at questions we covered:
How do you | encourage move-ins?
"It's always ideal to know how close a lead is to moving in. Some leads are two months out. Some are three months out. Some are years out. Understanding that allows us to input a call-out in two years maybe or a follow-up that works for them. We're not that typical marketing person who's going to bombard them every week."
– Nicole Graham, Licensed Administrator
How do you | improve resident care?
"By electronically charting as you go along, it cuts the background stuff out of the process of taking care of a resident. All of the time that they would spend trying to figure out when to chart and what to chart is gone. They just automatically do that with their tablets on the fly."
– Dennis McCarthy, Chief Information Officer
How do you | keep families connected?
"From a family's perspective, they need connectivity. And the portal allows that. Family members know what's going on at any moment in the day of that resident. If you don't have an online portal you're missing out on valuable communication. It's a great way for family members to stay in touch even with a caregiver."
– Breck Austin, Senior Operations Executive
Whether you're a new provider or someone with years of practice, you're sure to learn something useful here. Download the white paper