SEE International
By Leah Etling on Oct 15, 2018 in Giving, People
For 44 years, Santa Barbara-based Surgical Eye Expeditions (SEE) International has b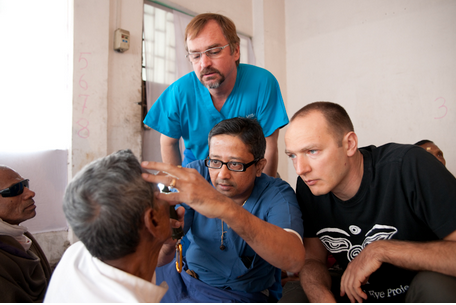 een providing restorative eyesight care around the globe.
The non-profit organization, founded by local ophthalmologists in 1974, relies on volunteers, grants and donors to make its important work of reducing preventable blindness possible. And as it heads toward 50 years, SEE is endeavoring to treat more patients than ever before.
"There are 36 million people in the world who are blind, up to 75 percent of those are blind from preventable conditions," said Matt Wheeler, vice president of communications for SEE. "One of the major problems is that 80 percent of these people are living in areas of the world where access to care is not available." Cataracts, one of the leading causes of blindness, can often easily be treated – but patients must have access to qualified ophthalmologists who can perform a simple surgery.
Partnering with local ophthalmologists in every region where they work, SEE volunteers made 250 trips to over 40 countries this year, and performed 40,000 sight restoring surgeries. Volunteer doctors pay for all of their own travel and housing expenses and receive no pay for their work.
By 2020, SEE aims to perform 100,000 surgeries a year. In the course of the organization's existence, volunteers have conducted 4 million eye exams and performed a half million surgeries. Other work includes training regional doctors on cataract surgery techniques, providing supplies for clinics that don't have access to proper materials, and conducting preventative eye exams in impoverished areas.
In assessing the support it has received from corporate sponsors over the years, SEE staff realized that one Santa Barbara-based company was unique in terms of longevity and generosity of support – and happened to be a close neighbor, too.
"Our leadership was reviewing the companies that had given to us consistently over the years, and Yardi really stood out," said Hannah Hultgren, corporate relations coordinator for SEE. "We felt there should be recognition of a company like Yardi that has given so much locally and to the community at large." Yardi has been a philanthropic supporter of SEE for the last two decades.
As a result, Yardi was awarded the first ever SEE Community Philanthropist Award at a ceremony last month. Vice president of human resources Sally Parks and culture and philanthropic coordinator Kelly Johnson were on hand to accept the award on the company's behalf (pictured).
Hultgren noted that a major portion of the Yardi funding has supported sight restoration efforts in Bhavnagar, India, not far from Yardi's Pune office. Over 1,000 patients have been treated at a clinic in Bhavnagar thanks to Yardi's donations.
SEE's work is one of many philanthropic projects that Yardi has in India. Others include Vasti Vikas Prakalp, which offers funding support to numerous regional NGOs and helps bring hope to some of India's most underserved neighborhoods.
"Entire communities are transformed because there are people like you who help create a culture of philanthropy. SEE has been profoundly grateful to be one among many humanitarian organizations Yardi has generously supported," Hultgren said.
Learn more about See International and its global projects, including where you can lend a hand, here: seeintl.org
Yard is Energized for Good! Learn more about the company's philanthropic and volunteer efforts around the U.S. and the world here.