Post Properties
By Leah Etling on May 18, 2015 in People
At Atlanta-based Post Properties, standing still is simply not an option – for executives and site level employees alike. In the last year, the company has taken on a major technology overhaul, converting from a disparate, multi-system approach to a single stack solution.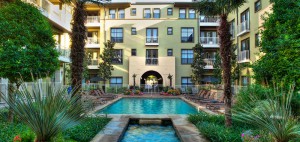 The transition involved significant investment in change – not just from the perspective of making a major technology purchase, implementing a new system and conducting portfolio-wide employee training – but outside of the company as well. As the first user of Yardi's VendorCafé, Post introduced more than 1,000 vendors who do business with the company to a dynamic new system for compliance, bids and invoicing.
"You want to streamline your processes and you want to reduce risk. We're a public company. We found that with Yardi we reduced our number of integrated platforms drastically – from 40-plus applications down to about 8," said Janet Ham, Vice President of Information Technology. Post Properties has interests in 22,650 apartment units in 58 communities, spread over 9 markets.
Moving to a single stack allowed Post to achieve myriad efficiencies, from enhanced leasing and resident services, to better mobile maintenance processes, to a potential industry-changer with the use of VendorCafé. Read on to learn about what they achieved.
Maintenance goes mobile
Equipping apartment maintenance engineers with smartphones and mobile apps that deliver work orders and reporting capability is the clear trajectory for the apartment industry, and Post had immediate buy-in from their maintenance teams.
"We've been wanting to implement a mobility product for our engineers for years. But there just wasn't a fully-integrated product until now," Ham said.
Yardi Maintenance Mobile keeps maintenance specialists in the field and helps them keep closer track of scheduling, supplies, project completions and resident satisfaction. Work orders are synced with Yardi Voyager 7S, so that any staff member needing information on a project has easy access. Residents can submit work orders and receive progress updates through their RentCafe resident portal or mobile app. They can also review the service and completion promptness after the work is complete.
"I've seen my time management get so much better with Yardi because of how I'm able to access the work orders on my smartphone. Maintenance Mobile has helped me save time in that I don't have to print the work orders. I can map out my whole day and give certain spaces for emergencies and such. I have the ability to add and drop work orders, and sign them off in the field," said Wesley Fonseca, a Post Properties maintenance technician in Atlanta.
Centralized leasing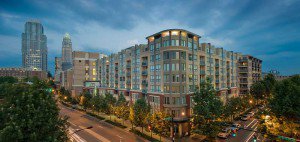 With 11 properties in Uptown Dallas, Post Properties has enhanced efficiency by leasing all 2,300 units in those buildings from a centralized leasing office. Prospects are introduced to the available units and floor plans that might meet their needs with the help of  RentCafe CRM, a mobile application that makes it easy for leasing consultants to display photos and features of multiple apartments at different communities.
"Their goal, when they walk out of that office with a prospect, is to pare it down to 2, not more than 3 communities that they want to see. They'll fine-tune what that prospect is really looking for before they leave for the tour," said Laura VanLoh, Senior Vice President, Post Apartment Management.
Then it's time to hop into a Post-branded Toyota RAV-4 for a site visit, which hopefully culminates in a completed application and approved lease. But if the first community isn't right, a tablet on hand is another way to keep the prospect interested.
"It's great for when they are on site, and if the prospect feels the apartment home they are standing in does not fit their needs, they can take a look at other options," VanLoh said.
Resident services
After move in, Post Properties aims to supply residents with superior quality of life, both through excellent properties and positive consumer experience. The RentCafe resident services platform has expanded the tasks and transactions that residents can take care of online. They can pay rent, submit a work order, renew a lease, check on lease terms and communicate with property personnel, all through the property website or mobile app.
Within hours of implementing the RENTCafé product at its first set of properties, Post Properties had buy-in from residents – without being notified that the system was live, residentsfound the portal and were beginning to sign-up, even log-in and pay rent.
"Our renters expect to be able to do everything they can do on Amazon. And if they can't do it, they'll look for somebody who can give them that service," Ham said.
RentCafe   also makes it possible for the community-based management offices to take away one of the notorious headaches for property managers – the drop box for rent checks. Voyager 7S will automatically add a late payment fee to a resident's account if rent is not paid electronically via RentCafe or entered manually by close of business on the 3rd of each month.
"It takes the emotion out of it, because the associates can say: 'Our system automatically assesses the late charges,'" Ham said. "In fact, it even increased our penetration on the portal because people realize, well, I guess I better pay online then."
Introducing VendorCafé
With the inaugural implementation of Yardi VendorCafé, Post Properties introduced more than 1,000 to a dynamic new system for compliance, bids and invoicing.
Vendor management can be a time-consuming chore for property management professionals. Licensing and insurance for maintenance, construction and custodial vendors are mandatory, and regular record checks essential to successful compliance. Previously, Post had used a third-party compliance company, but record keeping between that system, the main database, and property-level decision makers was a cumbersome ordeal in which information could fall through the cracks.
VendorCafé consolidated the data and streamlined the process. Approved vendors were invited to submit their certifications to the new system, which incorporated all of the necessary compliance checks. All the data is housed in one place, eliminating errors and need for duplicate entry.
Post Properties has added all its vendors – over 1,000 – to the system. A series of virtual Town Hall Meetings informed the vendors of the change and explained the process of signing up. Response was strong and positive, and not just because the vendors wished to continue their relationships with the company. VendorCafé also facilitates electronic invoicing and payments, so it streamlined that process for Post and its vendors all at the same time.
"In 5 months we have received and processed over 20,000 invoices through VendorCafé," Ham said.
Bring on the future
For Post Properties, the process of implementing a single stack solution started with a goal to assess and identify technology needs. And while all of the major pieces are now in place, the effort to progress forward isn't over, not by a long shot.
"That's what the single stack brings: You reduce your risk with all your integrations and data movement, and you really gain efficiency," Ham said. With a stable single database, limited integration needs and improved daily processes, the future looks bright for business efficiency at Post Properties.