Introducing iUnit
By Leah Etling on Mar 19, 2015 in People
Believe it or not, iUnit is not the next device a certain ubiquitous technology company wants you to run out and buy. Rather, it's a new modular housing project coming to Denver, Colo. in 2015, blending smart energy use, wireless connectivity, green construction and the urban living preferences of A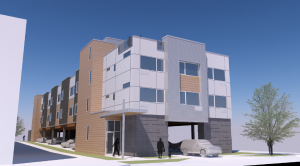 merican Millennials. iUnit is intended to challenge the way we think about apartment living today, says founder Brice Leconte.
A Washington, D.C. entrepreneur with a passion for startup technology, Leconte is currently an Entrepreneur in Residence at the University of Maryland as well as an advisor and mentor at Georgetown University.
"iUnit is really a reflection of how I see the world and what I want to do with commercial real estate," said Leconte, who worked on large single-family home developments early in his career. iUnit at Highland Park is his first foray into the multi-family space.
We recently spoke to him about the project and what makes it unique.
Tell us about iUnit. What's it all about?
Leconte: There are a lot of things in real estate that don't make sense to me. One of them is on the modular front – why we are still building buildings out in the elements, while they are being rained and snowed on. I've wanted to build differently for a long time, and modular construction has always made sense to me. Building in a controlled environment, we end up with a much better, greener product, and better worker safety. That's the method we've chosen for our multi-family building. We will use a factory in Idaho for the module construction.
The other thing that has never made sense to me has how commercial real estate has lagged behind in integrating technology into its buildings. How can we introduce technology into buildings and achieve different things? Our goal is to use technology to empower tenants to be more energy efficient.
The analogy I use is to the Prius. In the real estate industry, we know how to build an energy efficient building, but we don't have a dashboard for the tenants like the dashboard inside the Prius, which lets the driver know how their behavior is affecting the vehicle's efficiency. Our goal is first to educate the tenant, and then empower them to make better energy choices. The No. 1 priority is energy efficiency.
How does that translate to the building design?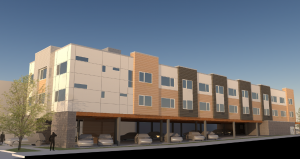 Leconte: For this first project, we are focusing on building a smarter, smaller unit. It's better-laid out, with smart storage solutions and space usage. IKEA will be the source of furnishings for the units. We will take advantage of the 9-foot high ceilings to have storage on the walls, using their Besta cubes. It will have a very contemporary look – think Apple Store meets IKEA.
When the tenant walks in, they will have a mobile app to do things like pay rent and file maintenance requests, handle access to the building for guests, review their energy efficiency, and control wireless appliances like speakers. We'll have wireless power transmitters as well.
What are the project specs?
Leconte: We're building 40 units – 30 studios, 10 one bedrooms. Studios will be around 390 square feet, one-bedrooms around 480 sf. Siting is in Denver's LoHi neighborhood, which is one of the city's trendiest neighborhoods. These are smaller units, so they come at a more attractive price point, even though you're in a trendy neighborhood. One bedrooms in LoHi right now are going for $1450 to $1650. We're looking at right under $1000 for the studio and $1250 for the one bedroom. It's a great neighborhood, with walkable retail.
What value does the walkability add to the project?
Leconte: In a neighborhood like that, you're not there to stay inside your place all the time. You're out working, at school, out with your friends – you value the location more than you value the size of your apartment. That's really an amenity, for us, is the location. Walkable retail, transit, in theory the tenants don't need a car. Car sharing and bikes are very feasible here.
This article originally appeared on Multi-Housing News. Read the rest of the story here.