Digital Assets Emerge
By Yardi Blog Staff on Mar 8, 2023 in Global, People
A future of instantaneous settlement and no intermediaries is possible with the right infrastructure. Alice Chen, Bernie Devine's guest on the latest episode of Yardi's Proptech Insights, is busy building that infrastructure.
The world of digital assets is taking shape before our eyes. In December, Larry Fink, CEO of BlackRock – the world's largest asset manager with around $8 trillion in assets under management – predicted blockchain technology would open the door to the "next generation for markets."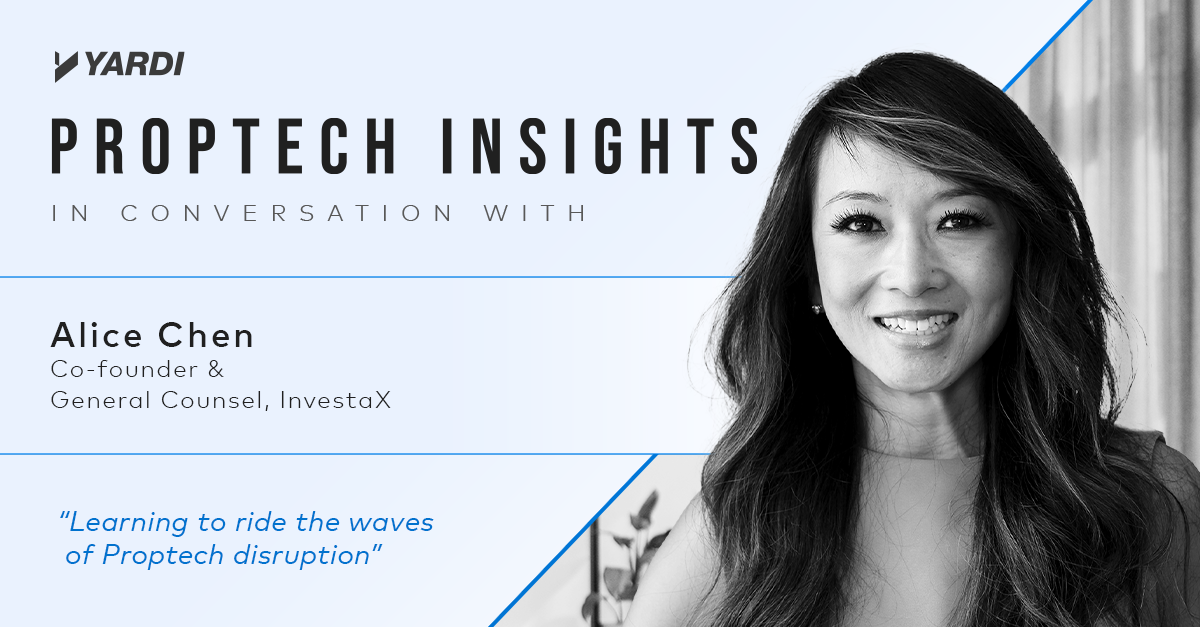 Tokenisation can provide liquidity to illiquid assets – and one recent estimate suggests tokenising just 0.5% of the total global property market between now and 2026 would create a $1.4 trillion market.
Alice Chen, co-founder and COO at InvestaX, was a real estate lawyer for many years, dealing with complex transactions "with a lot of intermediaries, a lot of paperwork and a lack of trust."
"I knew, if we could build trust into the process, we could save a lot of money and a lot of time," Chen told Devine, Yardi's senior regional director for Asia Pacific.
With this insight and a desire to "democratise the real estate investment process," Chen established InvestaX in 2015. Today, she and her co-founder Julian Kwan oversee Singapore's leading digital securities platform.
Tokenisation is the process in which a digital representation of an asset is created on a blockchain, authenticating its transaction and ownership history. Any asset – from art to real estate to bonds to carbon credits – can be tokenised. "And anything that has value, once tokenised, becomes a digital asset," Chen explained.
Cryptocurrencies such as Bitcoin and Ethereum capture a lot of headlines and headspace, but they are quite distinct from digital securities. Cryptocurrencies are a decentralised medium of exchange that operate independently of central banks or governments. Digital securities, on the other hand, are investment products that are represented in digital form and can only be bought, sold and traded on regulated platforms.
Metaverse investments and digital securities "have different characteristics, regulatory parameters and tax implications," Chen emphasised.
"I agree. The path to success with digitisation of assets is one that is compliant," Devine added. "By digitising an asset you also make it easier for software to deal with it… You are not relying on an external third party to stamp a piece of paper."
InvestaX is taking the "slow and long road" – one which is building relationships and advocating changes to often antiquated laws. "The US test for what is a security is based on case law from 1946," Chen explained.
One of the biggest hurdles to real estate tokenisation is the stamp duty or transfer tax applied each time the asset changes hands. But Chen can clearly see a future of instantaneous settlement and no intermediaries.
"We have the opportunity in the private markets to introduce an entirely new infrastructure because we don't have legacy systems. We can facilitate instantaneous settlement… but we can only do this if we have digitally native currencies and digitally native securities. That's how we think the future will be and that's why we are rebuilding an entire infrastructure around it," she said.
How long will tokenisation take to transform real estate? Download the latest episode of Yardi's Proptech Insights webinar series with InvestaX's Alice Chen to find out.