Dynamic Compassion
By Erica Rascón on Jan 29, 2021 in Giving, People
What do you do you're the director of a school foundation and, suddenly, there is no school? You find yourself rapidly organizing to get meals and social services to kids in need. When schools open with remote learning, you pivot once again to get educational supplies and technology to families—even when there isn't a one-to-one ratio for supplies.
For Jill Henden and fellow members of Cherry Creek Schools Foundation (CCSF), the past year has been full of twists, turns and pivots. The organization has remained nimble in the face of change—and they need community to support Cherry Creek School District.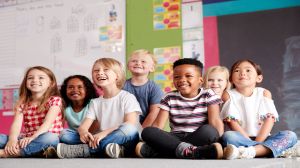 Cherry Creek Schools district
Henden established a relationship with Cherry Creek Schools district when her sons were just boys. Now, one is a graduate.
"It's been good to us. It's been an incredibly experience for my sons, and I wanted to get more involved even though I don't have a background in education," she says.
Nine years after joining the non-profit, Henden has overcome a learning curve that included countless acronyms, long meetings and navigating the complex relationship of local and federal funding. She happily serves the foundation as executive director.
"It was definitely a learning curve," she laughs. "I've worked with non-profits in the past, so I'm used to learning quickly as I go. I've been fortunate to work with incredible leaders. They've been phenomenal and I've learned so much from them."
Over the years, Henden has observed the intricacies of the Cherry Creek community and the nuances of serving a diverse group of students and their families. The community is more complex than many are led to believe: "Many people think we're a wealthy suburban school district and we don't struggle with the same problems as our neighbors," she explains. "Nearly 30% of our students qualify for free and reduced lunch. We have students with needs, housing insecurity, and a large population of special education students."
She continues, "Support allows us to serve the members of our community with the tools that they need. Every student should have access to the tools that they need to thrive and be able to participate in their own learning."
Pivoting to meet the changing needs of students during the pandemic
The tools that students need vary by family and by situation. COVID-19 exacerbated existing needs while adding new layers of complexity to families' situations. In a typical year, many children require assistance to obtain school supplies. When students migrated to remote learning, it became more difficult to access the supplies and technology needed for everyday class assignments.
Once a portion of Cherry Creek Schools students opted to return to their classrooms, they were no longer permitted to share class sets of materials and resources. The Foundation needed to purchase new class materials in addition to providing for students still in remote learning classrooms.
Support the Cherry Creek Schools Foundation emergency relief fund.
Yardi + Cherry Creek Schools Foundation
CCSF was fortunate to complete their March fundraiser just two days before the pandemic forced schools to close. The initial fundraiser helped the school provide personal protection equipment to local hospitals, purchase school supplies and gift cards to families in need.
In addition to the fundraiser, CCSF received financial support from Yardi. As a result, the non-profit was able to continue its basic needs services for the community. To help families through remote learning, CCSF also used funds to create programs for parent engagement in technology. Such programming remains the focus of the organization in the foreseeable future.
"We've pivoted to meet changing needs," says Henden. "Next year, we hope to go back to classroom grants for teachers and pushing for innovation in the classroom, but the immediate needs are priority now."
Henden and her team have also pivoted in their fundraising efforts. They will host a Virtual Gala in March which is free to attend and will raise dollars for recovery programs, particularly those that address the social and emotional needs of families impacted by the pandemic. Additionally, CCSF will explore creative learning opportunities that help families through the summer months while providing for basic necessities and additional learning opportunities for students.
"We are grateful for our diversity. It's what makes us the community strong and unique. We are doing our best to stay adapt to the changing needs of the community and we are grateful for your support," says Henden.
Yardi is Energized for Good! Read more about Yardi's corporate social responsibility initiatives on our Giving page.