Changemakers Series
By Nik Edlinger on Oct 8, 2020 in People
Charlie Trefzger is no stranger to change.
Already this year, as president and CEO, he oversaw the rebrand of his company from Affinity Living Group to ALG Senior. At the same time, he reorganized his company's operational structure. ALG communities now have more autonomy in how they operate, able to make decisions and take action without a set directive from headquarters.
That's not to say that Trefzger and his team don't support their communities, however. When the coronavirus first started making news, they instituted change after change to ensure resident safety. They reacted fast thanks to having prepared well in advance just for this sort of emergency.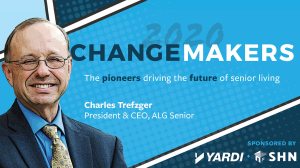 "We implemented a pandemic flu policy some time ago. Since, we have tailored it to the COVID-19 policy, which is founded upon the CDC guidelines," said Trefzger. "We've been drilling and practicing that for a good portion of the last year, and Lord have mercy, here we are right now dealing with it."
In recognition of the transformations Trefzger has driven, Senior Housing News has inducted him into the 2020 class of Changemakers. Read on to learn what steps ALG took to slow the spread of COVID-19 and how he believes the pandemic will impact senior living going forward.
What have been the biggest changes that ALG Senior has made since COVID-19 hit in mid-March?
Gosh, what hasn't changed?
There have been so many things that we've had to adapt to, such as visitation; narrowing our network of health care professionals; gathering data and having a greater reliance on data; the screening of our employees; using technology, both for visits as well as data-gathering and for activity programs; the need to address loneliness in our residents and trying to be innovative with visits.
Probably our biggest change is communication with our constituencies, our families, our residents, our staff, and our regulators and our public. Additionally, pivoting to ensuring the wellness of our residents by deploying infection control practices throughout our business has been extraordinarily important. Psychological health needs have also been extraordinarily important.
What lasting changes do you believe COVID-19 will bring to ALG or to the industry overall?
The further medicalization of assisted living. I think you're going to see a greater and greater reliance on the health care support and care coordination that our business has to provide. I think you're going to see the continued narrowing of the network of health care professionals coming into our buildings, and we have to narrow it.
The continued reliance on data and the ability to collect data by new means. I think all of us as an industry are going to have to become very adept at understanding what our data is telling us.
Marketing is changed forever. We are not going to be marketing like we have in the past with our sales folks. The world has shifted, and we pivoted early. I think that protective equipment and infection control will remain a very important part of the care of our residents and the expectation of our constituencies. Visits by our families are changed forever. We're constantly thinking about how we do it.
What has been the biggest lesson learned so far during COVID-19, and how have you changed ALG's operations as a result?
Expect the unexpected. And this has been an awakening to not just our pandemic challenges, but challenges across the spectrum. I think we've learned this not just at ALG, but in our country and in our world. You have to be prepared for things you never dreamed could occur. We always had protective equipment, but we never had the volume of protective equipment that is required today. And having those supply chain relationships and the ability to gather that material quickly will help us ensure that this will never happen again.
We had zero flu outbreaks this year [as a result of our infection control protocols]. That is the sort of thing that we learned, and we'll continue to learn and follow.
Data-gathering technology is so important. Right now, we're using tablet computers to screen all of our employees coming into the buildings. And we know from a global perspective here at ALG Senior how they answered their questions, what their temperature and pulse oximeter readings were. But we also were able to compare that with our payroll records and ensure that everybody is screening properly. If you're on the time clock, you better be through the screen.
—
Read the full interview with Charlie Trefzger on SHN.