Changemakers Series
By Nik Edlinger on Jul 31, 2020 in People
Doing things differently is part of what separates Changemakers from the pack. At Priya Living, Founder Arun Paul fully lives up to that expectation. He's built Indian-inspired independent living communities that bring together not just older adults but people of all ages, races and religion.
"When the young people would come in, we started hearing those comments like, 'This place, we love it. Could we live here if we wanted to?' We said, 'We have vacant units, and we need to fill them. Yes, sure. Why not?'" said Paul.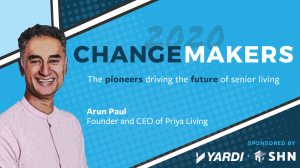 Priya Living now has three communities in California with a fourth on the way. They've instituted an a la carte model for services, where residents can use their smartphones to request food, care, transportation and other necessities.
This willingness to try new approaches has also helped them adapt safely to the pandemic. They were taking steps in the first week of March to prevent the spread of infection, and so far no one in their communities has contracted the virus.
In this excerpt from his Changemakers interview with Senior Housing News, Paul describes how COVID-19 affected their business and how they've responded to keep residents healthy and happy.
How have you had to change operations due to Covid-19?
We put a pause on programs and activities and enhanced disinfecting, cleaning and restricted visitation. We did that starting March 6, and then March 16, the Bay Area implemented a region-wide shelter in place.
We've been fortunate. Knock on wood, we haven't been impacted in terms of any cases in communities.
Do you think Covid-19 will lead to lasting changes in how Priya operates?
After that initial phase, we started to look at how we could start to bring our programming back, but use digital distribution for that. A crisis forces you to rethink your approach. For us, that's going to be something we take away from this — digital delivery of programming. Not exclusively, but we're going to use that much more. There's a lot of benefits.
We do feel like we can deliver higher quality programming, because we're centralizing the production of programming. If you have 10 communities and you're doing yoga at every community, you're relying on whoever the local yoga instructor is, versus having your best yoga instructor teaching classes at all your communities.
We've likened it to what Peloton has done. High-quality central production versus, in Peloton's case, physical spin studios.
Can you describe how Priya has centralized the production of programming?
When we were first brainstorming about this, we really did think a lot about Peloton. We said, okay, we're going to get studio space in Oakland. We're going to bring our instructors there. It's going to be high production value. Obviously, we realized, you can't do that in the middle of a pandemic.
What we did instead is, we created these packages that we mail to instructors at their home. The packages have high-definition video camera equipment, sound equipment, there's a backdrop, there's lighting, a little instruction package on how to do their setup at home.
The other thing we like about the digital programming route is it's asynchronous. You don't have to take your yoga class on Tuesday at 10am. You can take it Friday at 5pm or whenever you want to. I think this experience has opened the door for people mentally, too, to be open to this.
Going forward, once this is all done, does it mean everyone's taking their class in their unit? It could be some of that, it could be small groups coming together in a common area with a big screen, and in-person programming will still be there. The great thing is, you're creating a library of content, right? When you do a live yoga class in a community, it's gone. It's like Snapchat — there for 30 seconds. When it's recorded, you have so much utility from that one class that now lives on in perpetuity.
Do you think Covid-19 will suppress consumer demand for independent living?
I've been kind of all over the place on this one. It certainly felt like there was going to be a seismic shift. Then, for me personally, the pendulum kind of swung in the other direction. I think people realizing the benefits of socialization is a really powerful thing. I imagine we all know people in our personal lives who are elders — I see this in my family, aunties and uncles that are stuck in their single-family homes, and it's been a really difficult experience.
I do think it's going to help the industry in terms of people having lived through this and many of them deciding, I don't want to do this again.
I think providing alternatives to folks that may be concerned about high-density congregate environments is a good idea. The small home model — that's something we've thought about … you've got most seniors in the country living in single-family homes and we're only converting 10% of them. So, it really begs the question, doesn't it make sense to provide these alternatives?
I think a lot of arguments that have always been there for high density — that it's the most efficient way to deliver services — that's changed now, with technology.
—
Read the full interview with Arun Paul on SHN.