Changemakers Series
By Nik Edlinger on Jul 24, 2020 in People
Leaders in senior living know that you need to take steps to stay ahead of change, even when things might seem normal in the moment. The earlier you act, the better off you'll be.
That idea is a core practice for Richard Hutchinson, CEO of Discovery Senior Living. Throughout his decades' long career, he's taken innovative approaches to sales and data that have produced measurable results. And when the coronavirus first began making headlines in January, he started procuring as much PPE as he could for his communities, well before local health authorities were raising alarms.
For these reasons and more, Hutchinson was recently recognized as a Changemaker by Senior Housing News. The interview series, sponsored by Yardi, highlights leaders across the industry who are helping to shape the future of senior living.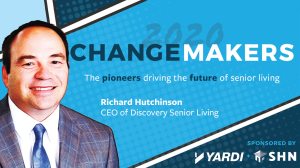 In the excerpts below from his interview, Hutchinson shares his take on how the senior living industry faces change and what it means to be innovative. He also talks about Discovery's proactive measures to keep residents and staff safe from COVID-19.
You've mentioned that the industry is set in its ways, and also that the consumer is changing rapidly. Do you think the industry is changing fast enough?
No, I don't think so. I don't know that many industries are changing fast enough, and it's the pace and the tempo of consumer behavior and the way the consumers not only want to purchase things incrementally, but generational changes and technology changes, that make it difficult to keep pace.
The fundamentals of our industry have been great, so [we have] the good-bad equation. The good news when you have such a great supply-demand equation is that you'll end up with people who can replicate other people's product and services and do quite well, and good for them. The bad thing is, it does stifle innovation, because you're successful, even though you're really not innovating.
COVID-19 is one of the factors, but I think just the changes now have in the consumer behavior, the generation, all those things I talked about, has now grown so much, that seniors housing has no choice but to change, or else you get left behind.
How has the company fared in general during COVID-19, and is there anything you're doing you think others aren't, any lessons learned that you would flag?
We're actually doing really well, and I give my wife a little bit of credit for this because back in January, she was ringing the alarm bell and pushing me mentally on whether or not to take this seriously. We were able to line up some supplies for PPE well in advance. Early on, we didn't gain enough supplies, but we were able to quickly make that up because we started early. Right now we're doing really well with PPE, and I know that's a tough thing for the industry, but we count masks in the hundreds of thousands and gloves in the millions, so we're in good shape there. I'm happy that we were able to start early.
As far as the virus itself and its impact on our population, our residents and team members, so far I literally had just a few team members and a small minor fraction of our overall resident population, thankfully, but that's because we also adopted early on really stringent protocol. It might be the military person in me, but it's hard to do it state by state, local department by local department. Early on, we decided we were going to take the most strict standard that was coming out and then uniformly put it across our portfolio regardless of independent or assisted living, because we didn't really see the difference in this regard.
We have a program where, especially in Florida, we are able to go in and do precautionary testing, and it includes 100% of certain groups and a representative sample of other groups. Whether that's team members, shift workers, caregivers, resident populations by floor, by wing, by social grouping, we've come up with a sample testing program to make sure that if we do contract the virus in our community, we can contain it. We call it our early identification and early containment strategy, and it's worked very well, and we've actually had a community come full cycle where they had an outbreak.
We went in, tested a bunch of people early on, found a bunch of asymptomatic folks. We were able to isolate and quarantine those folks early on and thankfully, contain the virus and then actually bring that community back to full status where people who had the virus were able to recover. We're pretty proud of that. I think the next increment for us is, once we understand with testing who has it, who doesn't, we can go ahead and be a little more thoughtful, rather than just turning everything off. No activities, no communal dining, none of that stuff. We can actually be a little more targeted and make the experience a little better for the folks living on-site. It is tough to live in an apartment for 14 days or 30 days or however long our governors want us to live in there, especially for that group.
Read the full interview with Richard Hutchinson on SHN.