Changemakers Series
By Nik Edlinger on Sep 1, 2020 in People
The past decade has been one of extensive change for the senior living industry. In the wake of the Great Recession, many organizations reorganized and consolidated to adapt. The following years saw steady growth and new construction. Now, in the present day, the pandemic is driving transformation and action at a never-before-seen pace.
John Cochrane, president and CEO of non-profit HumanGood, has led his company through all of it, adjusting course when needed to better serve their communities. In his Changemaker interview with Senior Housing News, he opens up on his experience.
"In a curious way, I think that the economic crisis was a turning point for the industry, and certainly for our company, in creating urgency and creating the need for clarity and accountability," Cochrane said "That's where a lot of what we're doing today started, more than 10 years ago."
With its impact on the industry, COVID-19 has made it clear that speed, transparency and accountability are necessities. Keep reading to discover how HumanGood responded and what Cochrane and his team are doing to successfully adapt to disruption.
First, this year has brought unprecedented change. How has HumanGood responded?
The pandemic has changed the world, bringing new challenges on how to protect our communities, team members and residents.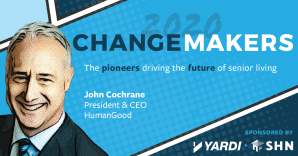 Operationally, we have sharpened our focus on infection control protocols, communications and technology solutions. The pandemic has shined a big spotlight on our ability to operate safely while continuing to provide an on-brand experience in this dynamic environment.
One of the biggest changes we have made, and continue to refine, is to tracking and testing for COVID-19. The ability to trace and test will impact our industry's ability to provide the services, and care, that can help our residents and team members live their best lives. HumanGood's testing capabilities have increased significantly. We have improved not only our ability to provide and conduct tests, but also our ability to track testing data and use it to help our operations — this will be one of the longer lasting changes that we think the pandemic has brought to the industry overall.
Now looking back, what's a change you're most proud of during the course of your career?
I wouldn't point to any one change and say I'm most proud of that. What I would point to as what I'm most proud of is how our team has managed effective change in a disruptive environment, and their willingness to rethink core tenets of our business in our field. I really admire that about them.
I think developing that muscle — both the willingness to change inside and a depth with dealing with change from all angles — is a critical business skill for effective leadership both within the company and within our field. I'm really proud of my team for embracing that.
Are there specific things that you think you've been able to do or traits you have as a leader that have allowed your team to be able to manage all the changes in recent years?
I think an essential leadership tool is helping people understand the context within which change is occurring — the positive possibilities that come in that context, and the negative ramifications that come if we don't adapt to disruptive times and help give them the skills and the tools and the equipment they need to effectively manage that change.
Then, I think one of the essential leadership traits is cheerleading. It's the ability to help people understand where we need to go, help them understand what it's going to take to get there, what the rewards are going to be when we get there, what the cost is if we don't get there, and then help keep people focused on getting up the mountain.
—
Read the full interview with John Cochrane on SHN.