Changemakers Series
By Natalie Mahn on Aug 6, 2021 in People, Senior Living
In a one-of-a-kind series sponsored by Yardi, Senior Housing News (SHN) is recognizing pioneers driving the future of senior living. Deemed 2021 Changemakers, these leaders have taken unique steps to transform their organizations — tackling unforeseen challenges along the way.
Say hello to Adam Kaplan
Adam Kaplan is an accomplished Yardi client and the founder and CEO of Solera Senior Living. Selected as a member of this year's Changemakers class, Adam has shown that taking an innovative approach to senior living is key to evoking positive change. Since founding Solera in 2016, he's pursed a focused strategy to take on complex projects — helping Solera grow into an organization with a hospitality-driven culture, empowered teams and a commitment to resident care.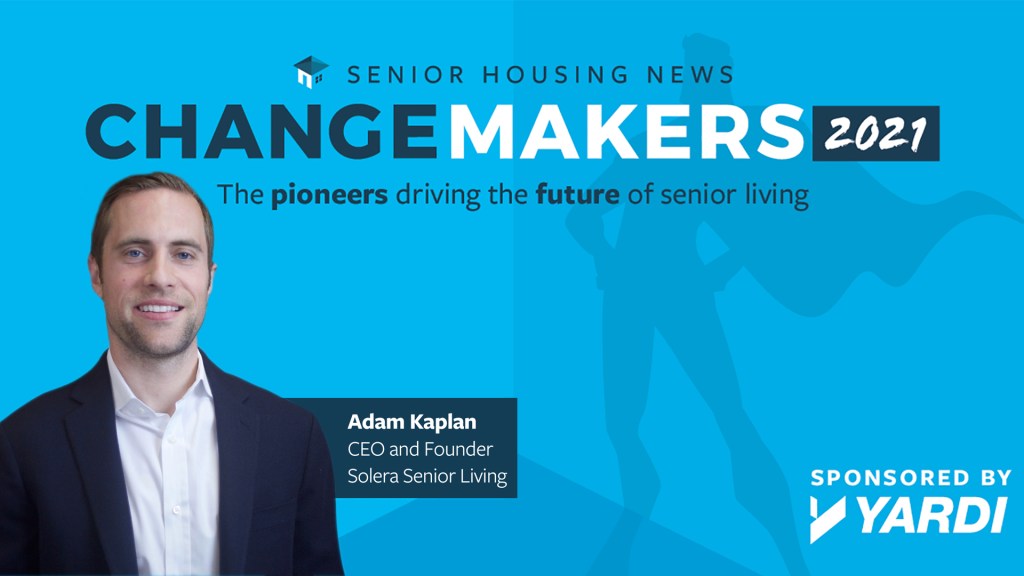 With insights captured in his Changemaker interview, Adam shares where Solera is headed next, how he's driven change and what he's learned during his years in senior living. Here's a highlight:
As you think back on your career in senior living, what changes have you driven that you're especially proud of?
Many of the changemakers [in this series] are the pioneers who paved the way for people like myself. I don't see myself as a changemaker, I see myself as somebody who has been fortunate enough to build on a foundation that was put in place by the incredible senior living entrepreneurs who came before me.
That said, the industry today is still led by many of those pioneers. While we've attracted a lot of talent to the industry, I think we've done a pretty poor job of attracting talent into operations as the industry matures. Many entrepreneurs have come into the industry through startups in technology, services and media, but the same cannot be said for operating companies.
When I left Senior Lifestyle, I decided it was time for me to spread my wings and start my own business. I knew that there was a path for me to build an operating company because there were so few people in a position to do that. That's partially because you need so much capital to do this successfully.
Not only do you have to be skilled at running a property, but you also have to be very savvy with evaluating deals and capitalizing transactions. To get a deal capitalized, you need the institutional background and track record. It's very challenging to do that.
Can you talk a little bit about how you develop those core competencies to successfully manage a portfolio that's more geographically dispersed?
If you have a geographic strategy, you have to be more opportunistic. You say, "OK, let's go do a couple of deals in a tertiary market." In a tertiary market, you're going to have a lower price point because you can't capture the same rent. "Now let's go do assisted living and memory care, or let's do independent living only. Let's go do a high-end deal in the city." What does that sound like? It sounds like a hodgepodge of stuff. It's really hard to hire people who are good at all of that.
They're probably either going to be passionate about a certain segment, or they're just going to end up migrating towards the mean. Regardless of the strategy, it will be hard to maintain different standards for each location.
Instead, we have two different brand strategies, for the most part. Our growth strategy to date has been development, which encompasses a high-end hospitality-driven product.
We also acquire, own and operate. The properties we've acquired and the properties we manage are newer properties in good secondary markets. The expectations are different for those properties than they are for the properties we're developing. It's a lot easier for our operations team to support those communities because they know exactly what the expectations are.
We have our "developed asset" portfolio, and we have our "classic collection." We can define the standards and the expectations of the development portfolio assets. In the classic collection, we don't have to migrate towards the mean, and we don't have to be good at everything. We can be very disciplined and focused on what we're good at, and go and execute on it. To pull this off, you need strong leadership teams.
You can't do what we're trying to do if you have to micro-manage an average executive director, an average sales director, and an average health and wellness director. Obviously, [in that case] you need to be within driving distance, and you need to be touching those buildings multiple times a week.
We're seeing more of that personal touch and connectivity post-COVID, and we're still touching those buildings routinely, because they are only a short drive from the airport. We don't have anything that's more than a 30-minute drive from an airport. Today, we have five operating communities, and three properties in pre-leasing that will open in the next eight months. We have elected to focus on bigger communities between 100 and 175 units.
That's very different from other operators that operate properties with 40 or 50 units. They're a lot smaller, so it becomes more inefficient from a management perspective. Architecting the portfolio is really important, and if you ask around about the best operators in the industry today, I think people would point to the operators that have thoughtfully architected their portfolios. I do believe there's a common thread. Those are the operators I put on a pedestal.