Black Innovators in Tech
By Erica Rascón on Feb 15, 2021 in People, Technology
The technology that you're using to read this blog post was created in part by a black innovator. The smartphone that's beside you and the streaming service that you use for your favorite shows are both the contributions of black scientists and mathematicians. This is astounding considering that only 1% of tech entrepreneurs in Silicon Valley are black, per a recent report.
African Americans made strong contributions to technological advancement throughout the Golden Age of Invention. They paved the way for, and participated in, the boom of Silicon Valley and subsequent tech hubs.
We've compiled just a few tech powerhouses in this list, focusing on contributors to computing.
Where would we be today without video conference calls? Better question: where would we be today without Marian Croak? Croak is the pioneer of Voice over IP, technology used to communicate via audio and video while using the internet. She holds more than 100 patents in VoIP technology with an additional 100 currently in review. Croak serves as vice president of Engineering at Google.
High speed internet is also a household name thanks to Victor Lawrence, an electrical engineer and pioneer in global telecommunications. His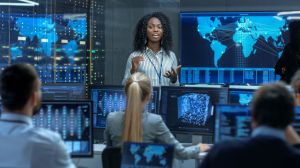 contributions helped to bring greater accessibility to high-speed connections. Because of his work, small businesses and households have access to broadband, DSL, HDTV technologies and wireless data transfer. Additionally, his work has advanced data encoding and transmission, modem tech, chip design, ATM switching and protocols, as well as audio and video coding. In short, the U.S. economy might not have survived the pandemic without Lawrence.
Ever heard of an electret microphone? You likely use one every day. James West invented the first practical electret microphone. It is used in many smartphones, cameras and digital recorders. What made his take on the electret microphone unique is that it uses a charged material instead of a cumbersome polarizing power supply.
Inventor and engineer Otis Boykin was a tech master with range. He improved everything from common household items to military technologies. He held 28 patents and his electrical resistors are used in computing devices, missile guidance as well as pacemakers. His innovations resulted in safer and more efficient resistors, which promoted the mass affordability of electronic devices.
Roy Clay stands among Silicon Valley's earliest pioneers. His earliest notable work is as a research and development director with Hewlett-Packard (HP)'s computer division in the 1960s. He went on to create Rod-L Electronics, which is a world leader in developing electrical safety testing equipment. One invention includes dielectric withstand testers that protect personal computers from electrical surges.
During the same time and practically down the street, Mark Dean was developing the earliest IBM PCs. He pioneered three of IBM's nine original patents including the first gigahertz chip. We can also thank him for color PC monitors. (Do you remember when they were green and black? Yikes.) Dean and his partner Dennis Moeller created microcomputing systems with bus control for peripheral process devices. That means you can plug in speakers, disks drives and other peripheral items to ports on your desktop and laptop devices. As early as 1999, he launched development for a voice-activated tablet. Fast-forward and Dean is still a contributor to the industry as CTO for IBM Middle East and Africa.
Paving the way for Clay and Dean was Frank Greene, a leading technologist responsible for high-speed computer systems in the early 1960s. He is also the founder of Technology Development Corp. and ZeroOne Systems, Inc. a venture capital firm for minoritized groups.
Etta Falconer is another noteworthy technology trailblazer who dedicated much of her life to the advancement of marginalized groups. Falconer began her career as a mathematician and soon became one of the first black women to earn a master's degree in Computer Science. She then dedicated herself to increasing the number of black women in mathematics and math-related careers by teaching at Spelman College, a historically black university in Atlanta. She is the founder of the NASA Women in Science Program and the NASA Undergraduate Science Research Programs.
Kimberly Bryant is another innovator turned educator. Bryant is an electrical engineer specializing in biotechnology at companies like Genentech, Novartis Vaccines, Diagnostics and Merck. In most households, though, she is best known as the founder of Black Girls Code, an organization that teaches young girls of color computer coding and programming languages such as Scratch and Ruby on Rails. Bryant is devoted to increasing the number of women in technology by offering underprivileged girls better opportunities.
John Thompson is no stranger to coding. He was chairman and CEO of popular security software company, Symantec. In 1999, he was the only African American to hold such a title at a major software company. He is currently the only black man on the Microsoft board of directors and serves as the CEO of Virtual Instruments.
Even if you know nothing about coding, you've likely heard of GIFs. Lisa Gelobter is a computer scientist and technologist whose work contributed to the development of animated GIFs as well as Shockwave technology. Her innovations make internet animation and online videos possible. Gelobter helped to launch Hulu and she also worked as vice president of the Black Entertainment Television networks (BET) and was chief digital service officer for the United States Department of Education.
Lori Perine spent time on Capitol Hill as well. She served as deputy to the associate director of the White House Office of Science and Tech Policy. Before that, Perine was president and CEO of InterpreTech, a firm that specializes in economic innovation, science, energy and technology. She returned to the organization as managing principle in 2001.
We will wrap up our list of names to know with Emmitt McHenry, co-founder of Network Solutions, Inc., one of the early internet domain providers. He later went on to create NetCom Solutions International, a telecommunications and engineering firm that has earned awards from leading organizations such as IBM and NASA.
We hope that you have enjoyed this stroll through American history with a tech twist. Special thanks to Mashable and Tulip for resources included here.