Austin Cap 10K
By Erica Rascón on Sep 28, 2017 in Giving, People
When it comes to celebrating the importance of parks, there is no better place to gather than a local park on a balmy spring day. Ideal weather helped to make Vic Mathias Shores Park the perfect backdrop for the 2017 Austin Cap 10K, a benefit race for local nonprofits.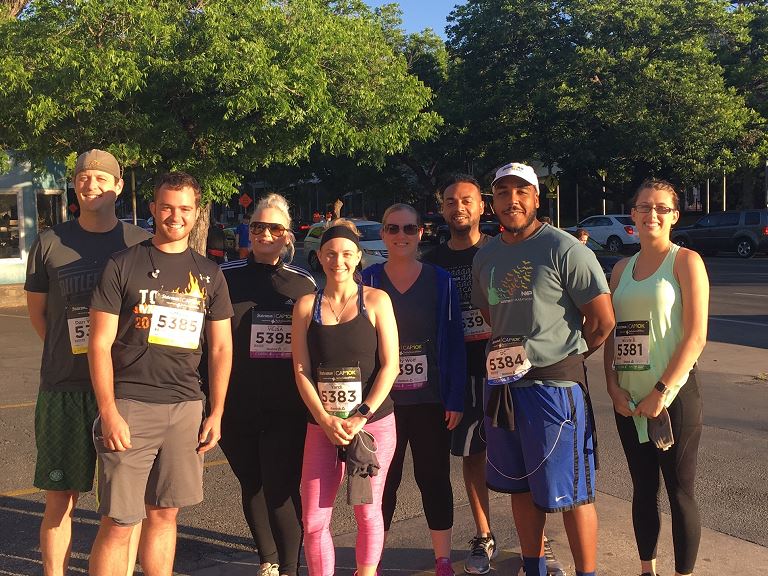 The Austin Cap 10K race winds 6.2 miles through the city and is accompanied by a two-day health and fitness expo. Participants are encouraged to come dressed as their favorite superhero or sport t-shirts from their favorite business or organization.
Several Yardi Austin team members participated in the race including Dan Woodhead, Joshua Dwyer, Kelly Wolf, Ann Vejsa, Will Manns, Daniel Cook, Nicole Benavidez, Ashley Musso, and Robyn Chavez.
Chavez, a five-time race participant, describes the morning of the event. "The weather was perfect! I was a little nervous but overall excited. There were more than 20,000 people who ran it this year and the crowd was amazing!"
Participants are encouraged to walk, jog, or run the course. The race leads registrants through several popular landmarks in the city, which makes for terrific sightseeing at a slower pace. There are just enough hills to make the race a fun challenge for experienced runners.
"I like to stay active as much as possible," says Chavez. "Since I've done this race in the past, I like to continue with my yearly tradition and try to beat my time from the previous year."
Chaves beat last year's time by two minutes.
Post-race events take place at Vic Mathias Shores Main Lawn overlooking the Lady Bird Lake waterfront. Participants receive massages, free prizes and swag from vendors. Food trucks, live music, and interactive exhibits create a festive atmosphere for hours after the race has ended.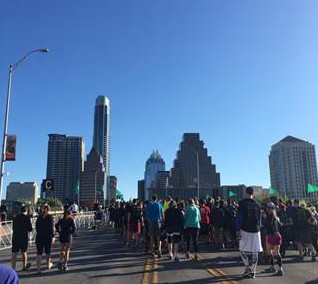 What makes the Austin Cap 10k unique is that there is not a single beneficiary from the race. Each year since its inception in 1993, Austin American-Statesman has selected a new nonprofit from the local community. Austin Cap 10K has raised more than $2.8 million for its beneficiaries.
This year, The Austin Parks Foundation received a portion of the race proceeds. The organization addresses the city's funding to develop, maintain, and enhance parks throughout Austin and Travis County. Austin American-Statesman contributed more than $20,000 to the cause.
The next Cap 10k will take place on April 8, 2018. For the latest updates and information, visit the CAP 10k Facebook page.