Approaching New Horizons
By Erica Rascón on May 27, 2020 in People
As recently as 2012, the proptech industry in Dubai and surrounding markets was limited at best. "Before I joined Yardi back in 2012, there was no local real estate software providers in the market," explains Said Haider, regional director, Middle East Sales at Yardi. "Customizing legacy platforms was the only available option, which was awful to real estate firms at a certain level."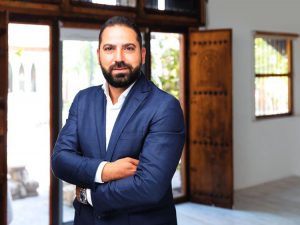 Finding the tools for intelligent growth
During a period of rapid growth, a lack of sophisticated software options hindered efficiency for real estate companies in the region. The rapid success of real estate, especially in Dubai, left owners with growing portfolios and a lack of transparency. Management teams strived to drive revenue without comprehensive metrics on the performance of their properties or competitors. The thriving region needed an accounting and property management software solution that offered scalability, customization, and efficiency.
Undoubtedly, it was an excellent time for Yardi to enter the market. Once acquainted with Yardi, Haider knew that he wanted to forge a career with the proptech leader. "I wanted to be part of a driven and professional organization striving to become the best innovative proptech provider. I believed that Yardi can make a big difference in the market and I was ready for the challenge."
Growing with clients in mind
It would take eight years for Yardi to gain a solid foothold in the market. The Middle East market required developers to revisit the Voyager platform, creating a more localized solution to support region-specific requirements. With a robust product now on the market, development continues as clients provide feedback. The process encourages a mutually beneficial relationship between software provider and client. Referrals from satisfied clients helped Yardi gain traction in the region. Now, the movement has gained momentum.
"Today, more than 100 real estate companies have implemented Yardi solutions across the Middle East. We are expecting this count to double in the next two years," say Haider. "More than 50% of the retail space in the region is managed on Yardi. We are still growing in the residential market, especially after a successful project implementation with one of the largest fee managers in the Abu Dhabi with more than 60,000 units."
Haider is optimistic about Yardi's presence in Dubai and what it means for efficient real estate growth in the region. "I am always excited about what I am doing as there is always something new to learn, whether on a professional or personal level.  Management is inspiring!"
Beyond the comfort zone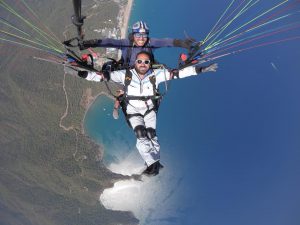 Outside of Yardi, Haider is constantly taking on new challenges. He is an avid traveler, swimmer, and marksman. Yet his greatest new challenge is navigating the joys and responsibilities of parenting. "I am a new father, so I have been enjoying fatherhood lately," he smiles brightly. "My work with Yardi has taught me to be more patient, which was really helpful in parenthood. Yardi is also a great environment that truly supports its employees, so my work-life balance is excellent."
Haider marked the arrival of his child by taking on a new adventure. While enjoying a babymoon with his wife in Kemer, Turkey, they traveled to Tahtali Mountain. Towering at more than 7,759 feet, the mountain offers stunning views of the sea below. The couple captured stunning photos of the Turkish Mediterranean Coast–then Haider became inspired.
"It was a bit cloudy that day and I always wanted to fly like birds and feel the clouds since I was a kid. I saw some people paragliding and just felt that I have do to it! The jump is a world-record high of more than 7,700 feet. We go through the clouds and land at the beach. It was a wonderful, 40 minutes in the sky. Well, I like to be adventurous and push my comfort zone, whether at work or in my personal life. This keeps me excited and happy."
Learn more about Yardi career opportunities in the Middle East.