Yardi Government Services
By Leah Etling on Nov 26, 2012 in News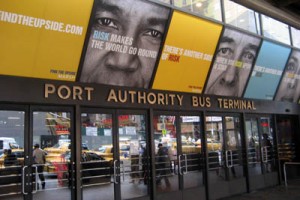 Have you ever thought about how planes, trains, cargo ships and automobiles are inextricably linked with the world of real estate? There's no better illustration of this reality then the Port Authority of New York and New Jersey, the largest port complex on the East Coast, which recently chose Yardi Voyager for Government to handle tenant management, lease administration, property management, and much more.
The most important work of a port authority is to keep regional trade and transportation systems moving safely and smoothly. But roads, rails, seaports and airspace all require extensive supporting infrastructure and real estate, and that's where Yardi Systems can be of great help.
The Port Authority of New York and New Jersey will use Yardi's commercial property management software solution for all of its real estate business, which ranges from office leases in One World Trade Center (Freedom Tower) to concession and fixed base operation leases at the nation's three busiest airports (John F. Kennedy International Airport, LaGuardia Airport, Newark Liberty International Airport) to collecting tolls on the New Jersey Turnpike. More than 485 leases, 65M SF of buildings and 15,000 acres of property will be managed using Yardi Voyager.
"Yardi can handle all of it, with our commercial off the shelf (COTS) system," said Spencer Stewart, National Account Executive, Yardi Government Services, of the advantages of choosing Yardi Voyager. "We're going to personalize it for you. We have all the tools to match your workflow and your terminology without the need to customize or modify."
Because governments are so unique, Yardi has created vertically integrated government services group. Yardi's Government Services arm is ideally positioned to meet the needs of government clients, which frequently have diverse property management needs. The department includes a dedicated implementation staff for government services projects as well as a client services department that focuses only on government clients.
Yardi Voyager's lease administration, accounts receivable, pricing strategy, workflows, report generation, marketing and document storage features are all of the product's appeal to airports, port authorities, and other government entities that oversee transportation and transit.
The Metropolitan Transportation Authority of New York and the Port Authority of San Antonio are among the public transportation and port authorities that have also selected Yardi Voyager for their real estate business needs.
The next time you catch a plane or take a train, take a minute to look around the terminal or station. Whether you parked your car in an off-site long term parking lot, paid a toll driving in on the turnpike or bought a hot dog from a vendor at a stand while waiting to depart, your transaction touched real estate every time. Yardi makes managing those real estate business transactions simpler and easier.