Will Telehealth Be
By Joel Nelson on Jul 13, 2021 in News
Before the pandemic, telemedicine – defined by the American Academy of Family Physicians as the use of technology to deliver care from a distance, with telehealth comprising the technology and services providing that distance care – reached only about 4% of the patient population.
With distancing mandates and stay-at-home orders in place in April 2020, the practice accounted for more than 43% of primary care visits, up from less than 1% two months prior, according to the U.S. Department of Health and Human Services. In March 2020, less than 20% of the population had experienced a telehealth appointment; about 61% had a year later.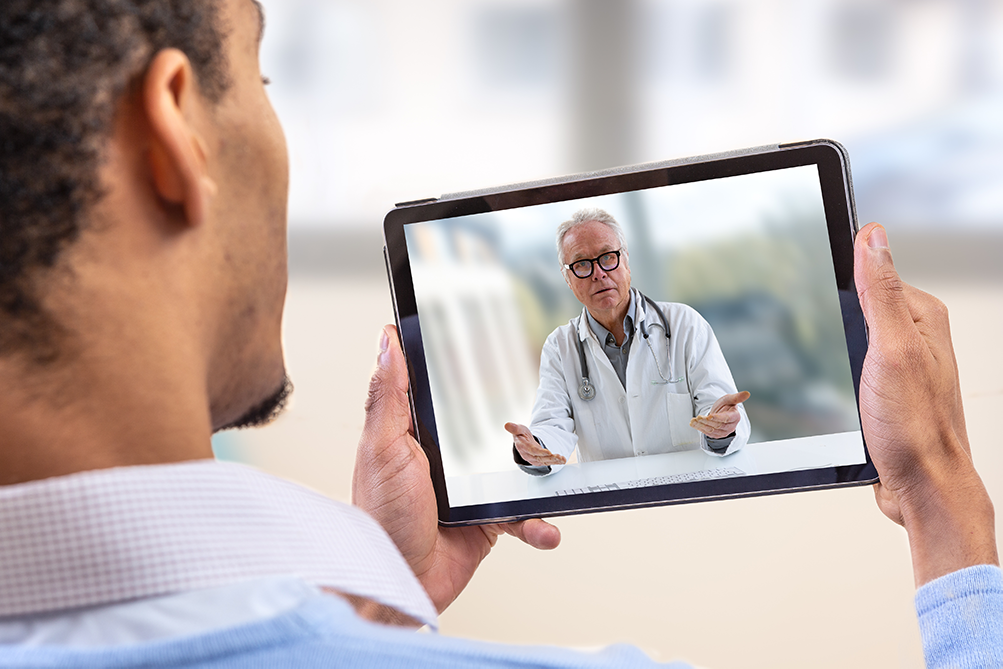 Sustaining patient care
While telehealth doesn't apply to procedures such as biopsies, lab tests or vaccine injections, its use of mobile devices, live audio and video, and smart digital tools enables follow-up visits, medication instructions and consultations in areas ranging from diabetes and dermatology to mental health.
"We are not using technology to replace the doctor-patient relationship. We're using technology to supplement and support that relationship," says Deidre Keeves, director of connected health for UCLA Health in Los Angeles.
Ada Stewart spoke to telehealth's benefits for her family medical practice in Columbia, S.C, during the pandemic. "People were able to receive access to healthcare. We were able to reach out to our patients who were afraid to come into the office to be seen. It really afforded that opportunity to still take care of our patients and do so in a safe way," she told HealthDay News.
So will telehealth – which by one estimate could account for more than $100 billion of U.S. healthcare spend by 2023 –maintain a central role in medical care delivery? Or, absent the pandemic's extraordinary circumstances, could it fall into relative obscurity?
Could turn industry 'completely upside-down'
"Telehealth is already reinventing the process of healthcare delivery and transforming patient expectations for all facets of this vital industry" is the answer from Bakersfield, Calif. physician and surgeon Leo P. Langlois, writing in the Arizona Telemedicine Program's blog in April. "It wouldn't be wrong to say that this state-of-the-art innovation holds the potential to turn the medical industry completely upside-down, redefining the way in which health systems deliver care, operate and manage costs."
"More physicians than ever have recognized digital health tools as an advantage for driving efficiency and safety in health care," adds Meg Barron, the American Medical Assn.'s vice president of digital innovation.
Accepted by patients and providers
Healthcare consumers seem to have warmed up to telehealth as well. A survey completed in April reported that almost 88% of patients want to continue using it for nonurgent consultations after COVID-19 passes; a year earlier, 65% felt doubtful about telehealth's quality. Among those who haven't tried telehealth, about 77% say they're more willing to do so due to the pandemic; only 59% were a year ago.
"We think that telehealth is here to stay. Our patients are expecting it. Our doctors are very happy with it, and it's a great avenue for care," says UCLA Health's Keeves.
Policy issues in play
The future of telehealth depends to a considerable degree on whether measures taken during the pandemic, such as the suspension of Medicare rules that disallow telehealth in most circumstance and expanded insurance reimbursements for telemedicine providers, become permanent.
"I think that what ultimately happens with telemedicine really depends on how the policy environment evolves," says Stewart, the Columbia family practitioner. "There is a lot of action going on at both the state and federal levels right now on telemedicine policy … on what should stay permanent and what should go back."
"Elected officials will have good reason to contemplate more lasting regulatory changes given how providers can use telehealth expansion to make care more accessible across specialties," adds Langlois, the Bakersfield surgeon.
The U.S. Centers for Medicare & Medicaid Services announced in December that 60 of the 144 telehealth services offered during the pandemic will become permanent.
Some industry experts urge expanding telehealth with additional covered services and funding for high-speed broadband access to underserved areas. Others envision evolving telemedicine services from primary care to wide-ranging collaborations among long-term care facilities, dialysis centers, clinics and other provider locations.
Tech key to 'what is eventually possible'
Also key to telehealth's potential is technology that ensures data security for patient health records and other confidential information.
Electronic health record integration that enables remote interactions improves access to care and communication between providers and patients. "Smartphone apps, video conferencing and online management systems have just scratched the surface of what is eventually possible," according to Langlois.
For now, he says, "telemedicine has emerged as an effective solution in times when no one is truly certain about what the future holds."
Yardi software solutions help senior living communities keep their health records error free, limit liability and improve resident satisfaction. Recent enhancements include an infection surveillance and immunization dashboard. Read more about Yardi EHR.