Walkable Urbanism
By Leah Etling on Feb 5, 2013 in News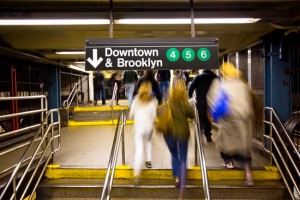 Do you remember the last time you walked by a multifamily community under construction? Think carefully about the walking part, because it's important.  Chances are, you were strolling in a city, not a suburb. Does anybody walk in the suburbs, other than to take the dog around the block? The answer to that question might hold the key to how development patterns will change, nationwide, over the next half-century.
Apartment construction has bounced back big time, post-recession, and the hot spots for building are big cities with appeal to Millennials and Baby Boomers alike. Seattle, Portland, San Francisco, Los Angeles, Salt Lake City, Denver, Houston, Dallas, Chicago, Minneapolis, New York, Boston, and Washington D.C.
"This is becoming a tale of two metro areas in this country: Those that get it, those that understand that walkable urban development is where the pent up demand is, and those that don't. Any list of walkable metro areas that are doing well is also the list of best performing real estate markets,"  said Christopher Leinberger, the leading expert on the walkable urbanism trend.
In some urban neighborhoods, developers can't build fast enough to keep up with renter demand. What's the secret? Not the old school adage "location, location, location."  Leinberger, a senior fellow at Brookings Institute and professor at Georgetown University, describes it as closer to transit, transit, location. The research data he and his colleagues have produced on walkable urbanism has been of great interest to the media as the development cycle heats up.
Having observed trends and nuance in real estate for several decades, he is perfectly positioned to explain the changing real estate development landscape. And it happens that the type of urban development he has long advocated for is now rolling out – and up – before our very eyes.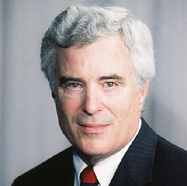 "This is a major structural change, and I know there's a lot of concern out there that this is just a blip," he said, singling out the youngest group of apartment renters, the Millennials. They've been leading the demand for transit-friendly urban housing, and some observers think that once they're ready to marry and have kids, they'll flee the cities, heading back to the suburbs. Leinberger would strongly disagree.
"We have just massively overbuilt. There's only two ways of building the built environment – drivable suburban, and walkable urban. They are diametrically opposed as far as all the various characteristics you would use to describe them.  Both are market viable, so it's not a value judgment as to one is better than the other. It's that we built too much of the drivable suburban, because we've been doing that for 50-60 years. We have pent up demand for walkable urban."
Leinberger believes that the timespan for meeting that pent up demand is long – maybe even another half-century. So expect to keep walking by major development and redevelopment projects while you're visiting your favorite cities.  And in the suburbs, there may start to be similar change – or consequences.
"Get an anchor that's walkable urban, and there will be an aura around that anchor that will help bolster (property) values," is Leinberger's advice to outlying, non-urban areas. Cities – even small ones – that can blend destination shopping and dining, services and offices, multifamily housing and public transit access all in the same area are planning well.
His insight is more than academic.  Leinberger started his real estate career as managing director and co-owner of consulting film RCLCO (formerly Robert Charles Lesser & Co).  In addition to his academic work, he is President of LOCUS, a network of developers and investors who support and practice walkable urban development.  And to practice the philosophies he espouses, he and several partners founded Arcadia Land Company, which works on transit-focused, new urban projects.
The changing multifamily development pattern is just one piece of the walkable urbanism puzzle. A more complete picture requires looking at the public transit resources available for getting people where they want to go, and cutting down spending on cars. Apartments in walkable urban neighborhoods are expensive – and renters are showing they will pay a premium for such units, according to Leinberger's recent research.
"At the macro-economic level, it's about shifting household spending patterns. The ultimate way to pay for this is shift the household spending. Right now, a driveable suburban household spends 25 percent of their income, on average, on a fleet of cars to participate in the society. The walkable urban household spends 9 percent."
So, we asked, which piece is more important: housing or transit? The answer: transit.
"Transportation drives development.  For the 6,000 years we've been building cities, transportation is the most important infrastructure category and it dictates everything that follows," Leinberger said. He points to the extension of Los Angeles' subway line to the west side of the city, a 9 mile, $6.3 billion project that has been spearheaded by Mayor Antonio Villaraigosa, as a key component to driving new construction projects and the development of a walkable urbanism culture in LA. So much for "nobody walks in LA," eh?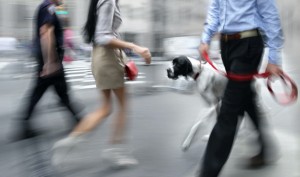 The poster city for the coveted walkable neighborhood  model, though, has to be Washington D.C. It happens to be where Leinberger and his wife make their home. From their Dupont Circle condominium, they can both walk to their jobs, and in Mr. Leinberger's case, all three of his jobs. Last year, the couple put just 3,000 miles on their car, which they rarely use unless taking a longer trip outside the neighborhood.
It's a sharp contrast to the average American, who drives around 15,000 miles and spent an average of $8,946 on driving-related expenses last year, according to the American Automobile Association. If your rent went up a few hundred dollars a month, but you could ditch your car and walk or take public transit to work, the savings would likely more than even out – not to mention the health and fitness benefits you'd reap from all that extra exercise.
The good news for multifamily developers is that the sections of the population driving this trend – both Baby Boomers like Leinberger and his wife, whose grown children are now living on their own, and Millennials who eschew owning cars for the sake of the planet – are willing to spend more for housing that matches their lifestyle desires.
"People who live in more walkable places tend to earn more, but they also tend to pay a higher percentage of their income for housing. " Leinberger wrote last year in a New York Times op ed piece. "Today, the most valuable real estate lies in walkable urban locations. Many of these now pricey places were slums just 30 years ago."