The Modern Workplace
By Yardi Blog Staff on Nov 27, 2013 in News
With the rapid development of the green building movement and the integration of tech solutions into all sectors of real estate, we are currently witnessing the rebirth of the modern workplace.
White walls and blunt office spaces have been replaced with nurturing environments focused on sustainability, livability and cost-efficiency. Architects, designers and developers are working hand in hand to promote environmentally-responsible construction and have begun delivering innovative products that reshape the way we perceive the world. Spectacular roo
f gardens, green walls, natural ventilation systems, solar panels and soothing recreation areas have become regular components of the new-generation workplace.
On the same note, major employers around the globe are trying to define the right mix of features to drive both people and asset productivity. Beyond social responsibility and ethical considerations, there are many pragmatic reasons why incorporating sustainable practices into a business is a good idea. Investing in green enhancements can produce measurable financial gains such as increased property value and rental rates, decreased operating costs, reduced risk of depreciation and higher attraction and retention rates.
Dallas-based Gaedeke Group is strongly dedicated to reducing carbon footprint and has been aggressively pursuing LEED certification portfolio-wide. Gaedeke's Regency Plaza (pictured, right), a 16-story multi-tenant office building in Uptown Dallas, has achieved LEED Silver certification through the U.S. Green Building Council's LEED for Existing Buildings program. Among several features promoting sustainable construction and design, the facility earned exemplary performance points for a solid waste management program for durable goods. High tenant participation in Gaedeke's year-round e-waste recycling days for computers, phones and other electronic devices yielded high scores as did changes to plumbing fixtures, which resulted in a 42% savings in annual usage.
Along environmental concerns, the need for digital and more user-friendly technology dictates many of the new trends in office design. Technological advancements have made possible the emergence of collaborative spaces where people are no longer confined to their own individual spaces, tied down by landlines or chunky desktop computers. Highly digitalized and flexible workspaces facilitate interaction between team members as well as brainstorming, content sharing, and feedback which are all key aspects of a healthy work flow.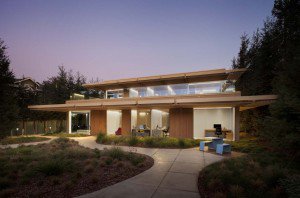 For real estate professionals, this trend becomes even more important; integrating technology solutions into a business allows property managers to streamline processes, ensure occupant satisfaction, drive better business outcomes, and maximize asset value. The availability of online platforms for paying rent for example is ranked by most renters as one of the top reasons driving to renewals, hence the need for web-based rental housing management software.
Additionally, companies seem to pay more attention to the looks of their office interiors. More often, a company's office is a tool in building and promoting brand image. Paul Murdoch Architects designed Venture Capital's office headquarters in Menlo Park, Calif. to expressly reflect the company's essence and core values. To reduce on-site construction and disruption to neighbors adjacent to the infill site, the two-story office building was made of prefabricated steel modules set on a concrete parking podium. To add a plus of privacy, redwood and bamboo have been used for screening. Vegetated roofs and a podium garden were used to create a garden setting for the transparent, pavilion-lik
e building.
The interior space (pictured, right) perfectly blends tech with sustainability and aesthetic principles. A mix of greenery and innovative furnishings, combined with transparency and wood finishes help create a warm and nurturing work environment, comfortable for employees. The use of strong interior accent colors was intended to highlight the company's reputation for both risk taking with clean technology companies in potentially major, disruptive markets and sophisticated, in-depth analysis.
The movement toward high-performance green buildings is heating up. Is your organization ready for these changes?