Tech + Logistics
By Yardi Blog Staff on Jun 5, 2017 in News
The rise of ecommerce has revolutionised the way we shop – but it has also transformed propert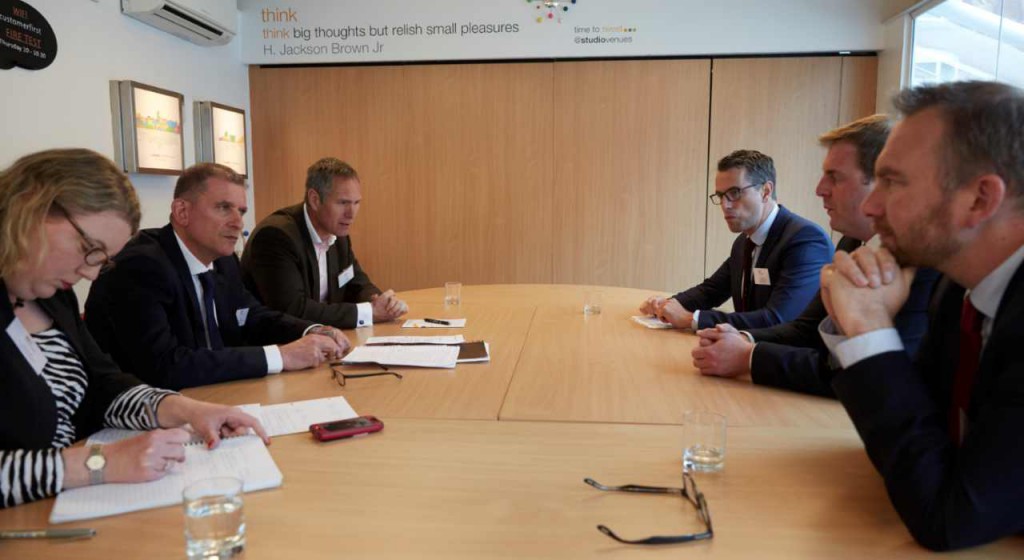 y logistics. Technology is helping retailers and carriers to manage stock movements, in-store click & collect and home deliveries, but it is also a costly investment. Who will pick up the tab? How are developers, investors, distributors and occupiers using 'smart logistics' to serve their customers? Yardi brought together a panel of thought leaders in a roundtable at Property Week's Sheds Conference in Birmingham.
The panel:
Paul Crosbie, investment manager, M&G Real Estate
Jonathan Gardner, head of asset management, Delin Capital
Nick Kay, development director, St Modwen Properties
Len Rosso, head of industrial and logistics, Colliers International
Charles Spicer, Midlands industrial and logistics director, Savills
Claer Barrett, personal finance editor, Financial Times (chair)
CB: What do you all think the 'shed of the future' will look like? How will the needs of occupiers change over the next five years?
LR: I don't think we should call logistics space 'sheds' anymore. It is a much more technologically advanced product than the name suggests. Drones, robots and automation are all on the horizon, but I think the biggest change we're seeing right now is higher eaves heights and mezzanine floors. Occupiers want to use all the space they're paying for – not just the ground floor.
PC: People are getting very excited about drone deliveries, but they are more likely to be used for rural areas rather than built-up urban locations where their use will be more restricted.
JG: Occupiers will still be using vans and lorries, charge can bypass the 200-mile mark, it will really make a change to the use of this technology.
NK: And look at the activity going on inside the shed. The rise of the 'sharing economy' is a big trend. We've seen Airbnb; now there's a similar business called ZupplyChain for third- party logistics [3PL] companies with excess space to lease it out. If you can find space in areas of undersupply, it would make the market more fluid and ease the supply crunch.
CS: The shed of the future won't be one size fits all. Our market is very varied and diverse – so a manufacturer's requirements are very different to that of a pure logistics operator. That said, we're already seeing multi-level facilities and in the future we could well see subterranean 'sheds' in high-density urban areas. At the Property Week Sheds Conference, we've just heard a number of occupiers say they would not be averse to the idea of sharing space in the future so I anticipate more multi-user facilities as is commonplace in mainland Europe. There are covenant and lease issues but nothing that is insurmountable. We may see a company that is institutionally acceptable taking a 'master lease' and then space split between multiple users and companies in a Regus-type model.
CB: As investors, how happy would you be with the idea of a shared shed?
PC: A facility shared by a number of operators would be interesting if there was an overriding lease. It could give investors more comfort if there was some diversity alongside the main tenant.
LR: DHL has been talking about that model for the past five years, but it hasn't happened yet.
JG: Well, it has happened in mainland Europe. 3PLs want to match their lease lengths with their contract terms. If they have a three-year contract, they don't want to take a five-year lease. However, this comes at a cost – they accept they will have to pay a much higher rent in some locations. Other 3PLs will take a big lease and will stack the space with three or four different customers' kit. Even then, there could be quite tough conditions to meet, such as 50% of the space being occupied by one client for the full length of the lease.
PC: I agree that the sheds – sorry, the logistics units – of the future are going to be much bigger and taller. We are moving away from rectangular boxes. Traditionally, investors have quite liked rectangular two-by-one sheds let on 15- to 25-year leases to strong rental covenants. However, the occupiers – who let's not forget are the ones paying the rent – have very different needs. They want flexibility. This raises difficulties for developers and investors in terms of spec development. To be as flexible as possible and let units as quickly as possible, we are going to see more build-to-suit units.
CB: How is changing tech shaping investment and development strategies in the logistics sector?
CS: Robotics and automation are going to have a big impact on our market. At present, the availability of staff and proximity to chimney pots is a major consideration for occupiers when they are seeking to identify where to base themselves. Will they have to compete with other big employers for staff, etc? More automation and robotics could change this dynamic. The issue of power availability certainly shouldn't be overlooked either.
JG: In 2012, Amazon bought a company called Kiva Systems that makes robots that automate the picking and packing process at large warehouses. At Amazon's new fulfilment centre at Tilbury, there are five floors – or four mezzanines, depending on which way you look at it – and the walls are heavily glazed. The idea is people will be employed around the edges, where there is natural light, and the robotics will be in the centre. Rather than having people race around on forklifts, the robots bring the stock to them. I can see how this will lead to a new class of highly skilled warehouse operatives who are qualified to maintain these increasingly hi-tech systems.
CS: I anticipate further automation within buildings going forward. The cost of automation can quite easily be, and often is, more than the cost of the actual real estate. It is often highly bespoke to each operator with significant capital expenditure that can't be written down over a three- to five-year period. So you will see one part of the business pushing for flexible short leases while another will want a longer lease to write down the fit-out costs.
JG: That is precisely why so few warehouses in the UK are automated. A bespoke engineering solution is a huge investment. I looked at a fully automated shed recently, but it could only ever be used for its original purpose – shipping tins of cat food. Now, robots are becoming mobile. They're not part of a giant production line.
NK: Different jobs are emerging in other areas of logistics. AO.com uses drivers who can deliver and plumb in equipment. As well as being able to drive a lorry, they have to be skilled tradesmen.
CS: Greater use of automated vehicles could redefine the concept of core logistics areas around major conurbations and motorway networks in future. Autonomous vehicle chains running at night means operators can cover further distances without the need for driver breaks.
LR: The concept of 'beds on sheds' – putting residential developments on top of distribution warehouses – won't happen in the regions, but it will happen in London boroughs within the M25. It's no different to flats being built along railway lines or above train stations. Plus, electric vehicles are much quieter and cause far less pollution.
JG: Subterranean sheds will also happen. It's taken me 45 minutes today to drive from the edge of Birmingham to the centre. In the future, large office developments could have an extra basement level and it will be possible to stick a shed down there.
CB: What do we mean by 'smart logistics'? How is big data helping to inform better decision-making?
LR: I was at the airport recently with my wife, and she got a text message saying 'come and get a L'Oréal face cream'. Retailers know your whereabouts. Their algorithms are so smart, they know what you want before you buy it.
JG: There is huge potential for big data to inform better decision-making. In Europe, we can cross-reference mapping data with economic data and land availability, for example. This can identify pockets of labour supply. In combination with research such as 'Delivering the Goods', you can show local authorities that developing sheds in a certain area is not going to sterilise an employment site; it's going to create one.
CB: Have the retailers who have made the biggest investments in tech been the most successful?
LR: John Lewis is the textbook example of this. Click & collect now accounts for more than half of online orders on its website. But the main advantage is that they have so many physical stores, where customers can pick up and return goods. The biggest challenge for all retailers is dealing with online returns.
CS: While a lot of column inches have been given to the might of Amazon, I also expect to see further tie-ups between internet retailers and stores. The acquisition of Argos by Sainsbury's and Homebase's association with eBay, allowing customers to pick up eBay purchases from Homebase stores, all ties in with this.
PC: The biggest challenge is that delivery options are now so fragmented. As consumers, we're all far more demanding these days. We want parcels delivered to our homes at certain times, or our offices or to stores. All of this has to be managed within the supply chain.
CS: We shouldn't forget that technological advances offer great opportunities for smaller independent retailers. Using the likes of Uber Rush as a last-mile delivery platform, it opens up a huge avenue for small retailers to have a low-margin same-day delivery service.
NK: With the rise of virtual warehousing, you do not need huge logistics infrastructure to be an online retailer. You buy the stock and get someone else to store it for you, pick it, pack it and deliver it.