Simple Software
By Geneva Ives on Apr 3, 2019 in News
At ISS World Expo in Las Vegas this week, one of the largest conferences for self-storage professionals, Yardi Breeze Self Storage made its debut. The theme of the conference focused on perfecting the self-storage customer service experience, and Yardi's latest product enables smaller operators of storage facilities to do just that.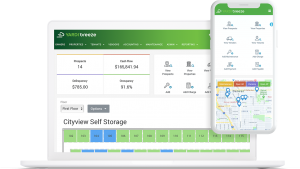 Yardi Breeze Self Storage is refreshingly simple software for self storage property management. It's designed to help owners and operators with smaller portfolios increase efficiency, reduce IT headaches and save time and money.
Self storage owners, investors and managers can use the innovative tools built into Yardi Breeze Self Storage to market, lease and manage their facilities from any device. These tools include:
Full accounting: manage operations and financials in one place
Integrated marketing: fill vacant units faster with syndicated online listings
Automated reporting: generate and share financial reports via email or secure portal
Online payments and maintenance: streamline collecting rent and fulfilling work orders
Tenant communications: create, send and track emails and texts to renters
A simple online setup process lets users start working in Yardi Breeze Self Storage right away; no lengthy implementation process is required. Unlimited live chat support is included.
"Yardi Breeze Self Storage is easy to set up and simple to use. And amazing support is always there when I need it," said Laura Van Tassel, self storage operations manager at Stuff It Storage, LLC and an early adopter of the new product.
As operators' needs expand, there is a growth path to the Yardi Self Storage Suite for larger portfolios.
"Yardi now offers a range of software options for self storage businesses of all sizes. Yardi Breeze Self Storage builds on the success of our Yardi Breeze property management platform for smaller portfolios to deliver an easy user interface unique to self storage," said Terri Dowen, senior vice president of sales at Yardi. "From instant live chat support to one-click reporting, everything is aimed at saving time, which is often our customers' most precious commodity."
Find an informative product demo at YardiBreeze.com/Storage or call (800) 866-1144 today to learn how you can make self storage property management easier.