Future of Elder Care
By Natalie Mahn on Aug 2, 2021 in Senior Living
COVID-19 has changed the way we look at senior living. It's forced us to question the structures and policies currently in place — the systems designed to care for our aging population. How and where do seniors prefer to age? Are the current systems reflective of their preferences? How did COVID-19 shed light on the values underpinning these systems? These questions were covered in a recent webinar: The Future of Elder Care in Canada.
Presented by The Empire Club of Canada, the webinar gathered experts including: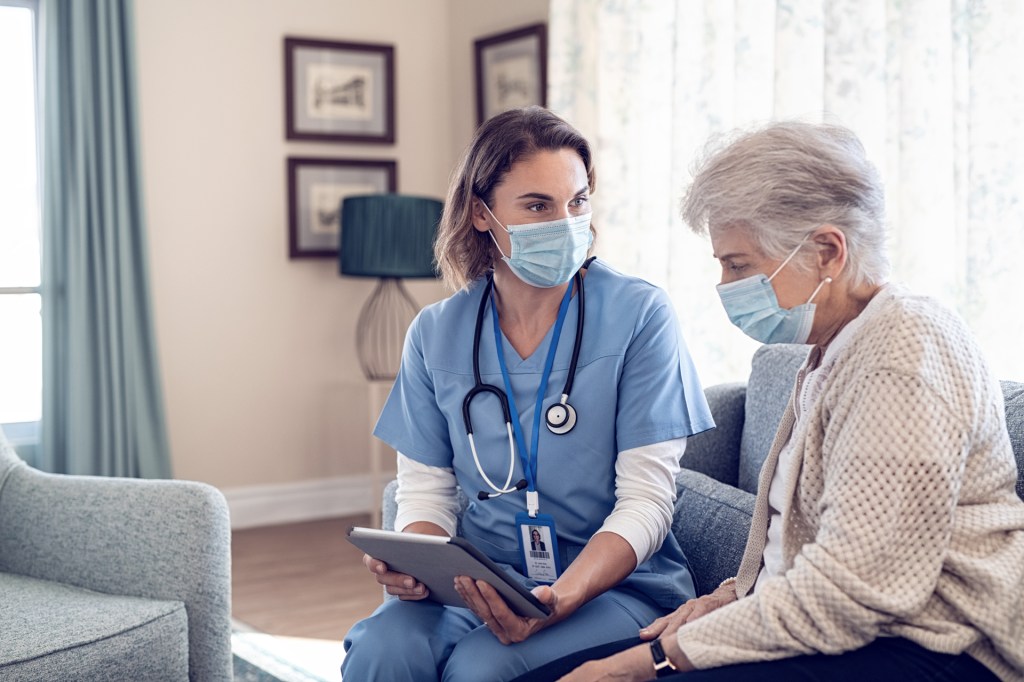 Panelist Linda Knight, CEO at CarePartners
Panelist Dr. Samir K. Sinha, Director of Geriatrics at Sinai Health System and University Health Network
Moderator André Picard, Health Columnist at Globe and Mail
With important questions posed by André, Linda and Samir's insightful conversation revealed how Canada's healthcare system needs redesigning. From exposing society's view on elder care, to discussing the effects of COVID-19 to explaining the overwhelming need for home care support — they shared eye-opening information. Let's take a look.
COVID-19 reveals need for home care options
Starting the panel with information on COVID-19's effect on Canada's seniors, the discussion turned to Linda, who explained the flaws in the country's healthcare system. Mainly, how the shortage of public support workers (PSWs) and nurses working in home care has increased in recent years, with that trend being further amplified by COVID-19.
"The PSW shortage hit us about four or five years ago, but what also has come shortly behind that is the nursing shortage in home care. We've lost pace with being able to pay them what they could make in a hospital — so there's been unintended consequences," explained Linda.
She continued by noting that when COVID-19 first hit, a large portion of home care nurses made the switch to work for public health. "I've been in the sector 40 years and I've never seen such a shortage," she said.
So while the pandemic led to many revelations, according to Linda and later Samir, a big one is Canada's need for home care staff, expanded options for seniors and new funding.
And aging in place is preferred by a majority of Canada's seniors. Why are they then consistently directed to communities? Why isn't it a political priority to improve options for home care? That's what André asked Samir:
While he cautioned that Canada needs a strong long term care system for seniors who need it, Samir expressed the growing need for more home care options. He explained that 70% of older people and 60% of Canadians in general have reconsidered whether they want to age in a long term care home — especially given the impact COVID-19 had on senior living communities.
"Time and time again this is what people are saying they want," said Samir. Given the limited infrastructure costs with implementing home care, not to mention the avoidance of spreading infectious diseases like COVID-19, having systems to support aging in place makes sense.
Samir explained that "this is the rare policy opportunity where what people actually want is what's actually cheaper for taxpayers to deliver." In short, Canada could deliver care more efficiently to seniors in the comfort of their homes.
The importance of technology solutions
Here's what we know so far. There's a pressing need for home care staff in Canada, and for more seniors to have the option to age in place. What about technology? Are we making adequate use of technology to make it easier for caregivers to keep people at home? That's exactly what André asked Linda.
"If we can do something virtually, I think it makes a huge difference in terms of capacity and how many patients we can see," she explained. Linda said that while utilizing technology has been a new undertaking during the pandemic, her teams have seen great success.
But which technology providers have the right solutions? Meet Yardi At Home Care, a single connected solution for remote client care. It's thoughtfully designed to provide accurate, quality care to seniors who wish to age in place. Yardi At Home Care …
Streamlines service delivery and documentation with client specific care plans
Helps providers coordinate available caregivers from an intuitive, online calendar
Ensures leaders can make better decisions for remote care delivery with real-time information on client health, business operations and services provided
Empowers caregivers to instantly record information on the go
As more Canadian seniors wish to age in place, the need for new policies and home care options increases. And to that effect, providers need effective technology solutions to meet the needs of caregivers, seniors and their families. To learn more about Yardi At Home Care and the Yardi Senior Living Suite, be sure to get in touch.