Social Seniors
By Erica Rascón on Dec 15, 2020 in Senior Living
Have you ever heard the saying that attitude is everything? How we choose to respond to a situation impacts our outlook, our possibilities and the responses of those around us. During tough times, one young woman in Raleigh constantly recommits to her positive attitude. Her decision to do so has positively impacted the entire community.
Meet Victoria
Meet Victoria Polston, activity and wellness director at Spring Arbor of Raleigh, an HH Hunt Senior Living community. Victoria is like many employees in assisted living communities: compassionate, patient and heavily caffeinated. She also exemplifies personality traits that have become indispensable during the pandemic: creativity, grit and optimism.
As cities issued quarantine mandates in the spring, Polston faced a community of seniors who were more isolated from their loved ones than ever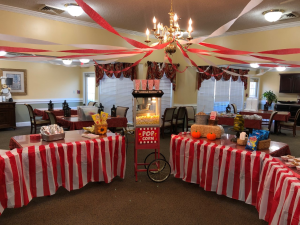 before. Excursions and visitors were no longer an option. Some seniors couldn't understand the severity of the pandemic or their vulnerability. They were hurt, depressed and confused that their loved ones were no longer coming to visit.
Polston got creative with engaging activities for her residents. "My goal is to make the lives of residents fun, active and worth living," says Polston. "When I do something, I like to go all out."
Fun for every season
In the warmer months, Polston offered seniors hula dancing and a luau, fake tattoos, a Mardi Gras party and a butterfly exhibit. She even coordinated a farmer's market on the premises to replace an excursion that residents missed.
As the weather cooled down, the activities continued indoors. Seniors made gourmet truffles, and danced during a neon glow stick party. They customized their shirts with glow-in-the-dark paint and donned glowing necklaces and bracelets.
"I filled our activity room with black lights and all my residents were so excited when they entered. Everyone and everything just glowed," recalls
Polston.
As fall progressed, quarantines extended indefinitely. Polston kept her creative wheels spinning. She converted the activity room into an indoor campsite. She designed a faux campfire that glowed and crackled. A nature soundtrack helped to set the scene as seniors made smores.
Polston also hosted an indoor fall festival complete with games, food and streamers that mimicked a circus tent. The winner of a game delightfully smashed a pie in Polston's face. And of course, the residents helped decorate the community for the winter holidays.
"I never want them to ever feel isolated or alone or lonely," Polston said. "That's why I take what I do with pride." She adds, "As long as it keeps their spirits lifted, that's my number one priority."
Tenacity and teamwork to get through tough times
Like any senior living staff member, Polston has her fair share of tough days and challenges. "The biggest challenge is trying to find more hours in the day to get everything done," she says. "As the activity and wellness director, I'm in charge of more things other than activities. Finding a balance between scheduling window visits with families and residents and implementing activities has been challenging."
Fortunately, Polston isn't a solo act. Teamwork has also made arduous tasks more manageable. "I have an amazing partner, Rachael Gregory. She is the activity and wellness assistant for our memory care unit while I am for our Assisted Living. We are the best duo. When our ideas come together, they are endless!"
Through staff diligence, Spring Arbor residents have remained COVID-free and thriving.
Advice for tough times
Working at a senior living community is full of rewards and challenges. Polston offers a few tips to get the most out of a promising career: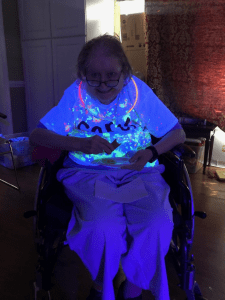 Prevent burnout "Burnout is real in this position and it is exhausting. Keep yourself healthy and find different ways to keep yourself motivated. You have to remember you are in this position for a reason!"
Realign your perspective "We get to go home at the end of the day to see family and loved ones, but our residents don't. Go in each day to work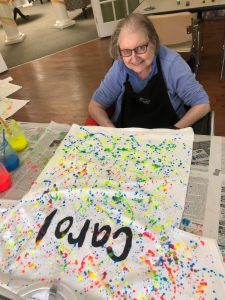 with an open mind and find a way to put a smile on your residents' faces. Most of them look forward to seeing you every day and look up to you, believe it or not. It's our job to keep their minds off all the negative things happening in the world right now and to keep their spirits lifted."
Make the most of social media "Always remember that you are the person who is keeping the families connected with their loved ones in assisted living homes. By posting things that are going on within the community on social media, you give families comfort that their loved ones are being well taken care of and are having fun!"
Be your own cheerleader "Tell yourself you are awesome every day and your position as an activities director in assisted living homes is very, very important right now!"