Meet the Athletes
By Natalie Mahn on Feb 24, 2022 in Senior Living
We're always searching for inspiring stories in senior living. And today's story, brought to us by Yardi client Sagora Senior Living, is one you don't want to miss.
We're here to spotlight Sagora's blog series — Breaking Boundaries: Meet the Athletes of Sagora Senior Living — which recognizes resident athletes in Sagora communities. And while the series was inspired by the 2021 Summer Olympics, with the 2022 Winter Olympics in full swing, there's no better time to feature these distinguished seniors.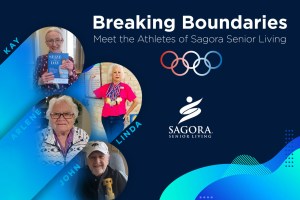 Breaking Boundaries: Meet the Athletes of Sagora Senior Living
In an effort to help their residents shine, Sagora kickstarted a spirited blog series last summer. Each post follows a different resident and their exercise-related accomplishments. And while some residents are retired coaches or athletes, some simply found a passion for exercise within Sagora communities.
Walking with Kay
Meet Kay, a resident from Bristol Park at Cypress, a Sagora community in Texas. Kay's blog post focuses on her inspirational journey: walking on her own. Since having a stroke over two years ago, Kay hasn't been able to walk without assistance.
After a conversation with the community's lifestyle director, voicing her dream of walking again, Kay began a specialized exercise program. With the right equipment, Kay started reaching new personal records each day. And she's no stranger to dedication. Her mantra is, "I believed I could, so I did!"
Photos and videos were shared with Kay's family, as well as on the community's Facebook page. Ready to feel inspired? Watch Kay's progress.
Coached by Arlene
Say hello to Arlene, who resides at Sagora's Ansel Park community in California. This exercise guru was a competitive badminton player and winner of the Arizona singles, doubles and mixed doubles tournaments. From there, Arlene went on to coach K-12 and college students in archery, fencing, tennis, ping pong, bowling and of course — badminton.
With a love for athleticism, Arlene now enjoys community activities like aqua aerobics. And according to those around her, Arlene always shows up with a positive attitude. Read more of Arlene's story.
We hope you enjoyed reading about Kay and Arlene. Don't forget to check out Sagora's blog where you'll find more resident athlete stories, plus more.
Sagora's mission
Sagora Senior Living focuses on serving their residents, meeting their needs and exceeding their wants. Catering to senior adults and their families in upscale communities, Sagora puts forward a "Resident First" philosophy. They believe seniors deserve the utmost in respect, courtesy and care — and they strive to foster a lifestyle that is enriching, engaging and meaningful.
Each day they serve each resident in a manner that respects their individuality. At Sagora, lifestyles that nurture the spirit, enable freedom of choice, encourage independence, preserve dignity and involve family and friends are encouraged. That's the Sagora lifestyle.
Sagora drives success with Yardi
Yardi is proud to support clients like Sagora with our senior living management software. And Sagora thrives on tools like our electronic health record solution and business intelligence system — all united on a single platform.
If you haven't noticed already, we love honoring our senior living clients here on The Balance Sheet. Be sure to check back for more posts and positive stories.
To learn all about Yardi solutions in senior living, view our brochure.