Overcoming Isolation
By Natalie Mahn on Jul 13, 2022 in Senior Living
If you're looking for a story to brighten your day, look no further. We have a heartwarming post in store featuring preschoolers, seniors and some pretty special friendships.
The story comes from this summer feature of Chatham Magazine, a lifestyle publication that's only released five times per year. Each feature discusses all-things food, arts and the community. And for the story we're sharing today, you'll see how local preschoolers paid a sweet visit to senior living residents in their area.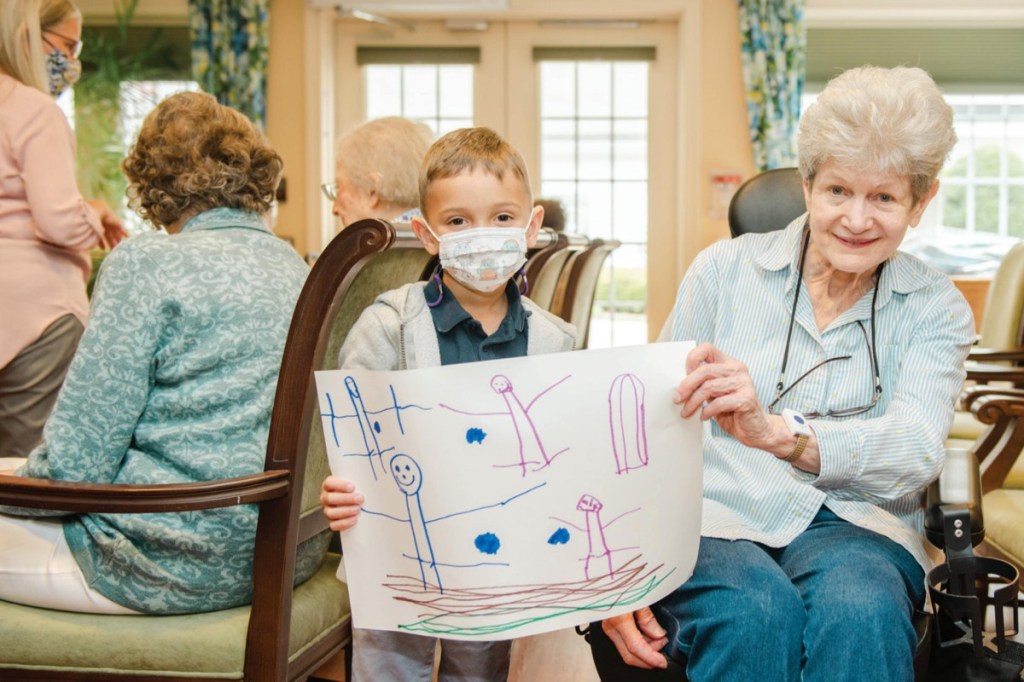 We hope the highlight below brings a smile to your face. Feel free to flip to page 96 of the magazine to read the full story.
Local preschoolers help senior living residents overcome isolation
The past few years have been challenging for seniors and their families. From strict lockdowns to other regulations preventing in-person visits, seniors residing in communities have faced feelings of loneliness and isolation.
But there's always light at the end of the tunnel. And for residents at Galloway Ridge at Featherington, part of that light was a visit from the Primrose School of Chapel Hill preschoolers.
The visit was brought to be as part of the school's "Adopt-a-grandparent" program, which creates opportunities for young children and seniors to develop respectful, positive relationships. "The program provides children the chance to be of service, feel needed, develop sensitivity and respect the needs of others," shares the co-owner of Primrose School of Chapel Hill, Melissa Mart. "For the [adopted] grandparent, the program offers an opportunity to share talents, knowledge and friendship with the children."
The program brings children into community rooms to play games, make crafts and enjoy story time with senior living residents. The kids also craft greetings, posters and drawings for their "adopted" grandparents.
"Adopt-a-grandparent" was in full swing before the onset of COVID-19, and since then, in-person visits haven't been possible. That is, until now. The recent visit to Galloway Ridge was the first of its kind since the beginning of 2020.
And that visit certainly sparked joy amongst residents, who were able to enjoy the children's company for the first time in over two years. Be sure to check out the photos shared in Chatham magazine.
A special spotlight
We can't forget to spotlight one of the preschoolers in mention, Connor, the son of a team Yardi member! That member is Stephen Allen, a senior account executive on our senior living sales team. It's wonderful to celebrate students like Connor for connecting with seniors and spreading kindness.
We hope you'll read the full spread featuring the students at Primrose School at Chapel Hill and their visit to Galloway ridge. Enjoy!