Maravilla Seniors
By Natalie Mahn on Nov 16, 2021 in Senior Living
Throughout the COVID-19 pandemic, seniors and their families have experienced loneliness and isolation. From enforcing strict lockdowns to limiting in-person visits, senior living communities have seen this firsthand.
So how can communities work to improve seniors' quality of life? One theory, developed by two UC Santa Barbara professors, is through virtual reality (VR). Specifically, through VR sessions with seniors and their loved ones.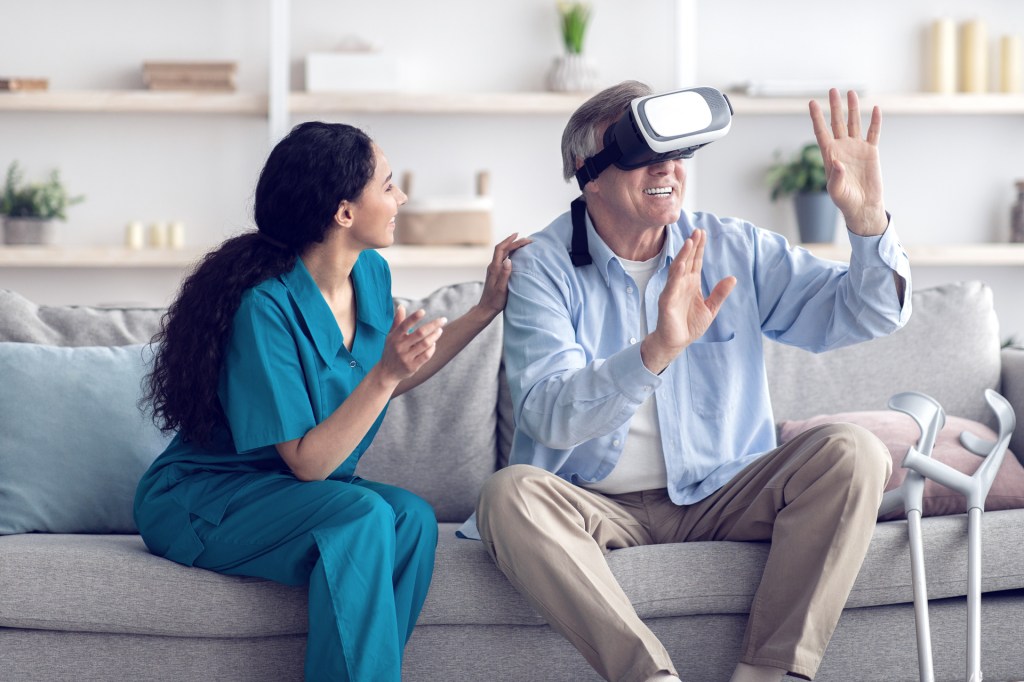 This theory is being put to the test with seniors at Maravilla Santa Barbara.
Testing the power of VR sessions
With 21 pairs of Maravilla residents and remote family members, professors Tamara Afifi and Nancy Collins began their research in 2020. Their goal remains to show the impact of VR technology on social connection — and quality of life — for seniors residing in communities. Not to mention, the impact of VR sessions on these seniors' family members.
In this highlight, Collins explains the bigger picture of the study.
"The long-term goal is to find ways to use innovative technologies to reduce social isolation, strengthen family bonds and improve quality of life for older adults with varying levels of cognitive impairment," she said.
According to the pilot study findings, VR sessions reduced feelings of loneliness, improved moods and helped enhance seniors' quality of life. For families, the VR sessions led to better moods and less caregiver guilt.
"A family is a system, so when you help one person, you're helping the whole family," explained Afifi. "This is especially true for caregivers, who can bear a particularly heavy burden in terms of stress and guilt."
Afifi and Collins also tested how memory decline effects seniors' engagement during VR sessions. They found that seniors with mild cognitive impairment were more kinesthetically engaged in the VR experience, whereas seniors with mild to moderate dementia moved their bodies less — and reported feeling more immersed in the experience.
Given the success of the pilot study, the National Institutes of Health (NIH) has granted the research team more funding. They're set for a two-year clinical trial, one that will rigorously test the social and psychological benefits of VR activities.
It's an exciting step for senior living communities. With the knowledge uncovered so far, and the promise of more discoveries, providers can start facilitating shared, immersive experiences for seniors and their families.
About the community
Maravilla is a Santa Barbara-based community under the umbrella of Senior Resource Group (SRG). SRG, a dedicated Yardi client, has over 30 years of experience in senior housing. They're known for their innovative community design, excellent service and exceptional care.
SRG helps communities like Maravilla thrive using Yardi solutions like RentCafe Senior CRM, Yardi EHR and more.
We're proud to spotlight the seniors of Maravilla Santa Barbara for participating in VR research. The study has uncovered a key solution for improving seniors' quality of life — and there's more to come.
You can learn more about the VR study here. To see how Yardi solutions support clients like SRG, don't hesitate to reach out to us!