Making Seasons Bright
By Natalie Mahn on Dec 29, 2021 in Senior Living
'Tis the season to spread holiday cheer! For us, that involves spotlighting our senior living clients — sharing how they're making seasons bright for residents.
And Watercrest Senior Living is no stranger to holiday activities. They're organizing festive experiences for residents across their communities, which we can't help but share. Here's a roundup to get you in the holiday spirit:
Festival of Trees
Ever dreamed of walking in a winter wonderland? For residents at various Watercrest communities, winter wonderlands became reality during the organization's annual Festival of Trees.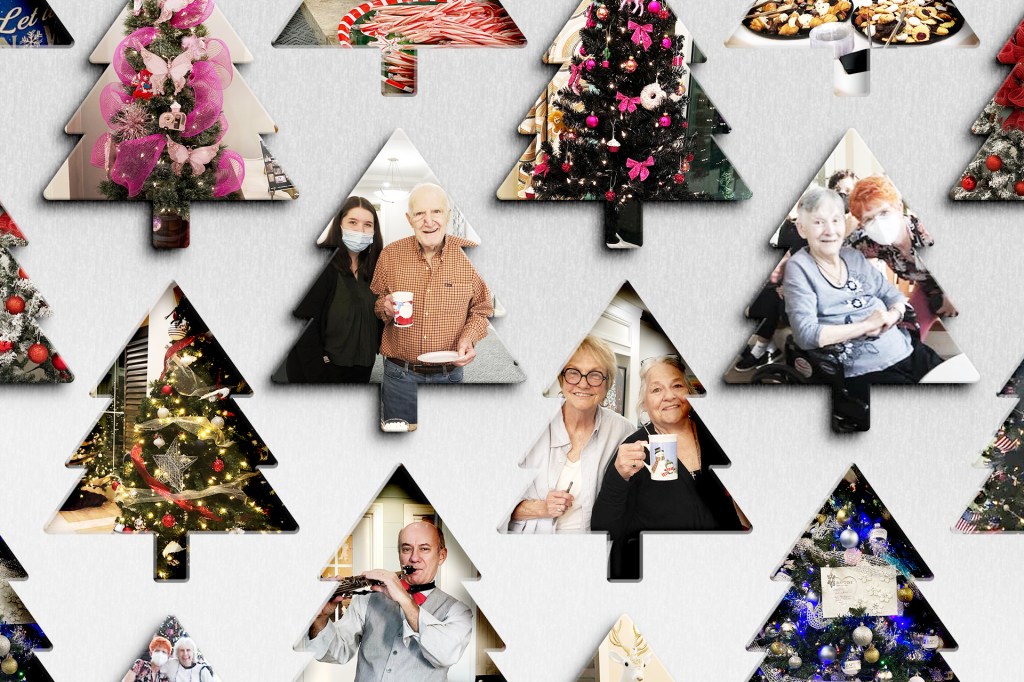 And it's exactly what it sounds like. At Watercrest Santa Rosa Beach, residents explored a magical showcase of holiday trees, all of which were donated by community partners. Families joined residents to stroll the festively-decorated grounds searching for their favorite tree, snacking on holiday desserts and mingling over hot cocoa.
"These events, both big and small, make our Watercrest community truly a family," shared Watercrest on LinkedIn, along with photos of the event.
At Market Street Memory Care Residence Viera, owned and operated by Watercrest, the Festival of Trees was combined with another celebration: their fifth anniversary of serving seniors with Alzheimer's. Residents and families experienced the splendor of the holiday season — gathering around decorated trees and enjoying live jazz — while celebrating the community's important anniversary. We can say with confidence, the gathering was something special.
Watercrest Winter Park joined the annual tradition, too. This Florida-based community gathered local businesses for a silent auction, raising over $1,200 for the AdventHealth Neuroscience Institute. How amazing is that? Of course, residents were immersed in a winter wonderland, sipping on holiday-themed drinks while admiring the trees.
"At Watercrest Winter Park, we are always looking for creative ways to give back to our local community," said MaryAnn Howell, executive director of Watercrest Winter Park. "This event is a meaningful way to celebrate the season and put our creative talents to good use."
Baking, decorating & more
Watercrest proudly encourages residents to channel their creativity. And the holiday season is the perfect time to do so. At their Market Street location, seniors partook in the signature Aprons & Appetizers program — but with a holiday twist. Residents dressed in festive colors and baked sweet, holiday-themed treats. We're loving the collage of photos Watercrest shared on LinkedIn.
Watercrest Sarasota took a similar route, inviting residents to bake an all-time favorite sugar cookie recipe.
Time was spent decking the halls at Watercrest Santa Rosa Beach and St. Lucie West. From painting ornaments to decorating trees, residents let their creativity shine. Watercrest shared photos of the spirited decorations at Santa Rosa and St. Lucie West on social media.
Matinee musicals
We all have our favorite holiday movies and plays. For some, the classic comedy "Elf" makes the list. If that's you, you would've loved to join Watercrest Columbia residents for a daytime matinee of "Elf the Musical." Performed at a local theatre, the musical was based on the beloved holiday film, and it was smiles all around.
Happy holidays from team Yardi
From our senior living team to yours, we hope you're enjoying the holiday season. It always makes us happy to spotlight our senior living clients, like Watercrest, and the dedication they bring to their residents. Especially this time of year!
To explore more holiday stories from Watercrest, check out their LinkedIn page. Want to learn how Yardi supports clients like Watercrest with our senior living management software? Let's schedule a time to connect.