Kindness Experiments
By Natalie Mahn on Jan 31, 2022 in Senior Living
For Dwayne Clark, founder and CEO at Aegis Living, spreading kindness is second nature. This senior living leader enacts generosity inside Aegis communities — and out.
And this story focuses on a gesture by Clark at a local Walmart, where he rewarded a pair of hardworking parents for their own kindness. Keep reading to get the full picture.
Kindness experiments at Aegis Living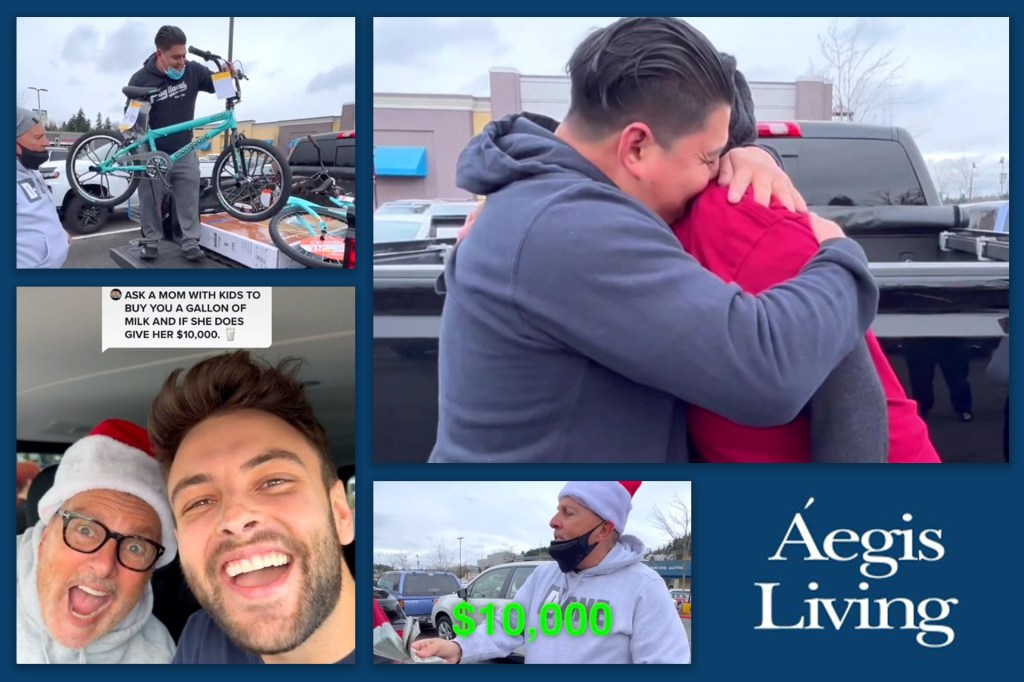 Back on December 14, with holiday spirit in full swing, Clark joined influencer Jimmy Darts for an inspired grocery store trip. Darts is known on social media for posting videos of pranks and random acts of kindness.
Covered by McKnight's Senior Living, the duo entered the store with a drive to help others. Upon asking a randomly-selected couple for a $2 loan to buy milk, which they gave without hesitation, Clark and Darts responded by taking them on a three-cart shopping spree.
That's a special act of kindness if we've ever seen one, but the generosity didn't stop there. After paying for the couple's groceries and loading up their car, Clark took things one step further. He surprised them with $10,000 in cash — deeming it a reward for their initial kindness, and for being hardworking parents to five children.
Although it's a great story to read, there's nothing like watching the video. Check out Darts' post on TikTok, which went viral in 48 hours.
According to McKnight's, the video is part of Aegis Living's kindness experiments on social media. The company created the initiative as part of its annual "Empowering People, Inspiring Consciousness" conference. The conference includes a program called "Transform a Life" that focuses on bettering the lives of others.
The videos can be found throughout Aegis Living's LinkedIn feed. We hope you'll take the time to watch!
About Aegis
At Aegis Living communities, the goal is to make every day count. That's why they're known for their exceptional employee culture and commitment to resident care.
Founded in 1997 and headquartered in Washington, Aegis now operates 35 senior living communities across three states. And Dwayne Clark is always working to transform standards, elevate care and exceed the expectations of Aegis' residents and families.
Aegis connects on Yardi
With growing communities, Aegis knows the importance of a single connected solution. More specifically, a solution built to streamline operations, transform care and ultimately, power their business.
Yardi is proud to help clients like Aegis Living drive success with our senior living management software.
To learn more about which tools can best serve you and your communities, get in touch with us. Remember that each piece of the Yardi Senior Living Suite unites on a single platform — eliminating the risks commonly associated with disparate systems.
A big shoutout to Dwayne Clark and Aegis Living for their kindness experiments. We love sharing positive stories just like Clark's here on The Balance Sheet.
Seen anything else that's inspired you lately?