Gain Market Data
By Natalie Mahn on Apr 26, 2021 in Senior Living
How can senior living operators stay competitive in the market? Accessing data on housing rates, pricing and leasing activity is critical. Fortunately, Yardi's partnership with non-profit National Investment Center for Seniors Housing & Care (NIC) allows operators to share data seamlessly — increasing the amount of information available in the senior living sector.
NIC Actual Rates Initiative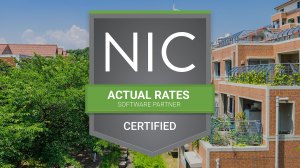 Launched as the first of its kind in collaboration with Yardi, the NIC Actual Rates Initiative compiles actual rates and leasing activity submitted by senior living operators. Driven by the need to increase transparency in the seniors housing sector, Actual Rates data includes in-place, move-in and asking rates, as well as leasing activity.
Yardi clients can easily participate by using Voyager Senior Housing to map and extract rent roll data, which can then be exported to NIC and Excel. Many senior living companies have already committed to providing monthly data feeds for the Actual Rates Initiative — covering more than 250,000 senior housing units nationwide.
For more information or to participate, explore the NIC Actual Rates Initiative and complete the online form.
NIC MAP Data Service
In addition to the Actual Rates Initiative, Yardi collaborates with NIC to provide another avenue for accessing data, benchmarks and insights in senior living. The NIC MAP Data Service offers unbiased market-level data on the entire sector's property types and care segments — supplying data from more than 15,000 properties within 140 U.S. metro markets.
Here's how it works. To further combat the lack of transparency in senior living pricing, participation in NIC MAP allows data to flow into Senior IQ, our business intelligence solution. Yardi clients who have an active NIC MAP account can benchmark against competitors on occupancy, rent and rent growth. For those that do not yet subscribe to NIC MAP, internal benchmarks are still available.
As an added benefit, NIC MAP data is updated weekly, monthly and quarterly. It includes property-level inventory by unit type, sales transactions, construction activity, aggregated occupancy and demographics — providing comprehensive visibility in senior housing.
Interested in learning more? Explore the NIC MAP Data Service and gain insights from product experts.