Expanding Entertainment
By Joel Nelson on Mar 7, 2021 in News, Senior Living
Many senior living community operators are finding creative new ways to broaden their residents' entertainment and activity options.
In fact, Forbes reported in November 2020, entertainment has emerged as a marketing differentiator. "Many [seniors] are sharpening their focus on independent-living communities that not only provide creature comforts and an aesthetically pleasing brick-and-mortar living environment, but hospitality-inspired entertainment, trips and outings enabling highly-sought connections. Saying, in effect, 'Let us entertain you,' is good business for senior living communities." That's why "savvy senior communities are emphasizing the delivery of socially focused programming to bring mature adults together in fun, entertaining and educational ways once they're safely able to drop the masks and rub shoulders again."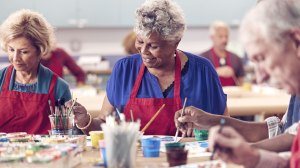 Even before the lockdown, "many retirement communities [were] stepping up to the challenge and redefining what fun looks like," according to Denver-based Spectrum Retirement Communities. "If you were used to hosting get-togethers with friends and family, there's no reason for that to change after moving to a senior living community," said Brad Kraus, the company's president and chief executive officer. "Those of us in charge of planning entertainment need to focus on designing activities that are elevated, purposeful and the entire family can experience."
Spectrum once sponsored a nationwide gingerbread house design competition with residents, team members and family members. One community in Texas came up with 3-foot-tall creation made of 600 sugar cookies, six buckets of frosting and 30 pounds of candy. Another in Colorado created  Pike's Peak facsimile.
Spectrum residents have also participated in volunteer activities involving pet shelters, waste reduction programs and homeless support, among others, "Why not make it possible for residents to continue giving back to the community with their family by their side?" Kraus says. "It's our job to create that possibility. We want to create experiences that will be enjoyable for everyone — not only our residents but their children and grandchildren. The goal being to offer an atmosphere that inspires an active and purposeful lifestyle."
At communities operated by Seattle-based Merrill Gardens, onsite entertainment has included jazz concerts, national food day celebrations, bread baking, TED talks, giant crossword puzzles, pet therapy and scenic drives. During the COVID-19 pandemic, Avanti Senior Living of The Woodlands, Texas, held car parades where residents sat outside and watched families and neighbors drive by in cars decorated with signs of encouragement.
In April 2020 Senior Housing News reported on a YouTube channel pilot sponsored by Bellevue, Wash.-based Aegis Living. Aegis Live delivers programming directly to residents' computers or mobile devices. A typical episode lasts 30 to 40 minutes and features a theme of the day, jokes, fitness routines, music, trivia, resident birthdays, health tips and more. Other senior living community providers also offer YouTube and dedicated television channels for exercise, religious services and other activities.
"It's provided an opportunity for us to digitally deliver engagement from a mind, body and spirit perspective," said Chris Corrigall, vice president of life enrichment for Aegis. "And it's been a lot of fun."
See how technology from Yardi helps uplift the senior living experience.