Promoting Health Sharing
By Joel Nelson on Apr 15, 2021 in Senior Living
Electronic health records, or EHRs, have evolved into a necessity over the past few years in the senior living industry. In fact, a LeadingAge study in 2019 found that nearly 76% of the nation's 200 largest nonprofit, multi-site senior living organizations use EHRs, as do the majority of single-campus senior living communities.
EHRs enable care staff to chart and document residents' medications and transitions between care settings in real time. Along with this efficiency, notes PharMerica, a pharmacy services provider for the senior living industry, senior community operators "are finding that EHR can help do things like boost occupancy and profitability. And vendors are finding easier to promote EHR benefits around greater resident engagement, streamlined workflow and reduced staff turnover." Additional benefits of EHRs include facilitating Medicare and Medicaid reimbursements and ensuring compliance.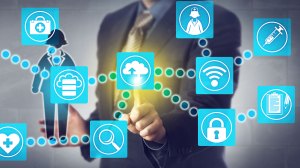 Interoperability is crucial
There's yet another dimension to EHRs. Senior Housing News reports that some providers adopting EHRs "are actually going a step further to connect those EHRs to larger networks in the interest of electronically sharing information with doctors, hospitals or other clinicians." Making such exchanges securely across multiple systems requires connection to a service provider for health information exchanges, or HIEs. "It's only a matter of time before mounting state and federal pressure to connect EHRs to HIEs becomes too difficult for senior living providers to ignore," the news source reports.
Some in the industry are still playing catch-up. Clinical information is still often shared via fax, phone or printouts, opening the door to mistakes and omissions. And patients often receive paper medical records when they are discharged, creating additional opportunities for documentation errors and impeded care coordination.
"The COVID-19 pandemic has amplified the importance of interoperability and the ease in which clinical information needs to be available to an entire healthcare community," says Jon Elwell, CEO of Scottsdale, Ariz. interoperability provider Kno2. "We cannot rely on paper fax for this important task."
Creating seamless transitions
Going forward, the need for interoperability among acute care, private practice, skilled nursing and other healthcare partners will spur the development additional for care transition and coordination. That means "seamless care transitions and sharing of critical patient information between the senior living community and the providers participating in their care, improving coordination and reducing administrative burden from a historically manual process," Elwell says.
Once implemented, this interoperability will spur "increased efficiency and quality outcomes, improved ability to avoid adverse events and timely access to information from your patients' other providers," according to the Minnesota Department of Health. "Creating shared care plans and following up on the execution of those plans to optimize outcomes, reduce length of stay, or eliminate unnecessary hospital admissions via HIE will be key," adds Majd Alwan, senior vice president of technology and executive director of the LeadingAge Center for Aging Services Technologies, an advocate for technologies that improve the aging experience.
Yardi's contribution to EHR interoperability includes a partnership with Kno2®, whose Interoperability as a Service™ drives connectivity for health data networks. Interoperability as a Service's integration with Yardi EHR lets Yardi clients electronically send and receive health data, ensuring safer clinical care transitions.
Look to The Balance Sheet for more updates on the continuing evolution of EHR capabilities, which PharMerica says have the potential to "revolutionize the way seniors are treated and cared for in the years to come."
For more on Yardi's electronic health record solution for senior living, visit the Yardi EHR product page.