Changemakers Series
By Natalie Mahn on Jul 7, 2021 in Senior Living
To earn a spot in this year's Changemakers class, you have to be a special type of leader. It takes a natural catalyst for change — and someone who's an exceptional visionary in the senior living industry.
That describes Doug Leidig, president and CEO of Asbury Communities.
Since joining the Maryland-based nonprofit over 20 years ago, Doug has dedicated himself to enhancing the lives of seniors. And since becoming president and CEO in 2015, he's implemented fresh ideas to transform Asbury into a diversified aging services organization. His drive and innovation earned him the Changemaker title for 2021.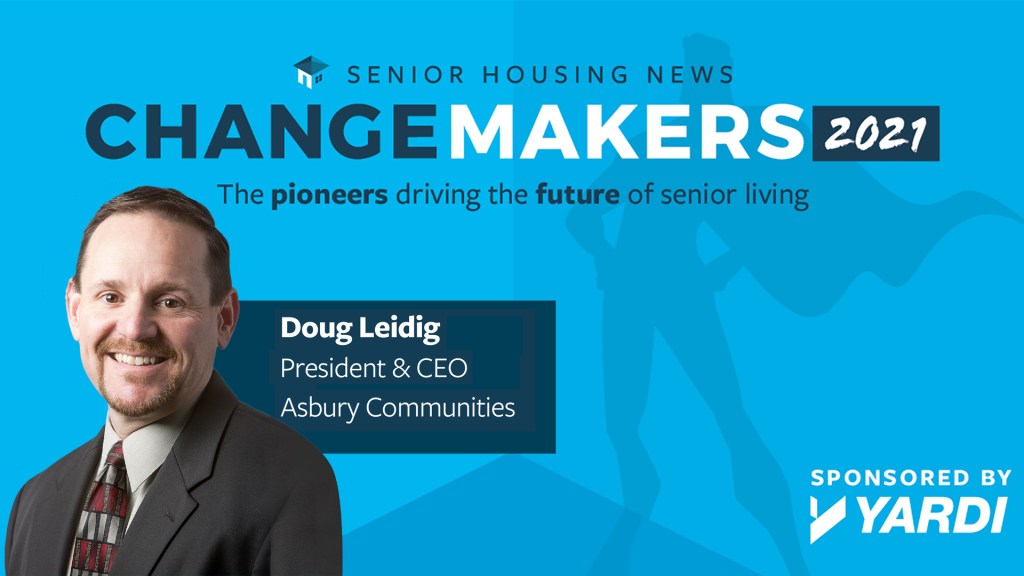 Brought to you by Yardi and Senior Housing News (SHN), interviews are conducted with Changemakers like Doug. This gives you an inside look at their path to leadership, plus a chance to access their advice and expertise.
In the below excerpt from Doug's SHN interview, you'll learn how he's creating a lucrative future for Asbury Communities. Doug also talks about how he's pushed through obstacles in the face of change.
Can you walk me through the evolution from a CCRC provider to more of an aging services model? Was it strategic or did it come together piece by piece as you diversified the company?
It's been purposeful, but it's taken us about three or four years.
I had been convinced for quite some time that standalone senior living CCRC businesses are at risk. Maybe not tomorrow or five years from now, but moving down the line, I think there are risks. We all know that we have to change our offerings on our campuses, especially to meet the next generation's demands.
I also knew that 98% of our revenue comes from CCRCs, from the resident rates, so you have to think, "How do I continue moving forward, investing in infrastructure, investing in innovation, investing in our workforce, and growth in all the things we want to do by just relying on resident rates?"
The way to do that is to expand and look for other revenue opportunities — whether that's owning services provided to our campuses, partnering with existing strategic business partners or selling our external services such as our IT, we must concentrate and build those other business lines.
Where we have failed in the past is when we tried to become a therapy company. We tried to become a pharmacy. We tried to become something else we weren't. We took a different approach, and through our affiliation with Albright Care Services, each organization entered a mutually beneficial relationship. They had the PACE/LIFE program, life programs in Pennsylvania and a pharmacy, enabling us to expand as a diversified aging services organization, and become even stronger.
Can you describe a time when you were trying to create change and it didn't go according to plan, and where did you go from there?
I think there's a lot of things that I've tried over the years, whether it was in the CEO role or even when I was COO, but one thing that always comes to mind is growth. We were not necessarily in a growth mindset in terms of infrastructure and new business lines.
When I came in as CEO, I was convinced that with a few tweaks here and there, in two years, we could do a couple affiliations and acquisitions. I expected faster results, but I realized quickly that I was being met with resistance for multiple reasons: fear, being averse to risk and expanding beyond who we are. We have had some residents push back when we want to grow because they are comfortable with where they are.
That was one [area] that I felt that I was not very successful in for the first, probably four or five years, and here at year six, we're finally getting to that point.
Second is the culture of innovation. That was another driver when I came in as CEO, but it took a long time and I did not anticipate the resistance I faced. Innovation means many things to many people and I didn't provide clarity for my vision.
Explore the full SHN interview with Doug Leidig.