Changemakers Series
By Natalie Mahn on Aug 18, 2021 in Senior Living
As an expert who's redefining the future of senior living, it's no surprise that Ben Burke has earned a place in this year's Changemaker class. Recognized by Senior Housing News (SHN) in a special interview series — proudly sponsored by Yardi — Ben embodies what it means to be a senior living leader.
About Ben Burke
Yardi client Ben Burke is the president of Anthology Senior Living, a platform that develops, acquires and operates communities as an affiliate of CA Ventures. With extensive experience in the industry, Ben has brought unique, strong ideas to Anthology — including the initiative to create high quality communities at an attainable price point. Under Ben's leadership, Anthology is leveraging smart and economical design, technology and operational flexibility to stay ahead of the curve.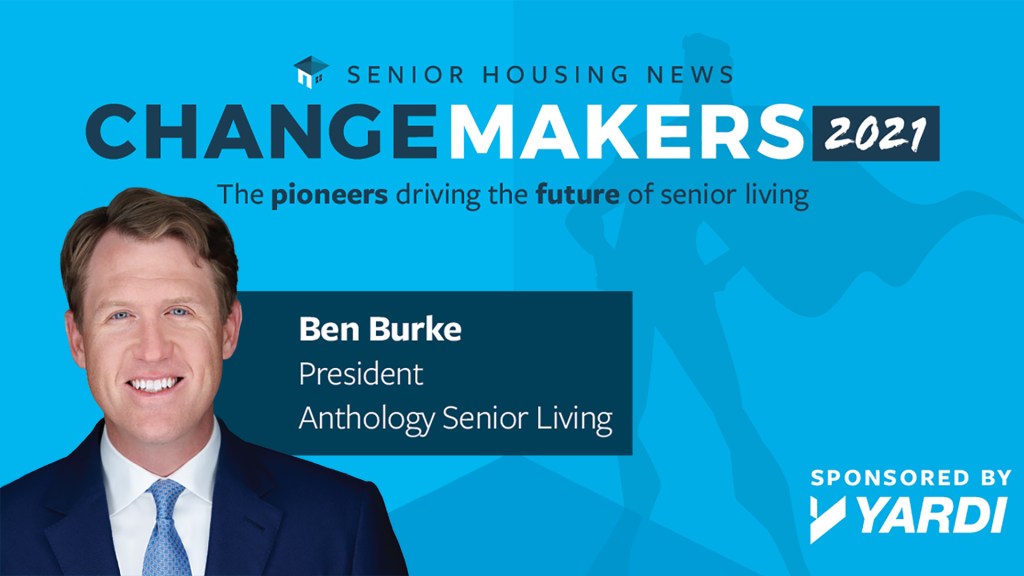 Through the Changemakers series, Ben shares the fresh ideas he's put into action at Anthology. He delves into the advantages of being vertically integrated, the importance of putting residents first and more. Here's a highlight from the SHN interview:
Can you speak to the ability to develop better products by being vertically integrated?
The advantages from the new development side are endless. The heads of our development team, investment team and acquisition team sit at a table every single Monday with the heads of our operations and asset management teams. We talk about every single deal in detail.
Then, once a month, we have what we call a "Super Thursday Meeting," and we go through everything that links operations and development. Whether that's design, construction timelines, or some of the areas like sales trailers and pre-opening and signage, we talk in detail about all these topics.
FF&E [furniture, fixtures and equipment] is a huge area. The business is so nuanced from both an operational and a customer perspective that if you are not someone who has operated in our communities, it is very difficult to make all of the right decisions in the design.
If you walked into a room of developers or architects from different industries and asked them, how many people in this room have ever lived in a student housing building, you'd probably get a big chunk of folks that went to college and lived in some sort of student housing building. If you asked, how many folks have ever lived in an apartment building, you'd have a bunch of folks who lived in an apartment or condo at one time or another. If you asked, how many folks have lived in assisted living, you'd get very few hands.
People who have lived in apartment buildings can better design apartment buildings because they were residents at some point in time. It's just a different depth of knowledge, and that's why our operations folks are in the buildings on a day-to-day basis.
What is important to our residents? How important is living space versus a robust kitchen area? Is ceiling height important or not important? What is the best use of technology? What is valuable? These are not obvious things, and without operations at the table, you will not be able to easily make those decisions.
Anthology is trying to move the needle toward a next-gen product. On the other hand, I assume you don't want to get too far ahead of the market. How do you find that balance?
We want to get our fundamentals and our baseline right first, without question. What do our residents most care about? What do their family members most care about? What do the referral partners most care about?
The residents care about a fun, lively and safe environment. They care about price and quality, but I think they care about the community nature of our product even more. They care about the food, they care about the activities program, and they care about the things that make them happy and fulfilled. Our functional, purpose-built amenities spaces are the starting point.
We also want their life to be easy, so we think about things like the length of hallways and elevator locations. Walking down a hallway might seem easy to a person living in an apartment building, but at a certain age it becomes harder. Are there areas for residents to take breaks and maybe take a phone call or read a book along the hallway? Absolutely. Those fundamentals are the heart and soul of our business.
We do take risks, but the most important thing is to facilitate socialization in a beautiful setting. We think about that through technology, whether that's life safety, air filtration systems or even dynamic lighting. Those are all things that we then take risks on thoughtfully, to determine if they are of any value to our residents.
We're not in this business to build [design] magazine submissions, we're in this business to build highly functional and enjoyable spaces for our residents.
What role is technology playing in driving change in senior living?
We have a very human business. I'm skeptical of layering tons of technology into the foundation of our business. However, I think the tools that are tangential to our business will certainly be affected by technology.
An example of that is communication. Communication to our residents. Communication to our team members. Communication to our residents' families — building trust and starting a conversation around ways to make our product better are areas where we are seeing technology help a lot.
There will also be technological changes in how we provide medical care in our communities. Telehealth has a real shot of improving our offering. It's not going to provide the care that we do, but we're also not doing a lot of diagnoses. Our residents either have to go somewhere for that, or have someone come in physically for that. Through telehealth, we can shortcut that process and help our residents thrive more quickly. Telehealth is also easier on the provider and I think that's a real area of potential opportunity with technology.
I also continue to see advances in construction technology that is agnostic to senior living, per se. If we are able to build our buildings more efficiently, at lower costs with similar or higher quality, we can rent our units for less and earn the same return.
Then on the staffing side, we're seeing a bunch of interesting technology around recruitment and training. These tools help make us a great company to work for and improve our ability to find strong team members. Again, it is somewhat agnostic to senior housing but moving forward quickly.
Visit SHN to read Ben Burke's full Changemaker interview.