Changemakers Series
By Natalie Mahn on May 10, 2021 in People, Senior Living
It's time to recognize a new wave of senior living leaders! Published by Senior Housing News (SHN) and sponsored by Yardi, the Changemakers series is back for 2021 — highlighting exceptional leadership in the senior living industry.
With insights captured through in-depth interviews, this year's Changemakers are recognized for their unique strategies in navigating industry challenges. And there's no questioning the obstacles the industry has faced — especially during the pandemic. But these visionaries have pushed forward. They're utilizing their knowledge and skills to pave a bright future in senior living, and they're here to share their expertise.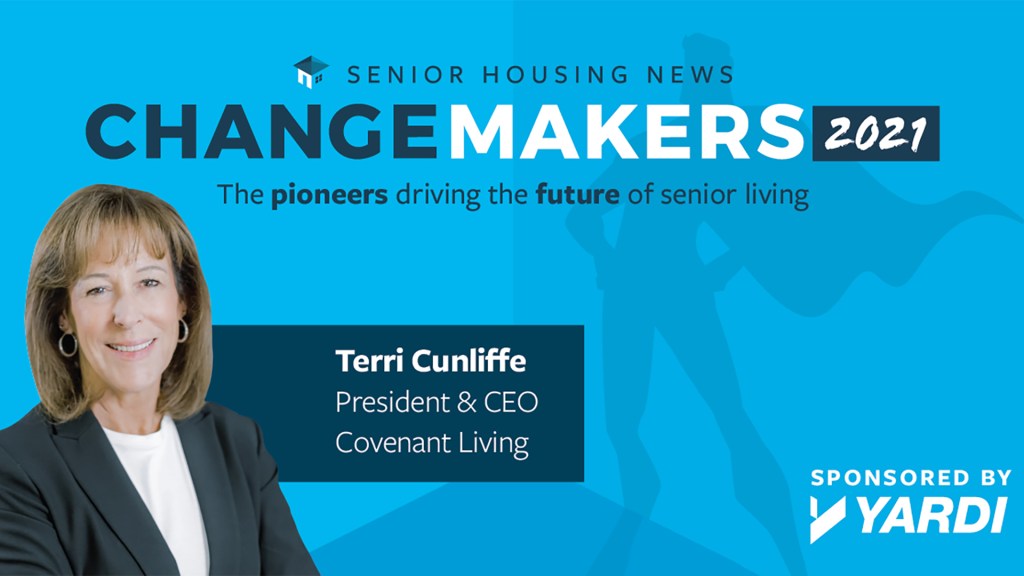 Released in batches over the next several months, the first interview is ready for you to explore:
Meet Terri Cunliffe
Changemaker Terri Cunliffe is President and CEO of Covenant Living Communities & Services, a non-profit operator of senior living communities. Since joining the organization in 1988, Terri has devoted her career to improving the lives of seniors — quickly evolving into the leader she is today. Appointed as COO in 2010 and later CEO in 2015, she's expanded the efforts of Covenant Living and its many communities, introducing proactive measures every step of the way.
And with over three decades of experience, Terri is no stranger to change. In the following excerpt from the SHN interview, see how Terri's knowledge — and dedication — have proven successful in maneuvering through an ever-changing industry, all while leading Covenant Living's journey to growth.
To be a changemaker, you've got to be willing to take risks. Do you agree with that? How would you describe your own risk tolerance?
When I think of risk, I think the longer I'm in the role, the more risk I'm willing to take, because I understand the implications of that risk.
If we have a zero risk tolerance, we will never ever do anything, because everything we do has some aspect of risk and in some areas, we'll take more risk than others. Risk goes along with confidence. From my experience, our board's appetite for risk is dependent on the trust that they have in leadership and the leadership team in our organization. I am more of a risk-taker today than I was in my early years of leadership.
The stronger the team around me, the more comfortable I am with risk, because I know that if we see a risk developing, we can quickly pivot to either modify our approach to reduce the risk or we can shut it down, if it is that big of a concern. Now, we generally have the ability to conduct a risk analysis before we jump into something brand spanking new, but there have been times that we haven't.
Do you think that senior living is changing fast enough these days?
Oh, boy. No, I don't think it has been, but I believe it will need to, in order to survive.
COVID has changed everything — our business, the consumer, the employee and where services are provided. We've just expanded that, we've added to our portfolio of services, where and how they're provided to residents. Now the residents are going to expect more from us than they did even before COVID. I think we've got a couple of challenges that we've got to get through, however, such as access to funding for innovation and change.
There's a cost to change, but I think our bigger challenge is, quite honestly, people generally don't like change — not our residents and not our employees. How do we execute change efficiently, while helping our people accept that change and see the benefit of that change? As leaders, we've got to be talking about the potential changes, every day, all day, to everybody we can [laughs].
I always say as a common phrase in our organization: "Buckle your seatbelt."
As you think about strategic planning, say 5 or 10 years down the road, is there anything you've got in mind in terms of what's next on the change-making agenda?
Yes. We still are open to acquisitions and affiliations and our growth and expansion is still a big area of focus. We are launching into a very expansive master plan and health care repositioning organization-wide, and the timing is fantastic.
I think post-COVID, our consumer will be looking for a different product in health care, and we are looking at our organization holistically, from continuing to invest and looking at how the health care repositioning fits into that, and we will continue to strengthen the financial portfolio of the organization.