Changemaker Series
By Natalie Mahn on Aug 1, 2022 in Senior Living
It's time to showcase the final round of senior living Changemakers — four industry pioneers who have shaped the industry as we know it.
And if you're new to the series, Changemakers is an annual compilation of interviews that Yardi is proud to sponsor for the fourth consecutive year. Presented by Senior Housing News (SHN), the interviews hone in on leaders' evolving strategies, experience with change and plans for the future.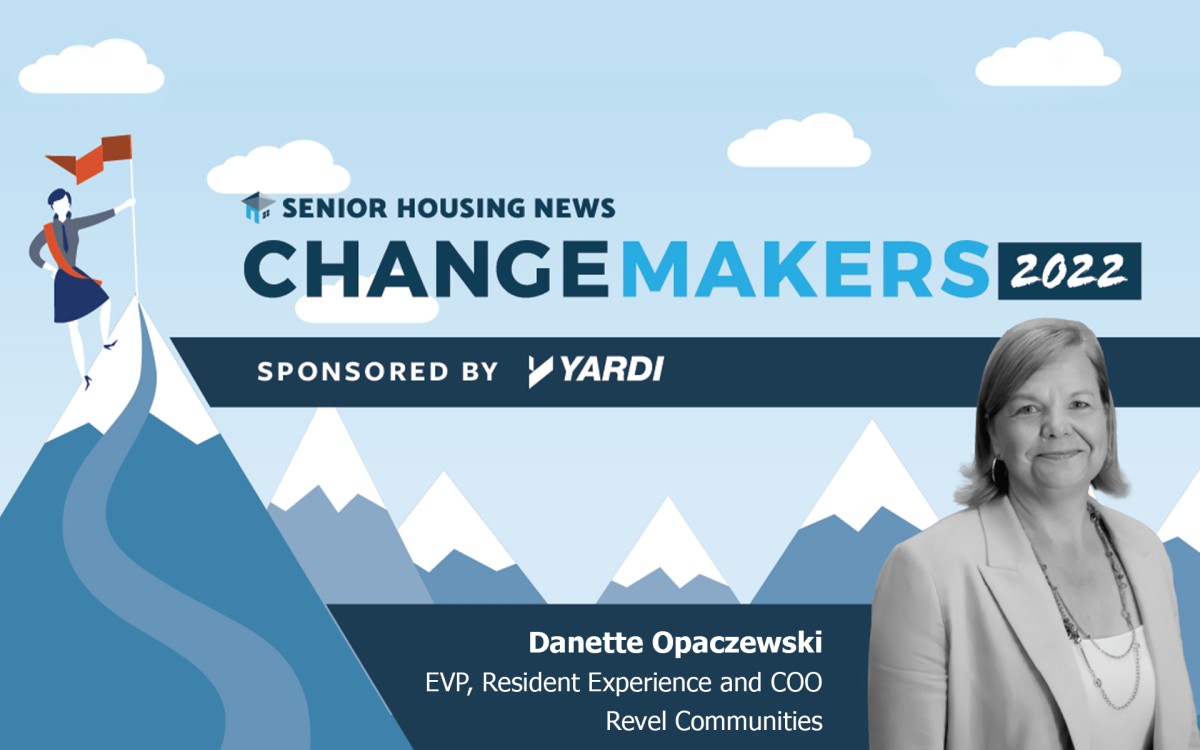 First up in the final group of four is Changemaker Danette Opaczewski, the EVP of resident experience and COO of Revel Communities.
About Danette Opaczewski
From spending her career in hospitality, Changemaker Danette Opaczewski knows how to think outside the box when it comes to resident care. Since joining Revel Communities in January 2020, she has brought innovative ideas to the table and lead Revel toward a brighter future.
Through her Changemaker interview, Opaczewski talks about her drive to redefine the resident experience in senior living. She shares the importance of pricing transparency, the initiatives her team is taking to improve diversity and more. See below for a quick highlight.
SHN: Do you see yourself as a Changemaker? And are you always excited to drive change, even when it sometimes involves risk?
Opaczewski: We recently rolled out a program within our communities called Predictive Index, with the goal of analyzing our team members' behavior to help them fit into their role and the industry in general. After participating in the program myself, I learned that I'm considered a venturer. A venturer is defined as somebody who is open to change and is motivated by the ability to make an impact on what's in front of them.
I didn't come into senior housing planning to be a changemaker, I came in and said, "This is a fascinating business, what can I do to make it better?" Leveraging both the operator's view and my financial expertise inspired me to say, "Hey, there is a real opportunity here."
I have a great company and a small enough platform to try things that others can't. Frankly, I have never feared change because it has inspired me to try things.
SHN: How do you think about timing in order to innovate without getting so far ahead of the market that a new idea doesn't work?
Opaczewski: In the spring of 2021, we launched a very innovative program [to allow residents to travel to different Revel communities], called Revel Seasonal Residences, thinking we were coming out of COVID and there'd be a lot more travel. We were super excited about it, but we had no takers and couldn't figure out why. As we dug deeper, we realized people still had a fear of leaving their community or spending time without a clear, visible trajectory into the health of wherever they were going.
We pivoted and we ended up relaunching the program this spring and showing the health of our communities. We basically said, "Hey, we are healthy. We have healthy communities and we're opening it up to prospects." Now that most people are vaccinated, we've seen a much better response. I think timing is everything in this space. We were so excited to have something new last year even though the market wasn't ready. Now we feel the momentum and we see a lot of movement.
We're also piloting something that is a risk for our capital partners and our organization … to provide points to our residents to dine.
Most of the food and beverage in these spaces is one meal a day, two meals a day, three meals a day, buffets, whatever that looks like. Our vision is to give residents a minimum number of points that they can use for dining, services, groceries and activities. Just like a membership club, you have to spend a minimum amount of points on food and beverage for the price of entry, then you buy more as needed.
We're taking some risk here, but having worked with Soho House on the membership club side, I think it's important to have choices for people at all price points, and that's where the transparency comes into play.
Learn more about Danette Opaczewski
To read Danette Opaczewski's entire interview with SHN, head to the Changemakers website. And be sure to keep an eye out for the next three Changemaker interviews, shared here on The Balance Sheet.