Changemaker Series
By Natalie Mahn on Jul 5, 2022 in Senior Living
If you've visited The Balance Sheet recently, you've likely seen our posts about Changemakers, an interview series that spotlights innovative leadership in senior living. As a sponsor for the fourth consecutive year, we're honored to shine a light on each leader's story.
The in-depth interviews are released in batches by Senior Housing News (SHN). And the latest group of honorees includes Changemaker Bryan McCaleb, president of Sagora Senior Living and someone who embodies what it means to put residents first.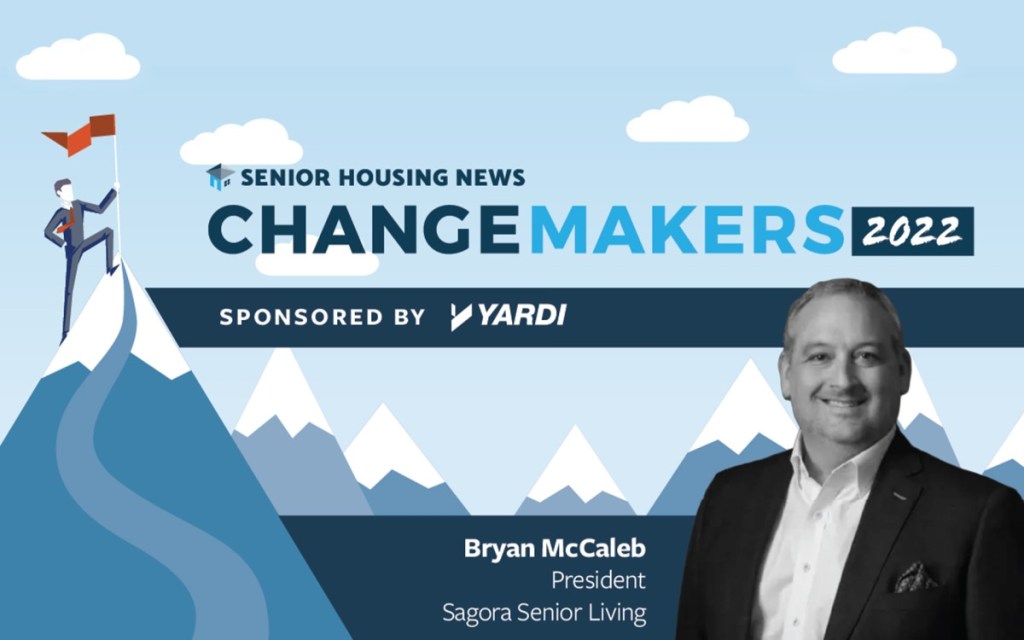 About Bryan McCaleb
As president of Sagora, a Yardi senior living client and resident-focused organization, Bryan McCaleb knows how to push boundaries and build success. Most importantly, he stands behind Sagora's mission to help seniors enjoy retirement with style and dignity.
Since joining the Sagora team in 2006, McCaleb has helped the organization serve seniors — exceeding their wants and needs — through exceptional residential alternatives. In his detailed interview with SHN, McCaleb shares how Sagora has grown in such a competitive landscape, sharing how promoting internal team members has made the difference.
Read a portion of Bryan McCaleb's interview below:
SHN: As you think back on your career in senior living, what changes have you driven that you're especially proud of?
McCaleb: Our company has always made a difference through creating. The term "Resident first" may be a cliché in our industry, but it is not a cliché at Sagora, where we have a motto "Resident First, Team focused and Quality centered." We've worked hard over the last six years to create a team member-first environment. If the team member is our focus, they can take the care focus from us. From my seat, it really makes a difference. When they're happy to be there and they feel appreciated, every aspect of their service is better.
We're working harder than ever to help team members feel important and valued in our communities, and giving them time with residents is one of the best ways to accomplish that. The residents show appreciation to them as we do, but resident interaction is critical right now.
The first thing we did was hire an associate engagement specialist for the company. Her focus is to help us find opportunities in our operation and our culture. Together, we put a program in place that allowed us to develop fun community visits for the corporate team.
I'm extremely proud of the number of people we've been able to promote since we started this program. One of the things we are looking to do in the coming year is create a leadership training role to help members grow within our company or transfer to other communities whenever they need something.
SHN: Do you feel the industry is changing fast enough to keep up with the times?
McCaleb: I think there are a lot of new ideas to meet resident needs. The problem I think we're seeing is the ideas are coming at a price point that a lot of people won't be able to afford. We've developed newer communities and acquired older communities, and acquisitions offer sustainable programs for generations to come.
Although it may not be a community that everyone wants to move into, it still provides an affordable option for a lot of people. Does it hit every bit of affordability? No, it doesn't. It hits a greater affordability than anything we can put on the ground starting with construction today. We are trying to open the marketplace to a broader group of people that we can serve.
SHN: Talk about a time when you tried to execute a change and things didn't go according to plan. How did you pivot and what did you learn as a leader?
McCaleb: Change is inevitable, so having the right people working together toward the same goal makes that change more manageable. I've made some of the worst mistakes by putting the wrong people in the wrong place. The change was going to happen either way. I selected candidates I was comfortable with, or that I already had on my team instead of finding the right person for that niche.
SHN: How can the senior living industry drive more diversity, equity and inclusion?
McCaleb: We have an incredibly diverse workforce. Everyone can be better at this. As a company, we are focused on making sure our corporate teams and staff reflect that. From our corporate diversity committee to the multitude of other measures, we're not just leading a single workforce, we're taking the whole workforce with us.
Read more
We're proud to spotlight Bryan McCaleb's work in leading Sagora Senior Living toward a bright future. And from utilizing our CRM tools to our electronic health record solution to our business intelligence software — Sagora has the support to continue that journey. The Yardi Senior Living Suite connects every tool on a single platform, helping providers like Sagora focus on serving residents.
To read the remainder of Bryan McCaleb's interview, visit the Changemakers page! And be sure to look out for the interviews to come, featured here on the Yardi blog.
To get in touch with our team about Yardi's dynamic senior living management software, start here.