BI for Senior Living
By Natalie Mahn on Jul 2, 2021 in Senior Living
What are the benefits of business intelligence in senior living? How can providers, investors and other leaders choose the right BI solution? These questions were answered in a recent webinar with Yardi and McKnight's Senior Living — Differentiators in Business Intelligence Technology.
The June webinar gathered Yardi clients Trey Allen of Dominion Senior Living and Michael Bowles of Dial Senior Living, with discussions led by Yardi Marketing Campaigns Specialist Rochelle Throckmorton. The panel also featured Yardi Associate Technical Account Manager Chris Golden.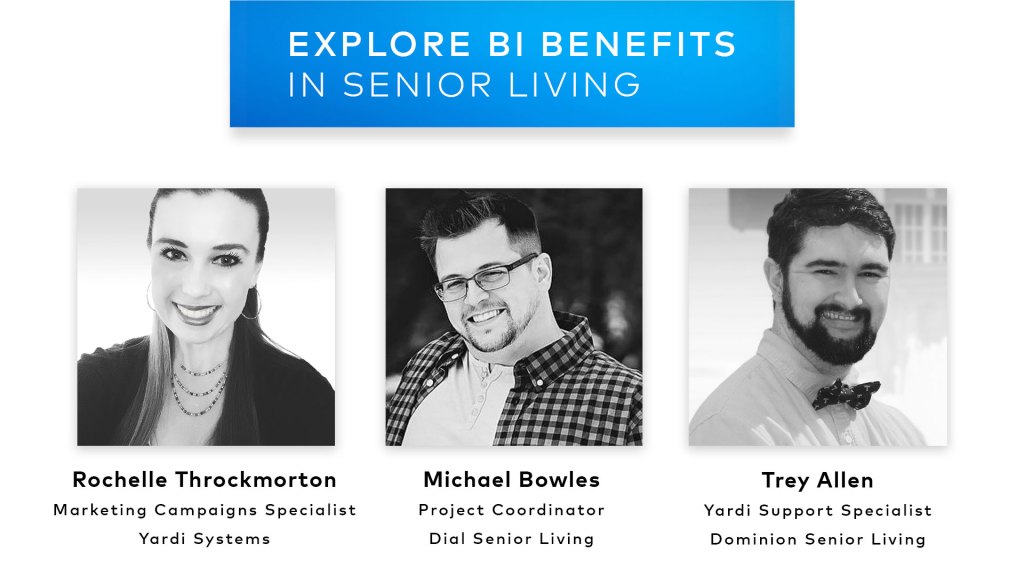 The panel started with an in-depth look at business intelligence, moving into the tools and tips needed to select an effective BI solution. Attendees then heard insights from Allen and Bowles, who explained the challenges their communities faced before adopting BI tools. They continued by sharing their firsthand experience implementing Yardi Senior IQ — a single connected BI solution — describing how it's transformed their operations for the better.
Here's a highlight:
Throckmorton: How does Senior IQ help you and your team?
Allen: Yardi Senior IQ has been very helpful to our team here at Dominion Senior Living, mainly in the way of convenience. A lot of business intelligence information can be arranged on a single screen — from community management information to marketing or EHR — and the financial information, too.
We no longer have to pull 8 different reports. Rent roll, trial balance, trend activity and incident reports — it can all be arranged on one dashboard. Plus it has graphs, tables and comparisons. It's very helpful and expedient.
Throckmorton: How much time is saved when using business intelligence tools?
Allen: The time saving is in the convenience. Our community management and financial team members were having to run 8 different reports each month, all to see the same data they now see on one screen. And when reading a direct Voyager report, with all the columns and amounts, it sometimes all blurs together. It's much better to see graphs and access comparisons with communities. Now the team can analyze things quicker — and help manage or improve our data.
Throckmorton: What's changed at Dial Senior Living now that you have a business intelligence solution?
Bowles: It's absolutely night and day. For the folks who had to fill out these reports and manage all this data, they can now get back to focusing on the residents — which is what we're here to do. The data requires little management. We've already done the initial input, and now the data is transformed for us. The insight we've gained from that — the trending data — is just amazing to us. We look at trend occupancy and trending care information.
There's a lot in Senior IQ we weren't able to track before since we were doing stuff manually. Now, being able to use a true business intelligence platform, it gets us the right information.
Throckmorton: How would you describe Dial's growth since using Senior IQ?
Bowles: We've been growing for a long time, and our growth is still going. If we look at the way we were compiling data before, the more we grew, the more people we needed to help us track all that data. Now, we don't need another regional person to crunch data for a new area we're building. Yardi Senior IQ crunches it for us.
In certain departments where we're growing, there's no longer this large or heavy workload. Even through COVID-19 when we were making staffing adjustments, this was a core thing that held us all together. Our data integrity didn't fall apart during a worldwide crisis. That really helped us sustain growth.
To learn more about business intelligence in senior living, and to unlock tips in selecting the right solution, check out our ebook.
Get in touch to learn more about Senior IQ — Yardi's single connected BI solution.