The Brighter Side
By Natalie Mahn on Feb 17, 2022 in Senior Living
The pandemic has been a challenging time for seniors. But we're here to show the brighter side, focusing on how resilient they've been through it all.
We're excited to share this Age Well Study by the Mather Institute. It's full of interesting findings, but best of all, it highlights seniors' strength during the COVID-19 era. See below for a summary:
Study highlights seniors' resilience during COVID-19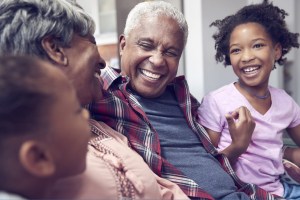 Shared by McKnight's Senior Living, the latest release from the Mather Institute's Age Well Study examines seniors' stress levels and resiliency during the pandemic. The findings — gathered from year four of the five-year study — are based on responses from 3,441 residents at 122 different Life Plan Communities across the U.S.
Taking a step back, the initial goal of the study was to assess the impact of residing in a Life Plan Community. Respectively, the impact on residents' health and wellness over time.
And since year four took place during the pandemic, the Age Well Study took a slight pivot. How has COVID-19 affected seniors' health and wellness? Have seniors become more resilient during this worldwide health crisis? What strategies help them mitigate stress? To find out, the Mather Institute analyzed:
Individual characteristics (personality, personal resources, demographics)
Organizational characteristics
Changes in the quality of social relationships
Coping strategies during the pandemic
The findings
At a glance, the Mather Institute's research shows:
Residents, on average, exhibited low levels of stress and high levels of resilience during the pandemic
Those who were open to new experiences, who exhibited higher levels of extroversion and agreeableness, were less likely to exhibit stress and more likely to exhibit resilience
Residents who maintained quality relationships with children exhibited greater resilience
Residents who meditated during the pandemic were less likely to exhibit stress
Residents who lived in smaller communities were less likely to be stressed, compared with residents of larger communities
So an openness to new experiences, high-quality relationships with children, meditation and simply living in smaller communities all helped Life Plan Community residents feel less stressed and more resilient over the last year-plus.
"Our latest findings can be used to inform the development and customization of programs and resources to alleviate residents' stress and cultivate their resilience as we continue through the COVID-19 pandemic," said Mather President and CEO Mary Leary, relayed by McKnight's.
Support for seniors
It's inspiring to see how seniors have shown strength and resilience during the pandemic. We hope you'll read the McKnight's article and download the full Age Well Study to learn more.
To see how Yardi supports senior living communities with our single connected solution, reach out here.