Senior IQ Update
By Nik Edlinger on Aug 20, 2020 in News
Yardi Senior IQ has been out for a few months now, and it's already seen a huge amount of interest from the industry. As clients have gotten into the swing of things, their feedback is helping make the business intelligence solution even more useful for senior living.
The latest release, Senior IQ 1.6, is now live. To make the upgrade process easier for our clients, Yardi is switching away from manual installs for new Senior IQ plugins. Yardi can now take care of things automatically, so you get the latest features as soon as they're ready.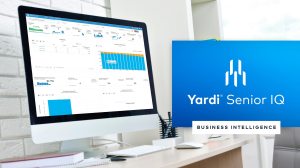 Check out these highlights of what's new in Senior IQ:
Home page redesign
The home page has a new look to ensure the first data you see after signing in is clear, relevant and actionable. The portfolio statistics at the top have been replaced with three customizable tiles. You can sort KPIs for all your communities by different attributes like property owner, care level or region, and your occupancy percentage and census are also available at a glance.
Below the tiles, the community section now sports a tabbed format. You can easily switch between the table grid and map, depending on what you're most interested in seeing. We've added display settings as well that let you customize the density and layout of your data. To top it off, you can now export the community grid to an Excel spreadsheet.
Tool tips
With the abundance of KPIs, tiles and widgets available in Senior IQ, it's important to know what each does when you're reviewing or building out your dashboards. That's where the new tool tips come in. Hover your mouse over the familiar blue information icon on a widget or measure to see a quick explanation of what it's tracking.
Utilization dashboards
To realize all the benefits of a technology solution, your team has to make sure they're using it to its fullest. As part of the 1.6 release, we've created two new dashboards that show your team's utilization of Senior CRM and EHR. These metrics can help you understand how your team is working in the Yardi Senior Living Suite.
The dashboards detail a wide range of numbers that give you an overall picture of your team's productivity. For Senior CRM, the utilization dashboard lists total prospects, deposits and tours, as well as leads across all channels from call center to email to SMS. On the EHR side, you can see how many communities across your portfolio have EHR enabled, along with a rundown of assessments completed, care plans tracked and progress notes entered.
Staffing KPIs
The EHR utilization dashboard offers more than just high-level numbers. When you go deeper, you really start to see the value of having all your data integrated in one place. The dashboard includes widgets that can help you understand and manage your staffing utilization. Essentially, do you have enough caregivers for the care your residents need?
If tasks in EHR have been set up with times and your care plans are up to date, this new dashboard will showcase your communities' care minutes, listing the average for how much time has been scheduled and how much recorded. That means you can know whether your caregivers' staffing levels are actually appropriate, allowing for conversations and decisions about staffing levels that don't rely on gut feelings or guesswork.
That said, since these utilization dashboards require more setup, they haven't been turned on by default with the rest of the enhancements from Senior IQ 1.6. If you'd like access, feel free to contact your account manager.
We hope you enjoy the new release! We're working quickly to add even more to Senior IQ, and we're always listening, so if you have feedback or ideas, please don't hesitate to let us know.