Saving the Cities
By Erica Rascón on Oct 29, 2012 in News
Philadelphia, Detroit, Cleveland, Atlanta—these major U.S. cities top data lists as the slowest to recover from the recession. Their areas of weakness include high unemployment rates, failing businesses, job losses, crime, and strained budgets but a greater common theme unites them. The cities are too historic, too important, to fail. Restoring these iconic cities to their former glory—or better, propelling them towards an even brighter future—requires a significant amount of creativity.
Community leaders are forming dynamic partnerships with local businesses and governments. The collaborations aim to revitalize America's cities, breathing new life into them through arts education, community programming, and structural reimagining. Two programs in Atlanta are an excellent illustration of the sort of creative approaches that can make a notable difference.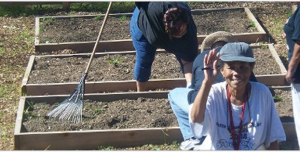 LaShawn Hoffman, CEO of Pittsburgh Community Improvement Association (PCIA) in Atlanta, has been a member of the Pittsburgh community for ten years. The neighborhood, first overlooked during the city's 1996 Olympic revitalization efforts and then hit hard during the housing market downturn, had settled into a state of neglect. Abandoned homes and empty storefronts opened the gate to increased crime and a lack of community cohesion. Hoffman witnessed multiple break-ins and other crimes firsthand. He was determined to witness the neighborhood's restoration firsthand as well.
"This is my home," he says. "I'm personally invested here and I've long been able to see its potential."
PCIA purchased 31 bank-owned homes in Pittsburgh using funds from the Neighborhood Stabilization Program. After restoring the homes, additional local grants were used to give the properties eco-friendly updates. The renovated properties were then placed back on the market at affordable prices. Though it was an excellent start towards giving the neighborhood a face lift, Hoffman and his team knew that pretty houses would not address the root of the neighborhood's problems.
To attract residents and businesses back to Pittsburgh, PCIA aimed to reestablish the community as a welcoming and safe area. PCIA has held multiple events and programs in an effort to reestablish a sense of unity and purpose among existing residents including block parties, health fairs, athletic events, and two community gardens. The association then initiated the Steel Curtain Project, an alliance between the association, law enforcement, local businesses and the community that aims to establish open communication and trust between the involved parties.
To date, PCIA's efforts have resulted in visible and quantifiable changes within the community but the spark of their actions was a leap of faith. No precedent ensures that hosting a 5k and a community garden would result in improved community conditions. Yet with limited options and their backs against the wall, nontraditional approaches to community restoration became the most viable.
They worked.
Part of PCIA's success comes from Hoffman's willingness to change perspective, to see how a traditionally bad string of events could be re-interpreted positively. To Hoffman, the economic downturn opened a world of possibilities. "The [real estate] bubble allowed us to be a principal developer of housing in the neighborhood, receiving funds to be competitive with other neighborhoods," he explained.
"It's a huge opportunity when it is seized properly. Just as young people are moving back into inner city communities from the suburbs, we can present a neighborhood that has desirable resources."
Those resources include green homes, pedestrian-friendly infrastructure, and a tight knit community that has become notably safer. There is room for further progress but the odds are more favorable than they have been in decades.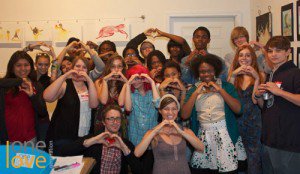 Bringing people together to do creative good triggered the creation of One Love Generation, an arts-centered initiative that operates on the praxis that art can promote social change. Social change, in turn, can encourage the economic quickening of a dying city.
At One Love Generaion, classes connect young artists with professionals for training and mentorship. Group leaders often use a social issue or cause as a springboard for their creativity endeavors. Sessions culminate with public service projects or art installations.
One Love Generation founder Jennifer Lester explains, "We use art as a teaching tool, raising awareness and empowering youth to know that they can influence change."
Lester cites recent projects that united artists and businesses to support local causes:
One Love Generation received donations and guidance from Atlanta Clay to create hundreds of handmade bowls for use in a soup dinner fundraiser. Meals were donated by Flying Biscuit and space donated by Goat Farm creative arts center. For $5, guests received delicious soup and a handmade bowl that they could take with them. While they dined, patrons enjoyed live music provided by a non-profit youth program called Atlanta Workshop Players.
In another project, students were introduced to a community riddled with litter. The kids gathered plastic debris and transformed it into The Tree of Life, an art installation composed of nearly 2,000 plastic flowers. The project showcased the need to protect the environment and youth's ability to transform a problem into part of the solution.
There was also an unexpected economic benefit. Long after One Love Generation left the community, local residents continued to salvage bottles, repurpose them as art, and sell them for supplemental income.
Lester says, "We hope to foster young minds that want to give back to the community in some way, introducing a human-heart-nature that wants to give and lets young people know they have something to give. It doesn't have to be money; there is no right or wrong answer. Their creativity can help pose solutions to real life issues."
From restructuring an entire city to reimagining a neighborhood, or simply addressing small issues one need at a time, organizations that place creativity on the forefront are helping to breathe new life into struggling cities without massive expenses. Local groups do not need to wait for help to trickle down from above. Local resources can unveil a wealth of opportunities that promote change from the ground up, uniting residents, sparking the economy, and leading to positive change.
The success of any such project requires an uncanny amount of faith. Social and artistic programming rarely produce the quantifiable data needed to prove that something works, or how. Without such data, successful programs are difficult to replicate.
But perhaps the mold-and-replicate approach has been part of the problem. Hyper-local solutions may be the best way to take a city from struggling to thriving. Our historic metropolises form their identities on sheer hope and the will of several empowered, creative individuals. Those same characteristics may restore America's cities as well.